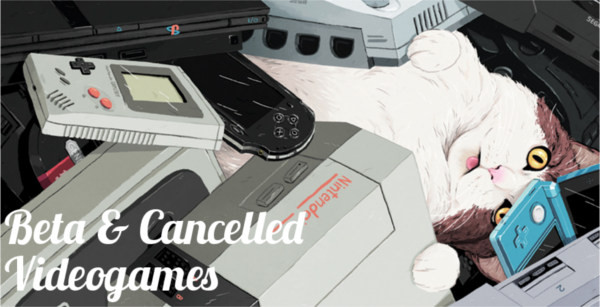 This is the main section of Unseen 64, our precious archive of videogames that we'll never be able to play (at least until they could be leaked!). When a game is created, it goes trough many development stages: it starts from an idea or concept, they sometimes create an early playable version (often known as "beta version") and if everything goes fine, the game keeps being developed and is finally published, so we can play and enjoy it. But… how was that game when it was still in his beta form? What happens when a game remain unreleased?
Beta games are different. Cancelled games are lost. Gaming Philology (originated from classical philology) is the study of videogames, their development and their history. Here you can find an archive to preserve info, screens and videos about the cuts and the changes in the gaming development till the seventh generation of consoles, saved in some form for curiosity, historic and artistic preservation.
To see a list of the beta and cancelled videogames currently archived in Unseen 64, choose your favourite retro console from the list below.
Complete list of beta & cancelled games:
Browse our archive by developers or genres:
If you prefer, you can also check all the unseen games from your favorite developers or gaming genre, here is a list of a few ones from the most popular. You can also search your favorite gaming series from the search field in the right menù, for example for all the proto and unreleased games in the Zelda, Metal Gear Solid, Halo, Crash Bandicoot, Metroid, Banjo, God of War, Monster Hunter or Half Life series.
What you can find in our archive:
Beta versions are not the only ones with interesting differences (and in theory beta games should have most of their final features and assets), but "beta" is usually the most known of all the different stages of development from a videogame and it's what people usually search on Google when they want to find "videogames in early stages of development with many differences from their final versions".
So it's easier to talk about "beta" to indicate those particular dissimilarity between final and still-in-development videogames, but in this archive you can find games with all kind of different stages of development: concept art, design documents, pitch presentations, prototypes, alphas, betas, demos.. and if a game never reach their "gold master" stage and it's really released in shops, then it could have been cancelled. You should know what "cancelled" means, the game remain officially unreleased and in most cases, we will never play it.
Sometimes "beta" and even "cancelled" games are leaked online by collectors or former developers, and this means that people are able to play and preserve them so that they will not be lost forever. It's a risky topic, because sometimes those games, even if never released, are still under copyright laws and publishers could not be happy if their "property" is shared without their consensus (while sometimes those leaked games are so old or obscure that no-one cares anymore about them).
In our humble opinion if a game was cancelled, to share it online should not be considered "piracy" because it would have never been sold anyway, but it's a complex question that goes through intellectual properties, business men and marketing strategies.. and a final judgment about this is not simple. In any case, on Unseen 64 there are not roms or direct link to download games, just links to other websites where you could find them: we need to stay as clean as possible to be able to stay online and keep saving some documents of these unseen games.
Just enjoy this archive and keep dreaming about how awesome those unseen games could have been! :D
Latest unseen games news:
Follow our twitter account for daily updates and news about lost videogames:
How you can help
There are many ways to help us to preserve screenshots, videos and information about unreleased and beta videogames, please check our "how to help Unseen 64" page to know how YOU, yes, even you can help to save lost videogames!