Yohoden Hisuimaru: Bonten no Ken (妖逢伝ひすい丸 梵天の剣) is a cancelled JRPG that was in development around 1992 – 1993 for Sega Game Gear. From screenshots and footage available we can see it was going to be a classic RPG set in feudal Japan, with the main protagonist being able to transform himself into a Tengu.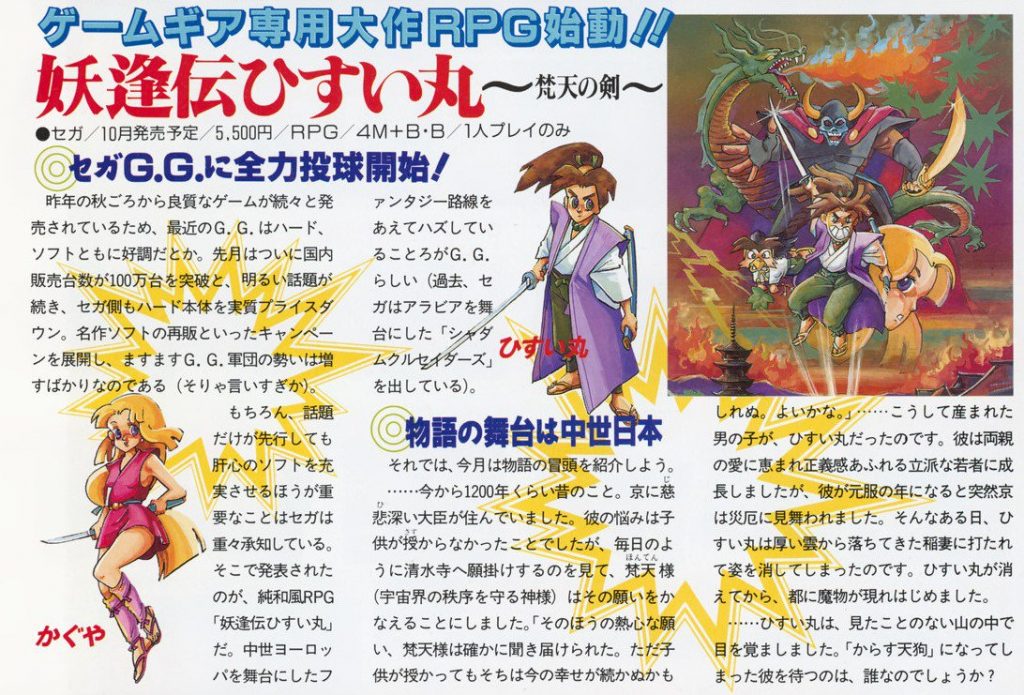 A brief description of the game was published in a Japanese website:
"A field-type RPG set in medieval Japan. The protagonist, Hasui Maru, suddenly struck by lightning and became a Tengu. Why was he transformed to this figure? Fate now waits for him. As you can see from these images, it seems that popular figures of Japanese folklore and real-life history would have appeared in the game, such as Momotaro, Kintaro, Ushiwakamaru and Benkei."
Combat was turn-based and there was a nice-looking overworld map to explore. It seems the project was being produced by Sega and it could have been a great addition to Game Gear's japanese library. Unfortunately even if Yohoden Hisuimaru: Bonten no Ken looked quite far in development, it was quietly cancelled and soon forgotten.
Some images were found by Romanovh and VGDensetsu in old japanese magazines.
Images:
Videos: