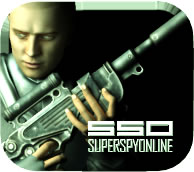 Super Spy Online is a cancelled futuristic spy-themed Massively Multiplayer Online game prototype developed around 2006-2007 by Micro Forté and BigWorld Technology, for the PC.
Not much is known at the moment on Super Spy Online. The game was first revealed in February 2007 when Micro Forté and BigWorld announced the official cancellation of their previous title, Citizen Zero:
Micro Forté, a leading Australian developer of MMOs, today announced that it has cancelled development on the "Citizen Zero" project, with internal development now focused on a top secret spy-themed MMO.

Stephen Wang – Head of Studios for Micro Forté commented, "Although we were sad to stop working on CZ, we are extremely excited about the progress of our spy project."

The top secret project has been in production since mid '06 with a core development team working out of Micro Forté's Australian studio.

"We're not giving too much away at this stage," commented Micro Forté Lead Designer, Paul McInnes, "Obviously our new project is a spy-themed MMO, but it incorporates new game-play elements and technologies that we are really looking forward to delivering to the public."

Steve Wang added, "We are at an exciting crossroads where many new game-play styles and experiences have become possible in virtual world environments. This is a great opportunity for us to leverage our 7 years of development in the MMO space to bring the social MMO experience together with game-play that has been traditionally the domain of single player games."
On the official Micro Forté's website, we can still find some details about the project, alongside a couple of artworks:
With MMOs moving beyond their fantasy RPG origins there are new business opportunities and new development challenges ahead. Super Spy Online is a prototype of this new kind of MMO; a futuristic spy-themed action game that mixes stealth and intense shooter gameplay with the progression and teamplay of a MMO.

The brief was to create a working prototype of a spy-themed MMO. Micro Forté Studios' greatest achievement in this project was in smoothly combining fast paced gun-play with the stealth style game play of an espionage agent, in a massively multi-player environment. The end product proves that true action gameplay can work in a powerful combination with the deeper persistent world elements of character progression and social interaction, and is to be showcased at future tradeshows that BigWorld attends.
Despite this, Super Spy Online very quickly disappeared from radar screens, and, to this day, we do not know the reason for its cancellation. After discarded both Citizen Zero and Super Spy Online, Micro Forté/BigWorld developed Kwari, a multiplayer Arena Shooter in which you could earn real money based on the frags the player made. The title, however, quickly closed its servers following its critical and financial failure. In August 2012, BigWorld and Micro Forté were purchased by Wargaming.net for $45 million, and renamed Wargaming Australia. In October 2022, the development team was sold to Riot Games and became Riot Sydney. To this day, Wargaming still owns the publishing team and technology that powered Citizen Zero and Super Spy Online.
If you know someone who worked on Super Spy Online and could help us preserve more screenshots, footage or details, please let us know!
Images: