GUNYIP! Is a cancelled dogfighting shooter set in the TY the Tasmanian Tiger universe, focused on flight missions using TY's mecha-airplane (the Gunyip, as seen in Ty 3). It was initially conceived for GameCube, Xbox and Playstation 2 as the official 4th chapter in the TY series but gameplay would have been similar to titles such as Crimson Sky, Ace Combat and Star Fox's all-range mode. The game was in development by Krome Studios around 2005 – 2007, started after the release of Ty the Tasmanian Tiger 3: Night of the Quinkan. While the team was pitching the idea to publishers they were hired to work on Star Wars: The Force Unleashed and GUNYIP! had to be canned.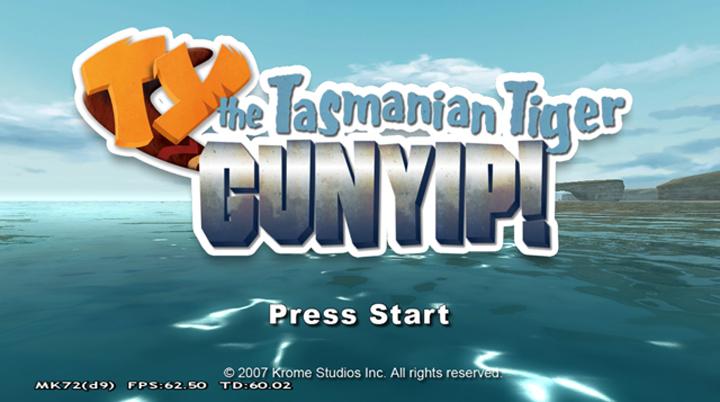 Most of what we know about this unreleased project was revealed by Krome Studios' artist and TY co-creator Steve Stamatiadis on his Tumblr account:
"Here's the promo trailer we put together to pitch Gunyip to publishers. It starts with stuff from TY 3 minigames, then has some early test capture footage then ends with some rendered stuff from the TY 3 trailer."
"There was the whole first version of TY 4: Gunyip which got shelved to make way for Star Wars. There's a whole book just of stuff from that."

"Flashback to the unmade TY 4: Gunyip which was Star Wars AF. The Frills were Scout Frills (the best of the bucket heads!), there were all these Star Wars style flight suits and there was even a Wookiee like character called Po (he's a Kakapo)

If you thought the 2D game was a departure you would have hated this version even more – it was a flight combat game. Where you flew around doing missions on Gunyips. Basically Ace Combat in the TY universe. The best bit was that it was all told as a story being recounted by Lenny. Also you got to play through the "story" mode 3 times as different factions unlocked and you got more of the full story. It was ambitious to say the least.

Also I do enjoy the irony that the game was dropped mid production so that we could work on an ACTUAL Star Wars game."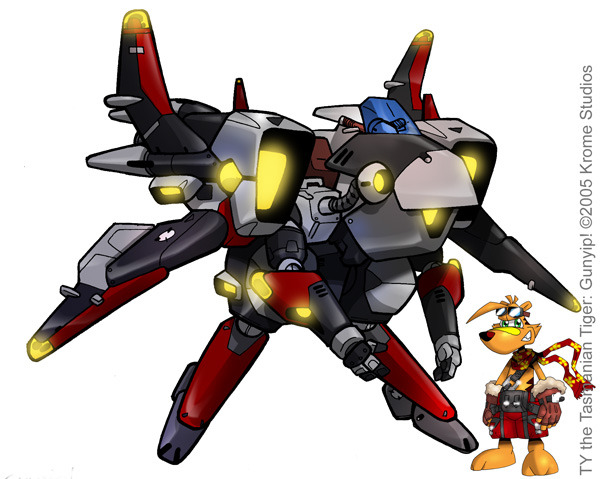 "The original TY 4 was not going to be a 3D platformer – it was a story driven air combat game in the TY universe. It was put to rest when we had the chance to make a Star Wars game and it's probably for the best. While the game was looking pretty hot I know now that TY fans would have lost their shit because it was different. You only need to look at the reaction to the Win 8 game with it being 2D – even though everything else is pretty much exactly the same.

Anyway apart from flying around in cool transforming Gunyips the game featured a story mode that let you play through as three different factions each with their own sets of Missions. There was TY and Bushrescue, Cass and his Cold Blood Empire and finally a new group the Metalskull pirates led by Ginger Knut the flying fox."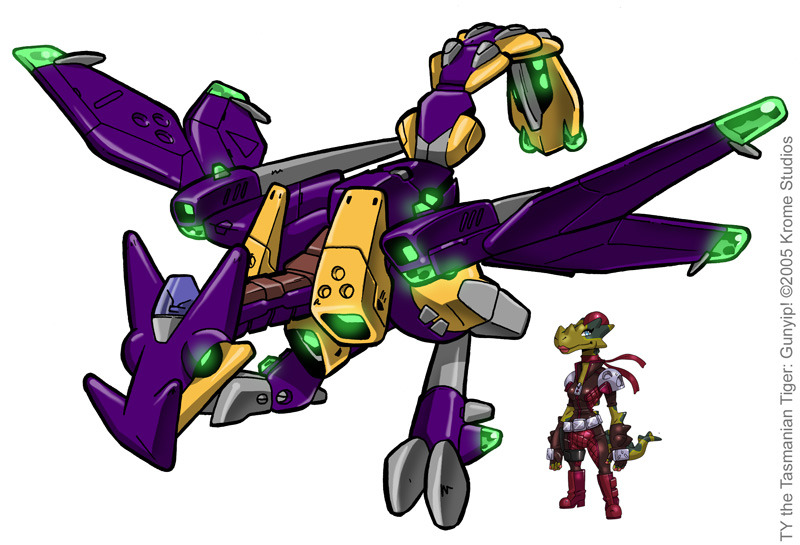 TY the Tasmanian Tiger: Gunyip! – The Gunyips
The gunyips are the top level of air combat machines. Each faction would have it's own unique design that the player would control when playing their missions. They were also designed to show your pilot character flying them. This was so players could have something 'human' to relate to and so that they could respond to the surrounding events much the same way TY sat in the back of the Fourbie and Crabmersible.
Bush Rescue: The Woomera class Gunyip.
Design wise the BR Gunyip has elements of both the plane version from TY 3 and both the unused designs for the Jet Bunyip. It had a variable geometry that would allow it to take different forms depending on it's flight mode. And yes it was meant as a homage to Macross' Gerwalk mode.
Cold Blood Empire: The Raptor
This one was designed to look like a bird of prey. I used the head of Cuddles (Fluffy's mech from TY 3). The wing "feathers" would change shape based on its speed and the tail would look nice reacting to the physics of Gunyip flight.

It's pilot is another Thorny Devil called Lizzy. She was going to be Fluffy's replacement for this game. When you first saw her inthe game she would appear as Fluffy but as the game progressed you'd quickly learn that it was Just Boss Cass – who was now just a little bit more unhinged – seeing her as Fluffy.
Metal Skull Pirates: The Pteropus
A flying fox flown by Ginger Knut, who is also a flying fox. This is the first pass at the Pteropus and It's a little more basic than the others but I really liked the feel of it being a big powerful motorbike with wings.

"This is Liz, she was going to be Fluffy's replacement in TY: Gunyip! The way it was going to work was that you'd see her in cutscenes with Cass and she'd look exactly like Fluffy. But then we'd reveal that she actually looked like this and it was just Cass who had gone a little loopy from guilt seeing her as Fluffy. "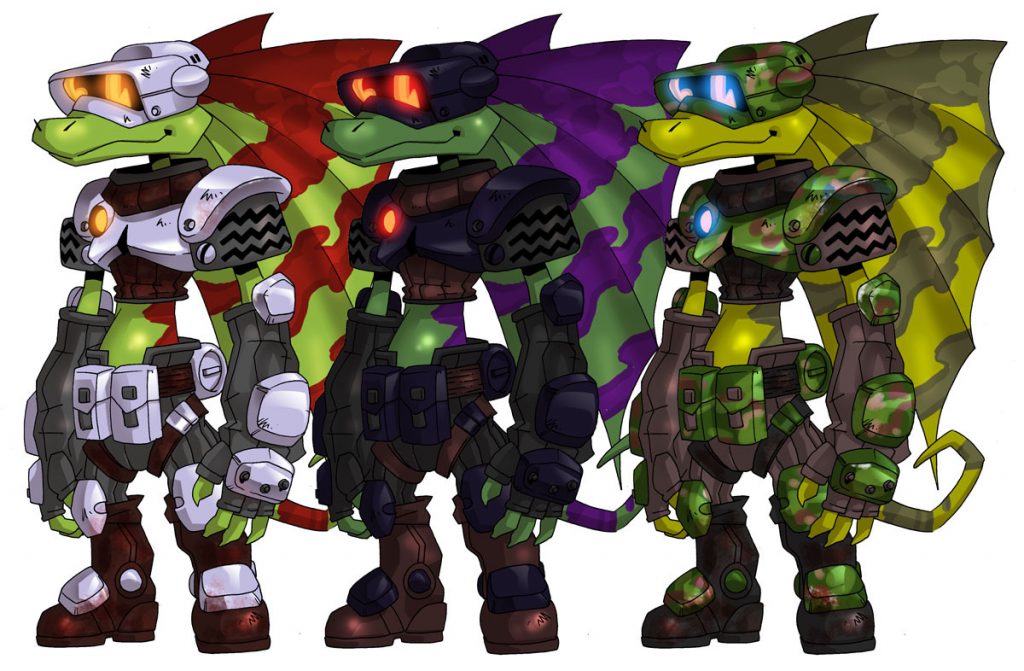 "Here's the look of the Frills for TY: Gunyip! They were called Scout Frills because they are meant to look like my favorite Imperial troops, the Biker Scouts. I tried a few color variations but I was going to stick with the white version."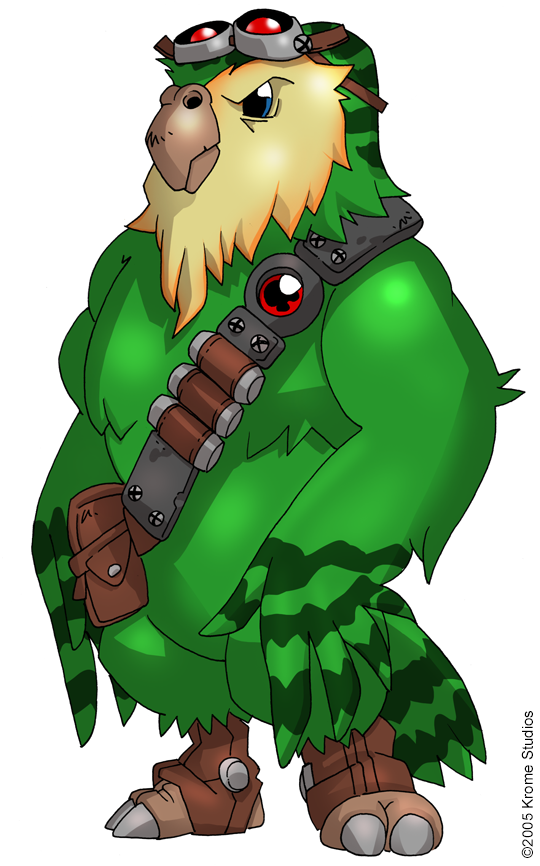 "Po the Kakapo – I love the idea of flightless New Zealand birds piloting stuff in the TY universe (Duke the Kiwi) so the Metalskull pirates get Po – he's sort of Chewbacca to Ginger's Han Solo.

Fluffy Destrofluffy – A callback to the boss from TY 1 except this time you have Harpoons and Tow Cables. I wanted to name a level the Battle of Mount Hotham – for obvious reasons.

Robot Destrofluffy – what it's like underneath when you burn the fake fur off them.

Young Tiberius – I never quite worked out how this would fit in the game if it even could but I wanted to have a flashback element where you'd play as Tiberius the Thylacine hero in a 1920s steampunk TY world. Maybe some other time."
In 2013 Krome released a different Ty the Tasmanian Tiger 4 on PC, but maybe the idea of a flight-combat TY game could be resurrected in the future.
Images: