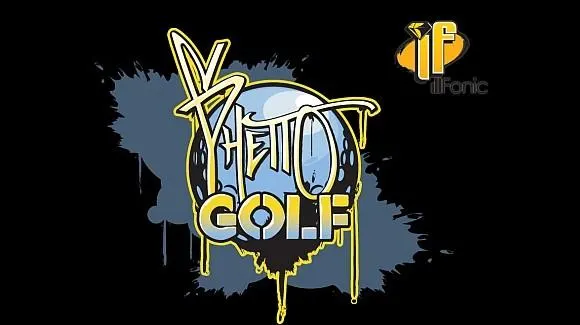 Ghetto Golf is a cancelled action/sport hybrid game in development at Illfonic Ltd from 2008 to 2010 for the download platforms of PC, Xbox 360 and Playstation 3. In this game, the player took the role of Vonte, a young guy trying to make a name for himself in an underground golf sport while fighting cops and rival gangs in the mean streets of Oakland.
The game was showed at the Game Developers Conference 2009 and MTV Multiplayer was able to see some gameplay:
"Chuck Brungardt described the first game he's ever developed — the one he was showing publishers and MTV Multiplayer behind closed doors last month in San Francisco — as "Happy Gilmore" meets "Friday."

That's a novel pitch. But may we propose a different description?

Try "Grand Theft Auto" meets "Tiger Woods PGA."

"Ghetto Golf" has its roots in Oakland California where Raphael Saadiq, former star of 1990s R&B group Tony! Toni! Toné! used to play golf on the streets, improvising golf holes with whatever he could find.

Decades later, Saadiq has his own Denver-based video game company, Illfonic, co-founded by his studio engineer, Brungardt. Their first project is "Ghetto Golf," a planned downloadable game featuring a scrappy young guy named Vonte in the Bay Area who has to find and complete tricky holes of golf that are set in the wilds of the city — and in the line of fire of gangsters, cops and enemy golfers.

"We thought this idea would be cool," Brungardt said as he and Illfonic's lead designer, Kedhrin Gonzalez, ran through a build of the game made from a mod of "Unreal Tournament 3" in a meeting room in San Francisco last month.

One of the playable scenes they showed involved the hero Vonte needing to use his exploding golf ball to blow up a car that someone was ghost-riding. The player could sheath Vonte's machine gun, flick past his spiked golf ball and his rubber golf ball to try his explosive golf ball and aim it with a swing at the car.

(…) Brungardt estimated that players would spend about half an hour looking for each golf hole before getting the course layout, the par, tackling the challenge and sinking their shots. He described the flow as "Zelda"-like: explore the terrain and talk to other characters in order to find the dungeon/golf-hole.

At last, a game that asks its hero to knock trick shots through dumpsters, off of exploding gas stations — and woe to the disapproving hoodlums in the neighborhood who would interfere with this display of sport. They get machine-gunned.

Vonte's success in this sport of underground golf brings him from the mean streets of not-Oakland to nicer neighborhoods where cops and hippies are obstructions. The climactic level, of course, will take place in a nice country club by which time our ghetto golfer will have arrived.

"Ghetto Golf" has myriad influences. The golf controls involve a thumbstick back-and-forth swing, the aiming or arced trajectories and other trappings of golf games. The shooting is third-person "Gears of War"-style combat. A fat caddy gives you some missions. Your golf cart can be tricked out. Throw a spoiler on it. Your guns can be upgraded, "like in 'Resident Evil 4,'" Brungardt pointed out. Drugs — they'll have to change this — can be taken to slow down time for precision aiming and invincibility.

"Ghetto Golf" exists now as an "Unreal Tournament 3″ mod. Illfonic wants a publisher to support its development into a standalone downloadable game for Xbox Live Arcade, PlayStation Network, and Steam."
After this presentation, the game nevertheless fell into obscurity and was briefly mentioned at the beginning of 2010 before being cancelled around 2011-2012 according to XBLAFans while interviewing Kedhrin Gonzalez:
"Little information has been released thus far regarding Illfonic's marriage between a 9 iron and a TEC-9, though the developer's website had previously listed Ghetto Golf targeting Xbox Live Arcade in 2012. When XBLAFans spoke with Illfonic Creative Director and Co-Founder Kedhrin Gonzalez last year we learned that the developer had placed the title on hold in order to focus on another XBLA project, arena-shooter Nexuiz."

"We actually first started with another project, Ghetto Golf, but had to put it on the backburner," Gonzalez stated. "Instead, we decided to take a trip down nostalgia lane with an Arena FPS game."
Despite a potential attempt to relaunch the project on next-gen platforms, Ghetto Golf was definitively canceled due to a lack of publishers interested in the game.
Today, Illfonic specializes in the development of asymmetrical multiplayer games using a few well-known film licenses such as Friday the 13th, Predator and Ghostbusters.
Images: