Peaky Blinder is a cancelled sidescrolling platform game that was in development in 1994 by Storm / Sales Curve Interactive (SCi Games) for SNES, MegaDrive / Genesis / Mega CD and GameGear. Our friend Ross Sillifant found a short article about this lost game in Mean Machines Sega Magazine Issue 15, while the title was also in a release list for SNES published in N-Force Magazine Issue 09. Not many info are available, here's what Mean Machines wrote about the project:
A trashy terror of the raving underworld is making his debut on the Megadrive and Mega-CD pretty soon, courtesy of Storm. Peaky Blinder is apparently a cult hero on the rave scene and features on loads of t-shirts. Such is his popularity (although we've never heard of him) that Storm has built him an entire identity and a ritzy story line to accompany him.
Peaky was borne from a fusion of trash, mass media, toxic waste and dumped video carts – sounds pretty disgusting, which of course he is. But an inner Peaky yearns to break out of his foul exterior and live in a suburban house with frilly pink curtains and longs to be kind to animals. With this in mind, our whiffy hero sets out thought his dire world's underground system and roams around the inner city slums where anything can happen – and usually does.
Peaky's a bit unique in that he can change his physical form to suit and combat his hostile surroundings (there has to be some compensation for being a mutant scurf-ball from hell we guess). Not seen much on this yet but we'll bring you the full gen in a future issue.
If you have more info about this lost game, please let us know in the comments below!
Images: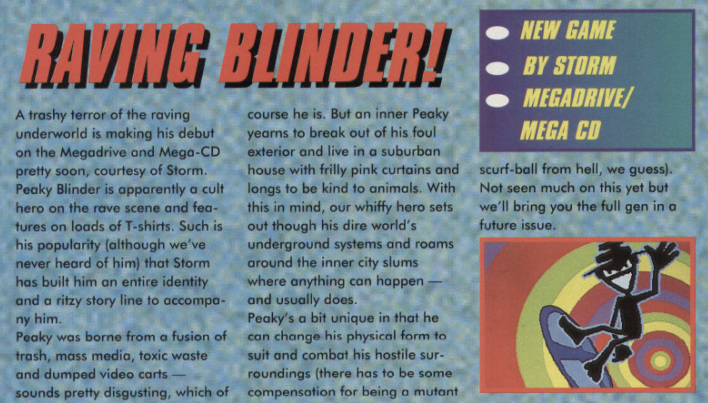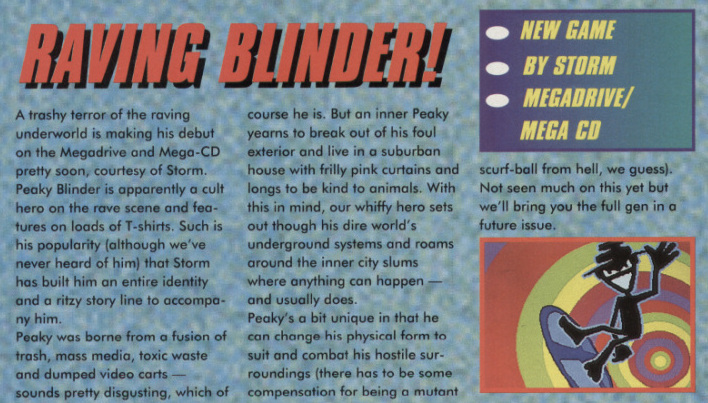 What do you think about this unseen game? Give your vote!
Would you like to add more info, screens or videos to this page? Add a comment below!
(your first comment will be moderated before to be published)

Editor in Chief, UX & SE Optimization
at
Unseen64
I'm an
Italian gamer
with
not enough free time
to play as much as i'd like to and
sadly not enough time
to write about cancelled and beta games.
Founder of Unseen64 in 2001
, i'd like to sleep more than 5 hours a day, but i have to pay the bills. I'm currently working for various italian & international websites for a better
User Experience & Search Engine Optimization
, you can add me on
Twitter
,
Last FM
or contact me by
email
.