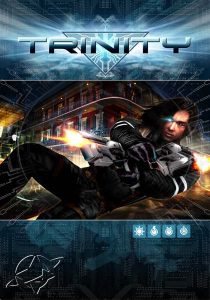 Trinity : The Shatter Effect, also simply known as Trinity, is a canceled First-Person Shooter published by Activision and developed by Gray Matter Interactive for the PC, and Vicarious Visions for the Xbox, from January 2002, until, at least, Summer 2003.
Using a heavily modified version of the ID Tech 3, the game was revealed in spring 2003, and Gamespot was one of the first media to get information regarding this title:
"Activision announced today that development has begun on Trinity, a new first-person action game for the PC and Xbox platforms. Gray Matter Studios, the creator of Return to Castle Wolfenstein, is developing the PC version, while Vicarious Visions, which is known for porting Jedi Knight II to the Xbox and GameCube, will be handling the development of the game for the Xbox. The game is set in New Orleans in the year 2013, when a virulent plague is sweeping across the city. New Orleans' only hope to find the source of the virus and stop it from spreading further is the Nightstalker, a biologically enhanced hero who possesses superhuman powers. At the Nightstalker's disposal are weapons ranging from pistols and shotguns to grenade launchers and sniper rifles.

Additionally, Trinity includes a feature called "FlashTime" that will allow players to dodge enemies or execute special attacks. "Trinity brings an all new intensity and cinematic quality to the first-person action genre," said Larry Goldberg, executive vice president, Activision Worldwide Studios. "Run-and-gun gameplay takes on a whole new dimension when players can warp around the map in the blink of an eye, see through walls, and tackle enemies with deadly acrobatic maneuvers."
Following it's announcement, information about the background were spread right before E3 2003. For example, Gamespot wrote:
"The game is set in New Orleans in the year 2013, when a virulent plague is sweeping across the city. New Orleans' only hope to stop the virus from spreading further is the Nightstalker. This biotechnically enhanced vigilante possesses superhuman powers and must single-handedly take action against an evil company known as the Silmara Corporation.

As the Nightstalker, you'll follow a story of conspiratorial intrigue. You'll get some help from the Caretaker, who you'll be able to talk to directly through a brain implant. The Nightstalker has had his abilities enhanced by an array of biotechnical and neurological implants that grant him superhuman strength, special vision powers, and the ability to warp time and space–a power known as Flash. Flashtime will allow you to slow down time to dodge enemies or execute special attacks. Flash can also be used to jump higher, move enormous objects, and survive falls from great heights. Special thermal-vision and night-vision modes will give you the chance to get the drop on enemies.

A potent arsenal is the key to your survival as you face down Silmara. You'll have a range of small arms to choose from, including machine guns, shotguns, sniper rifles, and grenade launchers, plus the more futuristic laser rifles and liquid nitrogen cannons. As a change of pace, you'll man turrets, ride gunships, hack into installations, and solve a variety of puzzles."
IGN managed to get further details about the story, the main character and some concepts and ideas thanks to an interview with Drew Markham, game director at Gray Matter:
"When the game begins, our character has been dubbed the Nightstalker, he's more of the anti-hero kind of guy with darker qualities. When you begin the game we have a guy waking up with no memory of how he got there. But we immediately establish the facts through this sidekick that's called the Caretaker. This a guy that you see constantly through the game and he's even in your heads-up display. Basically, the Nightstalker wakes up thinking the Caretaker character has kidnapped him. But the Caretaker has a video tape that was made before the Nightstalker lost his memory because he knew he was going to lose his memory. The tape pretty much explains that he went into this knowing that it was part of the process and that he's going to know, as events progress, why things had to be done this way. So even though he has this video of himself explaining why he's there in some small way, he'll still have this nagging doubt about the validity of that. So essentially we begin the game with this mystery and we go into training immediately because you have this guy waking up not knowing about himself not to mention that he has all of these incredible physical abilities. All of this has been part of this process and procedure that has happened to him in the intervening months that have gone on since he recorded the tape to himself. That's where you're going to go in and learn about these physical abilities that he has called Bio Augmentation."

"A key part of the game is you being upgraded. You start with lower level abilities but will be able to improve them during the game. So we establish something that allows you to learn a certain play type and then upgrade that for you. You start with abilities in the game that seem to give you quite a big edge, but as the enemies are reacting to that, they're developing ways to thwart these powers. Your edge will start to get duller and duller till a couple of levels down the line they might have a very effective countermeasure to your ability. But then you'll get another upgrade that will put you back up in another way."

"You'll really feel like your enemies are reacting to you, that they're developing things around you. It really keeps you on your toes and as we introduce you to new types of enemies, they'll be vulnerable to certain things you have at your disposal and other things that aren't. By the time you're fighting enemies, you're at that point where you've just become more than a nuisance. You have all this wild rumor speculation about what you can do. The beginning of the game as you're using your powers, enemies will react in awe sometimes where they'll sit back and say "what the hell?" So they're physically reacting to what you're doing. But that'll change as time goes on and everybody becomes more aware of you.There's a strong emphasis on the tactical nature of what you're supposed to use when you go up against the enemies in the game. We wanted players to have to be smart about how they approach certain situations."

"You have hard-points on the body for one heavy weapon, two pistol slots, and a couple more. But you have to pick up weapons and drop weapons as you move through the game and there's many more weapons than you could possibly take with you. As you encounter these situations, you'll have to be aware of how certain enemies react to different weapons and abilities.There are two areas of abilities. One is the pure bio-augmentation abilities, which are physical abilities that allow him to jump higher, run faster, and to jump off of buildings and not take significant damage. But your bio energy used to power the augmentations will be taken off for the damage that you would normally get from a fall like that. So if you decide to jump off of something very high, then you'll be leaving yourself with less energy should you decide to use another one of your skills. All of these bio moves that he has are individually accompanying defensive postures. For example, there's a burst back move where you'll jump back and project out a magnetic deflection in front of you that causes bullets to deviate. The other side of your abilities is called flash power. They're based on this temporal field generation technology that an ex-Silmara scientist came up with. This is a guy, by the way, that's been missing for months before the game starts and everybody is trying to find this guy so he obviously has a lot to do with the stuff going on. Anyway, the flash abilities basically allow you to advance your metabolic and perceptual rates in time. The world to you might slow down by 25% while it slows down for the enemies by 75% so you can aim and move better, but still have a significant speed advantage. This allows you to dodge bullets and all that kind of groovy stuff.There are a tremendous amount of moves between the bio augmentation and flash moves. So you have your pure bio and flash moves and then you have those that use both."

"The bio-mods are always active, but you use a double tap scheme that makes them work or different combinations of keystrokes to invoke them. But you only have a certain amount of energy on tap, so the player won't be able to just burst around like a super strafe, because you'll use energy up quickly. Another interesting thing is the inhibitors that have been placed on the augmentations to keep you from damaging them. One of the things I like about this is that at a certain point in the game, you're going to have the ability to go in to your internal systems and turn the inhibitors off so you can run in the red. But if you go over the threshold completely, you'll shut down, which can be bad in the middle of a battle. It's all about giving players the choices to how they want to play but we didn't want to go the RPG route and we didn't want this to be a heavily managed character. You'll head back to your regen pod, which acts as a home base of sorts, where you'll get new implants. The mods occur at intervals during the game, however there are certain mods and abilities that can be received prior to their pre-ordained time to be given. If you dig hard enough in a certain level to find something that will allow it, you might get an augmentation you would normally at level 10 while you're still in level 7 or 8."
The game was showed at E3 2003, where both IGN and Gamespot wrote previews. Thus IGN told:
"The long and detailed single player game takes place in and around New Orleans, a location not often utilized in the video game world. Taking the product into this area meant designing a different type of city than was usually seen in shooters and games in general. Different architecture means different gameplay opportunities. Outside of the city areas in the game, Trinity will also bring players out into swamps and inside high tech labs as we were shown in the demo.

The outside levels are pretty crisp in color and it's easy to tell that this game was built around the Quake 3 architecture. It's also pretty easy to see that it has been improved on immensely. AI, physics, rendering, and pretty much everything else has either been upgraded or completely replaced by the programmers at Gray Matter.

As you move through the game you'll be able to upgrade your character with new parts and increase the power of existing enhancements. This is a good thing as the AI in the game is adaptive to your powers. What will work in the beginning of the game won't towards the end as develop technology to counter your abilities.

Using the Nightstalker's abilities is easy enough for the pull off. Some can be triggered by the press of a button, such as the time bending ability, which slows everything down to the point where you can see bullets coming towards you. You can perform physical feats such as flipping around and twisting in the air during a jump. Some of the abilities can be used in concert with one another for different effects.

Your vision augmentations are pretty useful as well. They're a pretty interesting interface when you use them, with your entire field of vision changing dramatically. Your different modes allow you to see heat through walls and in the dark, night vision makes everything brighter when heat signatures won't do the trick, and in another mode you'll be able to detect structural weaknesses that you can use explosives on to open up new paths or solve puzzles.

With around 40 hours of gameplay on an engine that should run well on most low-end systems, this might be a game those of you just looking for a single player experience will want to keep your eyes on."
For it's part, Gamespot said:
"The game's hook is much the same as that of Max Payne, except here it's called "flashtime." Sure enough, in flashtime you can dodge bullets and move at unnaturally fast speeds, as the whole world around you seems to slow to a crawl.

You of course have limited access to flashtime and must use it when you wish to take out a number of enemies quickly, make a hasty retreat, or get out of harm's way. While everything is slowed down, you can jump extra far, perform sideways flips (your whole view rotates as you launch yourself in midair), and even use close-ranged kicks to thrash your opponents.

The action has a pretty good dynamic to it already, even though the game is a ways off. Much like in Max Payne, in Trinity, when the action is slowed down, you can clearly make out individual bullets flying through the air–and you can even see Matrix-style contrails behind them. The game apparently takes place in and around New Orleans, and the level we tried out seemed to be a bayou of some sort–nothing too futuristic about it, except for the high-powered assault rifle at the Nightstalker's disposal and the weird uniforms of the enemy troops.

The main character's remarkable powers should allow for some action sequences that are highly challenging. Aside from the flashtime thing, Trinity's mechanics are pretty standard for a first-person shooter, but just as bullet time did a lot to distinguish Max Payne from other third-person action games, flashtime does much to give Trinity a rather unique style to it. The experience reminded us of using the Force speed ability in Jedi Knight II, only here we could also jump superfar and kick people in the face, and shoot them too."
While it seemed to be well advanced, the game was unfortunately canceled during the fall of 2003, when Activision lost over 30% of its revenue, during the fiscal year, as we can read on Gamespot again:
"Today, after the financial markets closed in New York, Activision reported its fiscal second-quarter results. The bullet points are as follows: Compared to last year's second quarter, revenue decreased by 31 percent; the company reported a net loss for the quarter of $10.1 million, compared with last year's income of $9.1 million; and revenue for the quarter fell to $117.5 million, from $169 million a year ago. Activision attributed the results to the quarter's "significantly smaller release schedule."

Activision's second quarter ended September 30.

The company said it would take a one-time, pretax charge of $23 million in the third quarter–this is due to it's slashing of 10 products from its current release calendar. The titles affected are Trinity, Shaun Palmer's Pro Snowboarder 2, and Street Hoops 2."
On his now defunct blog, former developper Nikolai Mohilchok wrote:
"Trinity was the first game I worked on as an industry professional at Gray Matter Studios. This shooter was ahead of it's time and could have gone toe-to-toe with Monolith's soon to be released "F.E.A.R." title, but sadly, marketing didn't quite know how to sell this title, and Activision (who owned Gray Matter by that time) had bigger plans for our little studio. Those plans would change the world of games forever."
After the cancellation of Trinity, Gray Matter will meet the same fate as many other studios owned by Activision after them, forced to work on the expansions of their brand new golden ticket back then, Call of Duty, with United Offensive, before being merged with Treyarch in 2005.
Images:
Video: