Heavy Gear 3 is a cancelled mecha based FPS that would have been the third chapter in the HG series, in development around 1999 by Savage Entertainment and planned to be published by Activision on PC. The team wanted to expand the mechanics found in previous Heavy Gear games, adding more robots, on-foot fighting and exploration, similar to what Titanfall did 15 years later.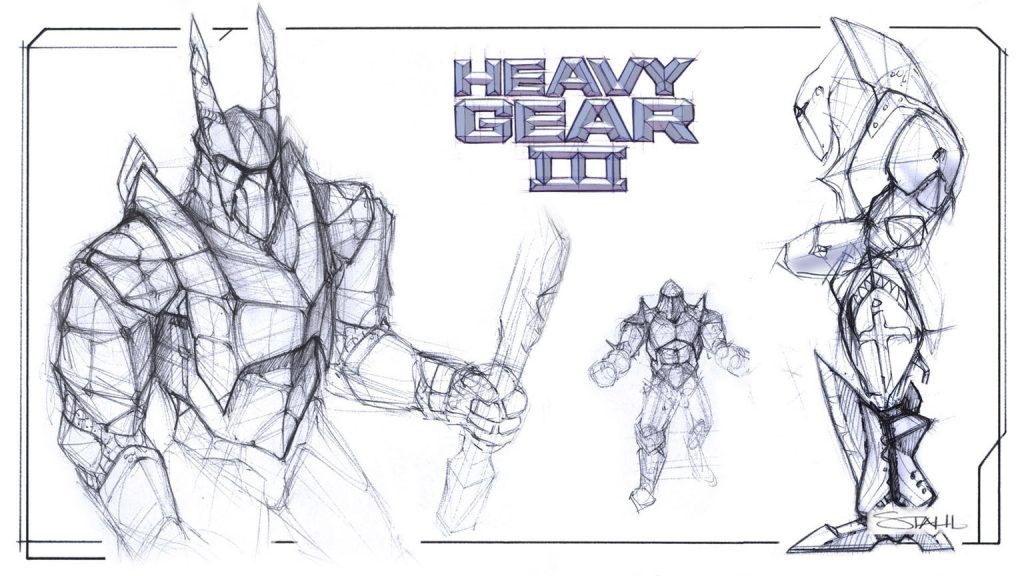 Some details about this lost game were shared online by former Savage artists and producers:
"This was Savage's first project after being "spun-off" from Activision. It was an exciting opportunity to build on the success of Heavy Gear 2 and a coinciding children's TV show based on the series. We started with a very small team of 6 to handle environments, characters, and animation. Some new visual advances were spectacular maps to add shine/material variation, multiple texture terrain painting and emissive alpha.  We were able to expand the universe by introducing a new class of "Gear" called the Paladin. His  design was inspired by a medieval suit of armor and was backed by the new "Bishop" Reich. Many of our features were ahead of their time, such as the Gear Pilot being able to get out of his Gear and fight on foot, while the Gear protected him – this is a major element of "TitanFall" being released March 2014. […] Unfortunately, Activision couldn't decide what kind of game they wanted to make (single player or massive multiplayer) and cancelled the title."

"Our first project was to be Heavy Gear 3. Our goal at Savage was to have one team where no one was a pure manager. Everyone would work directly on the project. I worked as a 3D artist on Heavy Gear 3 in addition to my role as Producer, and CFO of the company. Sales of Heavy Gear 2 didn't live up to expectations and Activision exited the giant robot combat market, cancelling Heavy Gear 3."
Concept art from this lost game are preserved below, to remember its existence.
Images:
What do you think about this unseen game? Give your vote!
Would you like to add more info, screens or videos to this page? Add a comment below!
(your first comment will be moderated before to be published)