Metro Panic is a cancelled RPG that was in development by Nichibutsu (Nihon Bussan) for Game Boy in early '90s. From the only screenshot found by Celine in Famitsu (Issue from 92/09/18) we can speculate it was some kind of adventure game set in subway stations?
It may have been somehow related to Nichibutsu's Tube Panic, a 1984 shooter that seems to have been the first "3D game" (it used tubular vortex levels) developed in Japan. Or maybe they just use a similar / same title because they already own the copyright for it.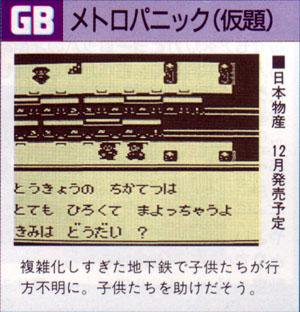 This could have a been a lost masterpiece for the GameBoy, or just another forgotten RPG. We hope someone could find more details still hidden away in some old japanese magazines.