Green Lantern is a cancelled platformer / adventure game based on the DC comic of the same name that was in development for the Super Nintendo at Ocean Software in 1994.
A small preview of the game was feature in the French publication, Super Power Magazine issue 29. Their write-up reveals that the game was a side-scrolling platformer with shooter elements. The story featured Hal Jordan's Green Lantern hunting down the queen of Xaos, who is planning to conquer the universe with an army of invisible alien soldiers, once she collects a set of all-powerful crystals.

Seven levels in total were planned, each taking place on a different world in the DC universe. It all culminated with a final stage using mode 7, where the player would have flown the Lantern through space in a shoot 'em up style endgame.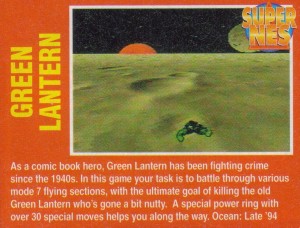 A contributor from SNES Central was able to get in touch with some former members of Ocean to learn more about the project, as well as its demise. According to these sources, the game's original programmer was Andrew Deacin. Unsatisfied with his efforts, the company's management later replaced him with Bobby Earl, who rewrote its code from the ground up. This is just one of a number of restructuring moves made during Green Lantern's development, says John Lomax, who was an artist on the team:
"Green lantern was an interesting one as I was only on the game for the first few weeks before moving of to work on Jurassic park 2. It kinda went through development hell (new programmers coming on to finish it as the original guys were fired)."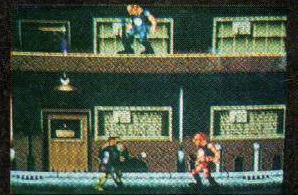 Bobby Earl, the coder who succeeded Deacin, revealed the circumstances of the project's eventual cancellation:
"Green Lantern was a project I worked on quite a few years ago, for the Super Nintendo. The project was infact finished, but DC Comics wanted some very difficult and arduous changes to the product, thus considering the budget already spent, Ocean Software deemed it was not worth continuing with the project."
Given the apparent pressure the license holders were placing on Ocean, it is likely that they were also to some extent responsible for the changes in the team's staff throughout its development.
Dean Evans, the composer of the game's soundtrack has since come forward about his experience with the title, even releasing some of the music he created for it on YouTube. According to Evans, a number of his songs from Green Lantern were re-used in Ocean's Waterworld tie-in game.
Thanks to Celine, Ace, RetroGameFan9000 and Rod_Wod for the contributions! (Scans from Super Power magazine #29, CD Consoles #7, Joypad #39, Edge #8)
Also thanks to Ash The Dragon and Pipoumantis for translation assistance.
Images:
What do you think about this unseen game? Give your vote!
Would you like to add more info, screens or videos to this page? Add a comment below!
(your first comment will be moderated before to be published)

Latest posts by Liam Robertson
(see all)