Kunio-kun is a cult-classic series of action adventure games originally conceived by Technos Japan in arcades and for the Nintendo Famicom console. In its main titles you take the role of Kunio, a japanese high-school delinquent (bancho) with a good heart, punching and kicking other gangs to free the streets of your city. 
While in the west the series is mostly known for Renegade and River City Ransom on the NES, in Japan many more Kunio games were developed and published. In 1988 Super Dodge Ball (a sport-based Kunio-Kun spin off) was released on the Famicom. A strategy guide was published by Technos in Japan and as noticed by Arc Hound on Twitter, at the end of the volume there was an announcement for a cancelled, forgotten Kunio-Kun RPG.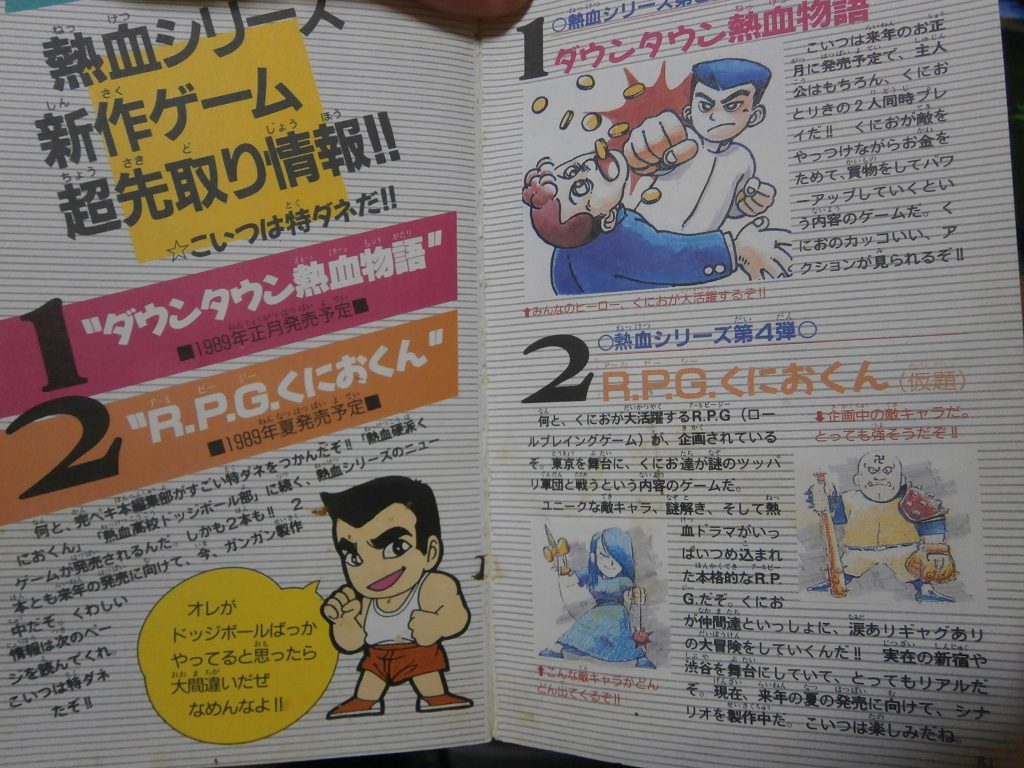 Luckily japanese user 3Ways posted a photo of this page on Twitter. In the same thread we can read that Masaki Wachi wrote the scenario for this lost Kunio RPG: he's mostly known in the west for his work on such classic games as Shining Force, Time Stalkers and PoPoLoCrois Monogatari.
By looking at the only enemy concept art published in the Super Dodge Ball strategy guide and by thinking of what kind of RPGs were mostly published on the Famicom in those years, we can speculate Kunio-Kun RPG would have been a turn-based RPG very similar to Dragon Quest, but with its usual modern high-school, bancho settings.
Thanks to thingumajig13 who translated the short Kunio-Kun RPG description:
"Nekketsu series – Part 4

RPG Kunio Kun (tentative title)

Wow, an RPG where Kunio-kun plays a big role is in the works! Set in Tokyo, this game features Kunio-kun and his friends battling it out against an army of delinquents. This standard RPG is chock-full of unique characters, puzzle solving, and Nekketsu drama! Kunio-kun and his friends set out on a great adventure filled with laughs and tears! It takes place in Shinjuku and Shibuya, so it's pretty realistic! Currently, the script is being written with plans to release the game in the summer of next year. We hope you look forward to it!

v Planned enemy character. He looks pretty strong!

^ These kinds of enemy characters are appearing one after the other!"
Images: