Rhino Rumble Puzzle is a cancelled puzzle-platformer featuring four playable characters and more than 60 levels (+ mini-games), that was in development by Formula Games / Lost Boys Interactive around 2001 – 2002, planned to be released on the Game Boy Color. Lost Boys was the original name of Guerrilla Games, prior to their acquisition by Sony and before creating such popular titles as the Killzone series and Horizon Zero Dawn. In particular Formula was Lost Boys' internal team dedicated to handheld games, responsible for producing titles such as Rhino Rumble, and Tiny Toon Adventures: Dizzy's Candy Quest for GameBoy Color.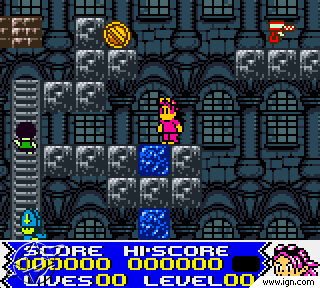 Some details on Rhino Rumble Puzzle can still be found in an old preview by IGN:
"It's a standard side-scroller, but the added challenge of protecting the water barrel changes the dynamics dramatically. And if that's not enough puzzle madness for you, you can build your own stages in the game — a rarity in puzzle games and an unheard-of concept in side-scrolling games. Let your imagination run wild, then trade data with your friends via the Infrared link and challenge them to beat your tricky track."
We can read the original game's description on the archived Lost Boys website:
"The time has come again. Rhino has already eaten too many peppers! This time however, all the animals had foreseen this, putting all the available water in barrels and hiding on high ledges in labyrinth-like caves. Put yourself in the shoes of one of Rhino's four best friends, and try to quench Rhino's thirst by getting him the barrels of water. Using your own cleverness and objects scattered throughout the levels, your task is to jump and drill your way through the caverns. Dodge enemies, solve puzzles, and do it all within a time limit, without dropping the barrels! The animals will understand your actions, but they'd rather Rhino finally learn a lesson from his greed, so they'll try to stop you. Crush, crush, drill and chop your way through over 60 challenging puzzle levels and earn a place in the hall of fame"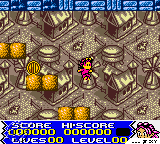 Rhino Rumble Puzzle was also mentioned in a 2011 interview by Gamasutra with Mathijs de Jonge (Game Director at Lost Boys / Guerrilla Games):
"I have very fond memories of a Game Boy Color game we made during the Lost Boys Games days, which we sadly couldn't find a publisher for. Even though it was a Game Boy Color game, we had the same ambitions we had with Killzone 3, in a way. […] It's a puzzle platform game but it has a level editor built in, and all the 80 or so levels in the game we made with the in-game level editor. If you remember it, the Game Boy Color had an infrared port, so you could submit the levels/puzzles you made to your friends that way.

That was already a big and ambitious project, and that was such a long time ago, and it's really sad we couldn't find a publisher for it — because back in those days publishers wanted licensed characters, and asked us to change the nice characters we created to well-known cartoon figures. We didn't want to compromise our game, and sadly, that ensured that nobody wanted to publish it."
At the time Lost Boys were also working on another cancelled Game Boy Color game titled "Knights", originally conceived as a canned Dreamcast multiplayer brawler and later reworked as a Playstation 2 action platformer (also unreleased), before the team was sold to Media Republic and renamed Guerrilla Games.
Thanks to Squiddy Goat for the contribution!
Images:
What do you think about this unseen game? Give your vote!
Would you like to add more info, screens or videos to this page? Add a comment below!
(your first comment will be moderated before to be published)