Hardwired from Novalogic was about postapocalyptic world filled with smugglers and gangs in Mad Max style. Player will be in role of a smuggler that will transport various goods on the black martket from zone to zone. Police or pirates will try to prevent player from doing it, so for the player will be important in what condition is players vehicle, known as Panzer, a mix between hovercratf and tank. After succesfull mission payment is done and player will be able to upgrade its hovercraft.
Game was going to be made after a cult novel of the same name, Hardwired, by Walter Jon Williams from 1986.
Novalogic set up a new studio in London to develop Hardwired.
Game was sadly cancelled mainly because
Wired magazine started a lawsuit against developers , where name Wired was the main concern. More info is on a screenshot in gallery of an article from 1997.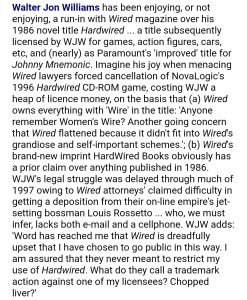 Only a few beaufiful concept art screens now remain from this interesting game.