The original "Apros: Daichi no Shou Kaze no Tankyuu Sha hen" was an adventure game based on a series of Japanese Sci-Fi Fantasy novels, developed by WolfTeam (now Namco Tales Studio, mostly known for their Tales Of series) and published in 1992 for PC-98. A few months later they were already working on a sequel for Sega Mega CD, titled "Apros – Tenkū no Shō" (アプロス天空の章), but in the end was quietly cancelled when the main developer / designer has left the team.
As noticed by Kid Fenris on the Lost Levels forums:
"The only screenshots I've found are in this vaguely worded capsule preview from the February 1993 issue of (Diehard) Gamefan."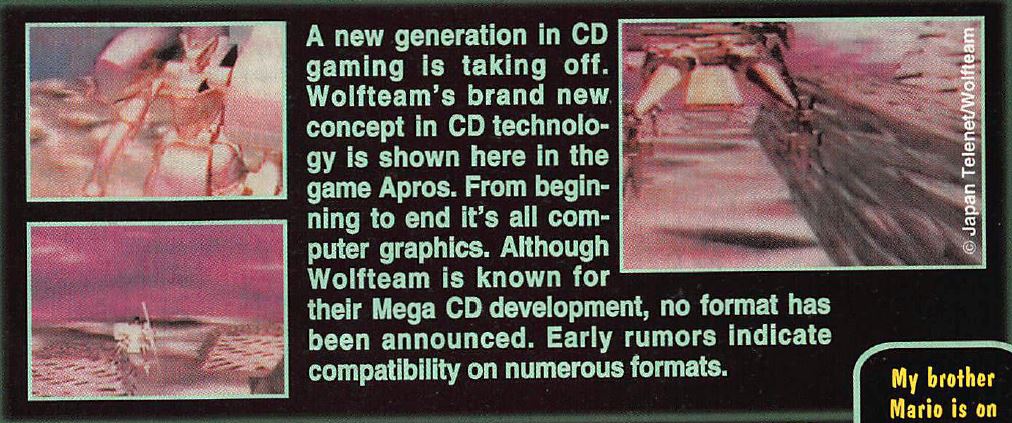 "Apros was mentioned again in the June 1993 Gamefan, where the letters columnist informed a reader that the guy who was developing Apros has left Wolfteam (along with many others) and is starting his own company. He told Kei that he will continue development but is unsure of what format Apros will appear on. (It may be several.)"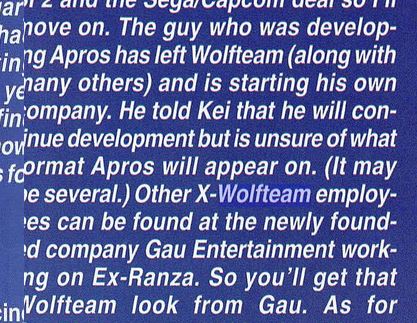 As noted by Zigfried these images from the Sega Mega CD version of Apros are completely different from their first PC-98 game, so we can assume it was really going to be some kind of sequel:
"It's a fantasy adventure game with lots of (non-CG) animation. I've got the PC-98 game, and I've got a magazine that shows screens from *before* the Mega CD version was canned… and I've got to say, it looks nothing at all like those pics from the Gamefan mag."
VGDensetsu also found more images in Beep! Mega Drive magazine (November 1992 + February 1993)
If you find out more about this lost game, please let us know!