Miina in Wonderland (AKA ミーナ ワンダーランド) is a cancelled mini-games collection planned by Micronet for the Sega Mega Drive. There are not many details about this lost project, but from the few screenshots shared on Twitter by japanese fans, it seems players would have been able to move around a city map with many different buildings, and in each one there would have been a mini game to play. Some of these games were quite strange, such as a chicken race against a masked man.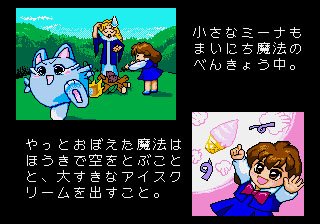 It seems Miina in Wonderland also had some kind of story-mode, following the adventure of Miina and her fluffy animal friend. A playable prototype was found sometime ago and sold on Yahoo Auction, so we can hope one day a ROM of the game could be uploaded online to be preserved.
If you can read Japanese and see some more interesting details in the scans below, please let us know!
Thanks to GDRI for the contribution!
Images: