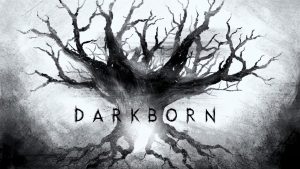 Darkborn, previously known as Archenemy and Project Wight, is a canceled medieval fantasy First-Person Role-Playing Game developed by The Outsiders from 2015 to 2020, and published by Private Division, for the PC, Xbox One and Playstation 4.
Darkborn was set in the medieval time where vikings shared the world with a forgotten species of creatures. Player embodied one of these creatures named Darkborn, whose purpose was revenge against a band of vikings marauders known as The Pale Enemy, after the latter have slaughtered its species for blood rituals. Over the course of the game, you would play multiple generations of these Darkborn as you learn the motivations for their bloodshed.
First information regarding this game were hinted in February 2015 during the announcement of the creation of The Outsiders:
Former Battlefield developers David Goldfarb and Benjamin Cousins today announced a new game studio, The Outsiders, which is working on a PC role-playing game. (…)

(…) In a separate interview, he told Eurogamer that the company's first game will be an RPG. "I've loved RPGs all my life and have been shoehorning elements of them into games I've made over the years with lesser or more success," he said. "I'm interested in systemic story stuff. I know Ken Levine has recently been talking about this. I have another way I want to try and do it. But I think it won't be a game of cut scenes."
It wasn't until November 2016 that Project Wight was officially unveiled by its developers, showing a short gameplay video of the game:
"There are currently 12 people working at The Outsiders," says co-founder David Goldfarb. "Our background is a pretty broad mixture of experience. Ben Cousins (co-founder) and I come from DICE, as do the other two founders.

Wight is a low fantasy RPG set in the Dark Ages, and the twist is that you play as a creature that would usually be the enemy in another game. "The player will experience life on the other side of the sword as a creature attempting to survive the extermination of its species by humanity," says Goldfarb. "The creature starts out young and extremely vulnerable, but will eventually grow strong enough to turn the tables on its persecutors."

One of Wight's biggest inspirations is a book by John Gardner called Grendel. "I read it a long time ago," says Goldfarb. "It's Beowulf, but written from the perspective of the villain. That inversion was interesting, but it also meant something. I was always siding with the outcast."

"There was some kind of dislocation in me it spoke to, I guess. That feeling of not understanding the world you were in, why you were there, or why things were cruel in it. And as time wore on it became clearer and clearer that there was a game there, and maybe the time had come to make it. So we did."

Project Wight, which doesn't even have a name yet, has a long way to go. But I'm already sold on the idea. As for what the moment-to-moment play will be like, Goldfarb stresses that team is still working hard to figure this out. "It's too early to say, but we are definitely not making a linear experience. But how exactly that takes shape is still years away."
Thereafter, the project became more silent. In December 2017, we learned that it would be published by Private Division, a new label from Take-Two Interactive, supposed to fund independent titles from small studios made up of industry veterans:
"We didn't want to cede control of this thing, essentially," says The Outsiders co-founder David Goldfarb, whose studio is publishing its first game with Private Division. "You always hope for the best, but maybe in some cases, and I know from talking to friends of mine, you lose control of the thing that you spend an enormous amount of energy and time on." For The Outsiders, controlling its IP is essential for its other business endeavors.
After being silent throughout the entire 2018 year, the game resurfaced as Darkborn in April 2019. Gameinformer wrote a preview about it:
(…) The Darkborn may not deserve persecution, but judging by their bloodthirsty battle skills, you can see why the humans fear them. In the few fights we see in this demo, the Darkborn exact revenge on The Pale by eye-gouging, severing limbs, grisly decapitations, and even a ripping a still-beating heart from the ribcage of one unfortunate grunt. Many of these gruesome attacks are earned via Darkborn's "death gift" system.

No matter which age your Darkborn may be, you can earn new death gifts by interacting with the dying kin you encounter in the world. In this demo, we see a few of them in action. Deep Sight operates like an investigative mode that highlights your path forward and any enemies in the vicinity. Stealth Bite gives the whelp a powerful stealth takedown. Thorn Throw gives the Darkborn a ranged attack, and the Whip Attack is an effective tool for stunning enemies before going in for the kill. (…)
However, troubles occured for the game as we learned from Gamespot in July 2019, that Private Division parted ways with The Outsiders in the end of 2018:
The game, which was re-revealed as Darkborn in April this year, is now moving ahead with a different publisher. Private Division confirmed to GameSpot that it ended its publishing arrangement with The Outsiders in 2018.

"Private Division ended our publishing agreement with The Outsiders at the end of last year," reads a line from Private Division's statement. "We supported the studio financially for several months after ending the deal, and we wish David Goldfarb and the rest of the talented team the very best with the game and their future endeavors."

It is not immediately clear why Private Division and The Outsiders split up, or what financial considerations might have been in place related to the business separation. Private Division declined to share further insight on the matter, while The Outsiders CEO Anders Pettersson tells GameSpot that the Swedish studio plans to share more details "after the summer." Also unknown is if The Outsiders will or already is seeking a new publishing arrangement, or if the studio will self-publish Darkborn.
Unfortunately, Darkborn was officially canceled in April 2020 as stated by The Outsiders on their official Twitter account:
Over the past four years we have been working on a game property we loved very much. This was once called Archenemy, became Project Wight, and finally, Darkborn.

Last April we released a gameplay trailer for Darkborn, knowing that it might be our final release. In spite of our best efforts to continue, ultimately we had to make the difficult decision to halt development on the project. Perhaps one day we will return to it: we all hope so and genuinely appreciate the support of everyone who followed us over the years.

But one door closes and another opens.

We have been working on something else.

On something new. Something awesome. Something we really love.

We look forward to being able to share it all with you.
That new project was Metal: Hellsinger released in September 2022. The Outsiders was acquired in June 2021 by Funcom. In August 2022, David Goldfarb explained a bit what went wrong during the development of Darkborn:
Speaking to NME in a recent Boss Level profile, Goldfarb said that Darkborn – which was cancelled by The Outsiders in 2020 – suffered some major issues in the development cycle, including a big change to the game's structure.

"It didn't start as an open world game," shared Goldfarb. "It became one, and that's why we got fucked. If we had done it another way, maybe we would have been okay."

Goldfarb added that Darkborn was cancelled due to publisher Take-Two deciding to part with The Outsiders, which "couldn't get anyone to pay what it would have cost to continue, because of a lot of complicated legality around IP ownership and the publishing rights to the game."

"A lot of people think we made this decision to abandon that project. That's not true, okay. We really wanted to make that game," added Goldfarb.

Beyond publishing issues, Goldfarb said the team "never really cracked" first-person melee combat, and described it as "probably the hardest thing in the industry."
Images: