BaiJiu Racer is a cancelled online kart-racer that was in development for PC in 2008 by cult-following game designer American McGee and his team Spicy Horse. After working on their episodic American McGee's Grimm game series and with support from ICE Entertainment, Spicy Horse pitched Baiju Racer as a competitor for Crazyracing Kartrider, an online racing game that was quite popular at the time in the Asian market.

As wrote by American McGee on his blog:
"Announcing "BaiJiu Racer" – An MMO-lite racing game concept with China as the core theme. The concept has been in focused pre-production for the past three months here at Spicy Horse. Working with our Chinese publishing partner ICEE we've crafted a solid Game Design Document, Technical Design Document, Art Bible, Visual Target Demo, and Development Plan. Together these materials constitute a compelling pitch for a title we think will be a strong competitor in the worldwide, lite-MMO, online racing category (think "Kart Racer").

A lot of teams dream of a "Mario Kart" or "KartRider" killer – and we think our concept goes a long way towards being a viable contender. For one, it's the first Chinese cart racing game developed with an authentic and original Chinese art style, set in real-world locations, and featuring some of the funkiest racing vehicle designs the world has ever seen (inspiration coming from actual Chinese vehicles). We're focusing on semi-realistic (and fun) physics-based racing dynamics, going light on the power-ups, and throwing in a lot of visual action."
Gameplay would have been mostly skill-based, with just a few Mario Kart style power-ups:
Distinctive art style featuring a timeless portrayal of everyday Chinese people and locations
Core gameplay focused on skill-based racing, avoiding fun-killing power-ups
Strong narrative backbone and emotional drama – "everyone can be a hero"
Unique and interesting vehicle designs based on real-life Chinese vehicles
Track locations that reveal a China few foreigners have seen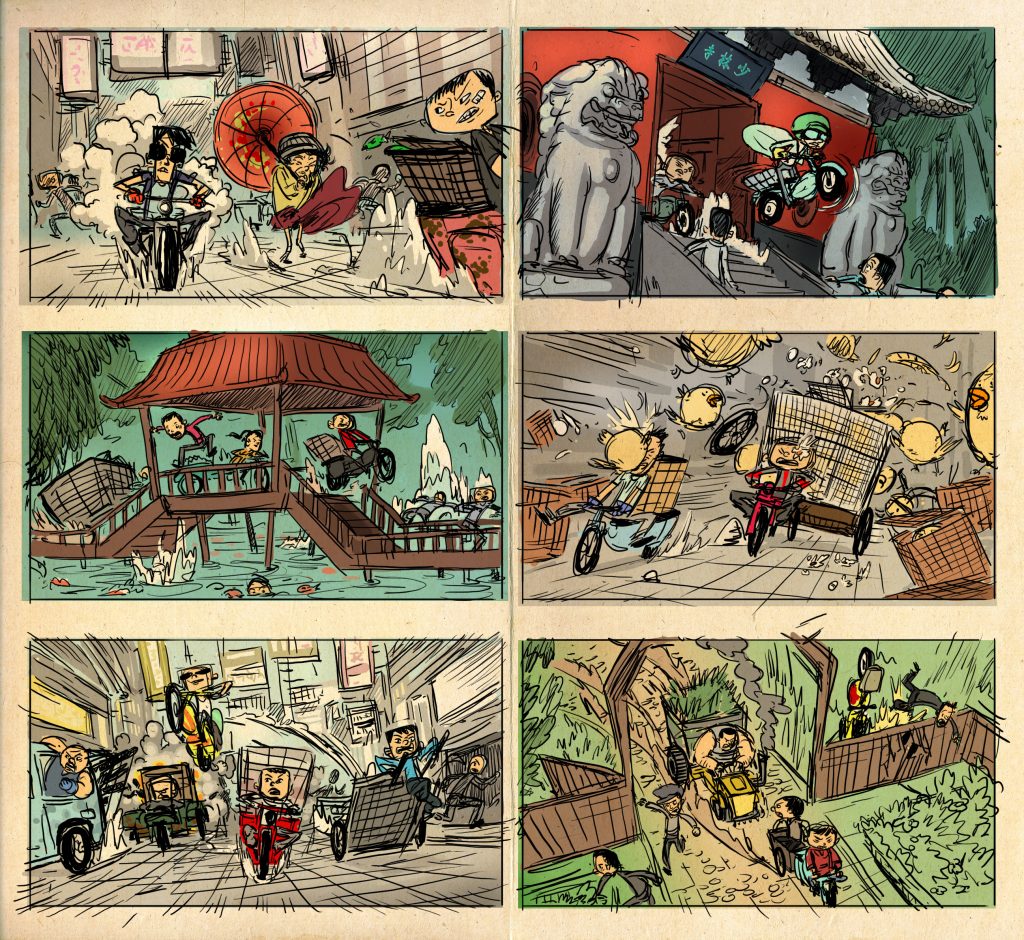 Baijiu Racer would have been free to download and play on PC, with heavy emphasis on cosmetic paid content. For this reason playable characters were designed with an "ugly" style, to incentivize players to buy cosmetic stuff. As wrote by American McGee in 2010:
"Online games dependent on microtransactions and purchase of items must create and maintain a compelling library of buyable content. Generally this content is geared towards improving player's abilities in-game, either upgrading performance of a vehicle, allowing access to a bigger weapon, or resupplying ammo/fuel for those weapons and vehicles. Purchases can also be purely cosmetic, improving Player's outfit, hair style, or physique. It is agreed that in a fair and balanced PvP environment purchased items should not upgrade or influence a Player's ability to win. This means purchased items are purely cosmetic.

Solution: Our brains have evolved to be powerful facial characteristic readers. We are walking face "value scanners". A game geared towards the creation and maintenance of facial "value" taps into this most basic skill of the human brain. Facial beauty is a function of ratios and relational harmonies. A character creation system with built-in flaws limits Player to creating only ugly faces.

Typical facial creation systems assume Player will build a face at the start of the game and then leave it until the end. By linking the facial manipulation mechanic into the store we create a constant driver to spend time/money on making a player character more and more attractive. The promise of all those marketing campaigns becomes a reality.

Races (crashes specifically) will deliver damage to Player Character's face, clothing and body. This way we create an instantly recognizable value system within the game which can be monetized through make-up, insurance, surgery and more."
While ICEE was announced as the publisher of the game in China, as far as we know Baiju Racer was never released in any way, as confirmed by a former Spicy Horse developer's resume.
Images:
Video: