Around 1992 Tokuma Shoten Intermedia planned to develop or publish a tie-in Super Nintendo video game for the popular Studio Ghibli anime My Neighbor Totoro. At the time Studio Ghibli was part of Tokuma Shoten and the company published a few anime-related games such as Yadamon: Wonderland Dream and Eternal Filena. As far as we know the game was never officially announced by the company, but in 2019 Itoh Shigeyuki (former artists at Tokuma) shared on Twitter a couple of images from the game pitch they showed to Miyazaki.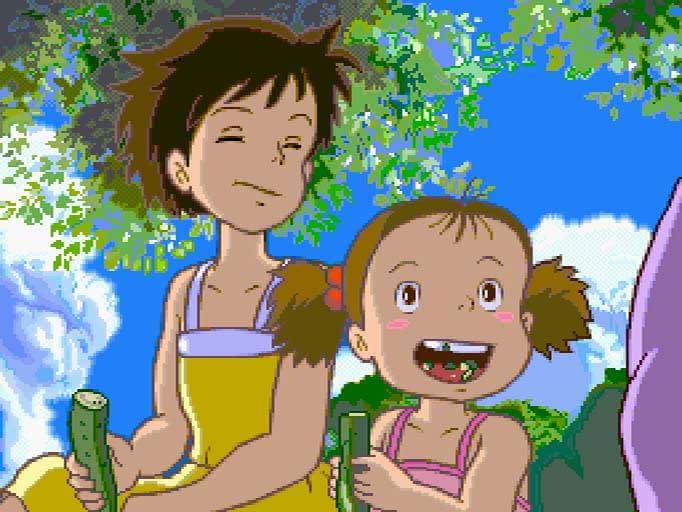 As translated by Nina Matsumoto on Twitter:
"About 27 years ago, I drew these from scratch pixel by pixel to pitch a My Neighbor Totoro Super Famicom game to Hayao Miyazaki. (*for Tokuma Shoten Intermedia. The game got shelved). There were no decent scanners back then, so I had to stare at an art book and draw these one pixel at a time"
And a few more details "translated" by Google Translate:
"At that time, I felt a good bleed out when I saw it with a CRT while working, and it was more anime-like. Tokuma Shoten proposed a plan because he wanted to put it out, but unfortunately the director's ok did not appear.

I couldn't tell you the details of the reason for the store, but as you pointed out, he didn't seem to like the game.

I guess it was more like an adventure game. I want to ignore the project and put out a racing game on a cat bus (laughs)

I think that there was a certain amount of odds, and I think that I had a plan for Manager Miyazaki, but in terms of adventure-oriented content, it might not have been as meaningful to turn it into a game.

Because it was for planning purposes, I think that I use more than 16 colors. However, the number of colors is considerably reduced."
In the end after this undeveloped Super Famicom pitch there has never been an official My Neighbor Totoro video game.
Images: