Rayman Legends is a 2D platformer by developer, Ubisoft Montpellier, and the follow-up to Rayman Origins. It was released in 2013 on Wii U, Xbox 360, PS3, PS4, Xbox One, Vita and PC. It originally started as a Wii U exclusive, billed as a launch title for the console's November 2012 release.
Leaked NFC Concept Trailer
On April 27 2012, the very first footage of Legends emerged online. This was a conceptual video intended for internal purposes only, which was leaked by an anonymous source on YouTube from inside Ubisoft.
The build of the game shown in the reel wasn't terribly different from the final release, but it did reveal one quite significant feature that was never implemented; nearfield communication support. Towards the end of the clip, it demonstrates a work-in-progress concept for NFC figures, which would have worked with the Wii U gamepad's built-in chip.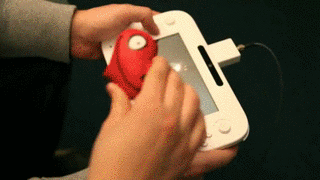 Ubisoft's video contained two uses of the proposed accessories: a heart figure, which would replenish the player's health and a Rabbid toy that would cause Rabbids to appear in the game as enemies, as well as in the backgrounds of levels. Towards the end of the video, it hints towards the possibility of other Ubisoft characters, when a figure of Ezio from the Assassin's Creed series appears.