Trans Am Racing 1968-72 is a cancelled racing game that was in development by EAI Interactive and would have been published by GT Interactive on PC. In 1998, Papyrus / Sierra released Grand Prix Legends, a historic-based racing simulator based on the 1967 Formula 1 season: the selling point (other than the historic accuracy of the 1967 F1 season) was its advanced 3D physics model.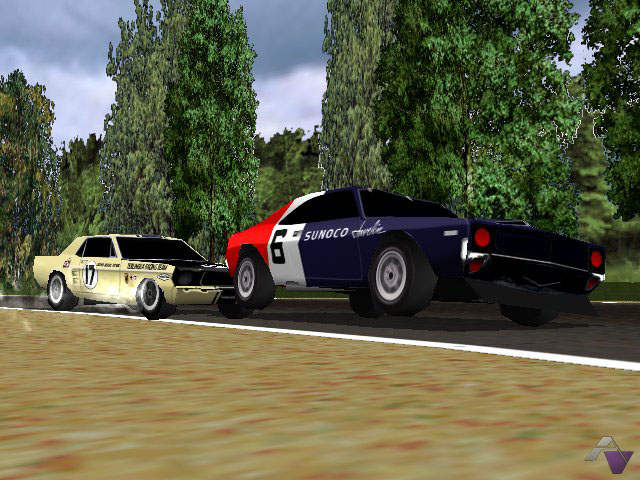 GT Interactive announced it's own retro simulator, Trans Am Racing 1968-72, which was to focus on the golden era of Trans Am racing, in which the American "Big 4" (Ford, General Motors, Chrysler, American Motors) all fielded cars. The romanticism of 1960-70s V8 muscle played into this, as well as a host of Trans Am tracks, in particular the demolished Riverside, which hasn't been replicated in a game or sim to that point. As we can read on PC Zone 66 (August 1998):
"If you've ever fancied yourself behind the wheel of a Ford Mustang, AMC  Javelin, Plymouth Barracuda, Chevrolet Camaro, Pontiac Firebird or Trans Am, look out for GT Interactive's Trans-Am Racing this October. It's a 3D race sim  that captures all the thrills and spills of the 1968-72 SCCA series. The   developers insist that their  physics model is the most  accurate yet, and to help  make the game accidents  seem more realistic they  even went to the extent of  crashing the cars and  analysing what happened.  They also brag that their 16-player network option is unequalled by any other driving game."
It was planned to be published in the Fall of 1998, then was delayed till the Spring of 1999. Screenshots were released and a playable version was made for E3 in 1998 (according to a Usenet message). More details on the game were shared by former EAI Interactive developer Adrian Penn in an interview with Sports Gaming:
"EAI is the only game developer that employs a team of people who have been producing litigation animations for nearly a decade. Attorneys rely on EAI to produce scientifically accurate animations that are realistic enough to be admitted into evidence.  EAI has produced thousands of animations for court cases that touch many areas of the law. And not once has any of these animations failed the arduous, evidentiary process mandated by the courts.  EAI's litigation team, which includes vehicle dynamics experts, engineers and physicists, worked with the game development team to create some of the most realistic car crushes and crashes that have ever been viewed on the PC. These crashes conform to the laws of physics and follow the properties of vehicle dynamics. And although the typical gamer may not be versed in the properties of physics or structural dynamics—these players will understand when they see this—that TransAm Racing is something special."

"A technological gem that adds additional authenticity is the real-time crush. When a car is crushed during the game, the deformations are produced on-the-fly. In real time. Let's say you careen your Ford Mustang into your opponent's Chevy Camaro. The crush that occurs is calculated instantaneously. Ordinarily, a game will have several pre-rendered crush eventualities programmed into it. With TranAm, the deformations are visualized immediately. And of course, these racing battle wounds conform to the laws of physics and engineering. The crush that you see is what would have occurred in the real world under the same circumstances."
"There is multiplayer support for single races and seasons consisting of up to twelve races. You can play over LAN, modem, and the Internet. Yes, you'll see Trans-Am on Sega's HEAT. […] There's 12 tracks and 25+ cars (we'll cram in as many as we can)."

"Yes, 48-hours is the maximum race length. Trans-Am races in that era varied in length – two and four-hour races were common. We'd originally set the maximum length to 12-hours – Sebring, and early Trans-Am venue, was a 12-hour enduro. However, we received a number of requests from sim racers on the Net asking for longer races. So we upped the max to 48. Unfortunately, there's no provision for nighttime racing so the races will be 48-hours of continuous daylight."
However, the sim would be cancelled in early 1999, possibly due to the low sales of Papyrus' Grand Prix Legends. The engine would be used for the PS1, Saturn and PC game Dukes of Hazzard: Racing for Home.
Thanks to Mike for the contribution!
Images: