Zblu Cops was a cancelled adventure game based around the French comic book of the same name. It was being developed by Biodroid exclusively for Wii with a release being targeted for mid-late 2010.

Bringing Back The Classic 90's Adventure Game – Zblu Style
The original Zblu Cops comic series, a comedy about a group of incompetent yet reluctantly heroic group of law enforcers, grew a modest cult following in its country of origin throughout its run. However, with no official English translations of it ever released, its fanbase was never able to expand beyond there in any great numbers. Biodroid's video game would have been its first foray into English-speaking markets with the team hoping for an international release.
The title entered development midway through 2008 with ambitions high, one former developer recounted, calling it "an attempt to revive the classic 90's adventure game". Biodroid's initial pitch to comics publisher Glénat placed a high emphasis on accurately conveying the humour and goofiness of the comic, but was very much set on blazing its own trail. It would have seen players controlling 10 different members of the Zblu Cops, each with their own unique abilities used to solve puzzles and take down enemies. Two officers were rendered on screen at a time, but you could cycle through a wheel of other playable characters to alternate between them in real time; similar to the LEGO video games. It was to be fully playable in 2 player local co-op, as well.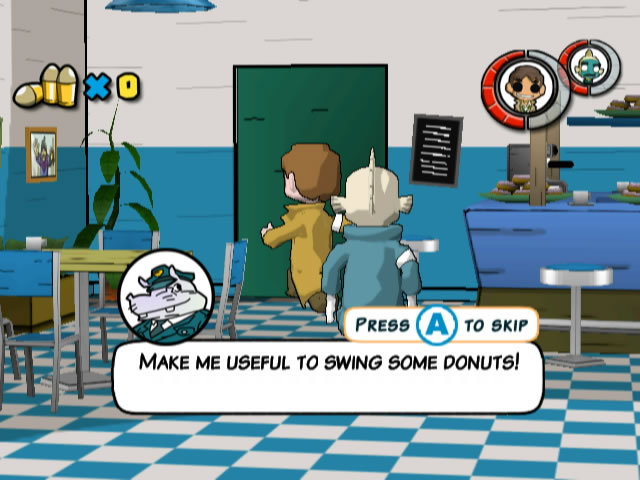 Excerpt from the initial press release:
On a criminal trail which takes them underwater, through the jungle, down the sewers, up the tower-blocks, inside a volcano – and even into deep space – the Zblucops display all of their notorious dysfunctionality, bad taste and even worse humour… before emerging triumphant with a fist-full of medals.

This action/adventure game brings to Wii the kind of strong storytelling, humor and dialogue found in traditional adventure games.
Cutscene art:
Zblu Cops was presented in a cel-shaded art style; a play to authentically represent the hand-drawn look of the comics. Even more crucially, we were informed that Bill and Gobi, the writing duo responsible for the series, were actively involved with development on the project from its inception. Their contributions mostly included overseeing the art direction, in addition to having final say on any other aspects. We were told that the two were very laidback when it came to writing duties, allowing the developers plenty of creative freedom.