Hell or High Water is a cancelled jet-boat shooter that was in development by Wild Child Studios for PC. You can imagine it somehow like a mission-based Wave Race set in different levels from all around the world, where you had to shoot down enemies and collect key-items to complete your objectives.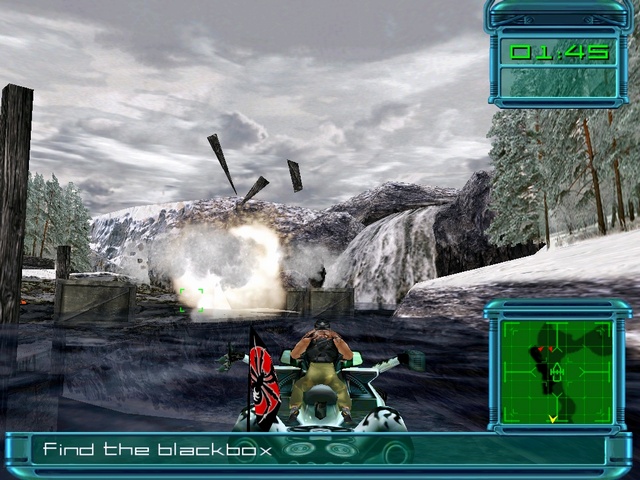 As we can read in the prototype description:
"Hell or High Water fits players in a heavily armed military-type jet-boat. You have to use your best skills to outmaneuver and destroy AI-controlled opponents with your arsenal of rockets and machine-gun. The game consists of several episodes in various parts of the world with different mission objectives. For example, in the episode at Amazon River your goal is to collect dynamite and use it to mine and blow up a river dam, while in the Nord episode you have to find and destroy a crashed plane prototype and pick up the black-box. The whole game is an intense race against time in the world of water, fire and explosions!"
The team worked on this prototype to test gameplay using Driver-Inter's proprietary engines, but in the end the project was cancelled, possibly because they did not find a publisher interested in funding it. Wild Child Studios were also working on another water based game titled "Extreme Wakeboarding", which was also canned in 2002.
Thanks to Mihapsx for the contribution!
Images:
Videos: