In 2004 Rockstar Games published Grand Theft Auto Advance, a top-down episode of GTA developed for GBA by Digital Eclipse and set in Liberty City, as a prequel to GTA 3. At least another cancelled version of GTA 3 for GBA was in development before the released one.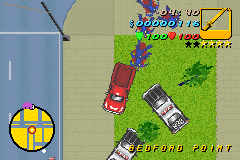 In 2001 GTA 3 was announced by Destination Software, which acquired the rights from Take 2 / Rockstar to publish their own version of the game for GBA, to be developed by Crawfish Interactive. Thanks to an old article by Brian Provinciano (not online anymore on his website), we can read more details about this lost GTA portable:
"In November 2002, rumors began spreading that GTA3 for GBA had been cancelled. Destination Software denied the claims, responding, "The game has not been canned. We'll be making an announcement at the end of the week". Sure enough, shortly after, news leaked that Crawfish had GTA3 for GBA in development. What's more, was that the report claimed it was already well into development with an expected 2003 release. Insanely, a week after this report, Crawfish shut down, laying off all of its staff and putting the development in limbo.

According to former Crawfish head, Cameron Sheppard, "Crawfish had many titles finishing and a number of publishers not paying on time. These issues joined meant that the company couldn't continue quite long enough". That was, until Rockstar handed it over to Digital Eclipse. Over the next year, Destination Software still claimed they were publishing it, both after Crawfish shut down and after production begun at Digital Eclipse. Whether their claims were truthful or not, when they ultimately lost the license is unclear. However, they were not the publisher by the time Digital Eclipse's version hit store shelves.

It's possible that Destination Software was involved with publishing while Crawfish was the developer, but it's also possible that they'd lost the license by the time Crawfish landed the project. A former Crawfish developer confirmed that "There was one before ours that also got canned". It's unclear whether Digital Eclipse was involved with both the Crawfish one and this cancelled one, or if that previous title had been the end of the line for Destination Software. Either way, it would seem that there's still at least one pre-Crawfish GTA3 prototype out there, somewhere.

In July 2003, several former Crawfish developers began to share details on their unreleased GTA3. This wealth of information described elements which showed up in Digital Eclipse's GTA Advance, and aspects which did not, such as the controls and multiplayer."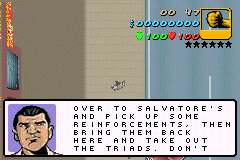 Thanks to Brian we also saved information about the planned story:
"Former Crawfish developer, Dave Murphy explained, "My version was set a few months before the events of GTA3.". Digital Eclipse's version also took place prior to the events of GTA3. As for the characters, Murphy explained, "[the game] featured a mix of old characters from the PS2/PC version and new ones based on my colleagues.". He reiterated, "Many of the characters were based on other members of [Crawfish] staff". It's clear that these characters didn't persist in the Digital Eclipse version.

Murphy continued, "The main character wasn't the same as the PS2 but he looked kind of similar. He is taken on by the mafia at the beginning of the game, like the original, but stays working for them throughout, as he chases a mafia deserter and a case full of money from the Callahan bridge to the Cedar Ridge Observatory.". Interestingly, the story is different from Digital Eclipse's."
A multiplayer mode for GTA 3 GBA was also planned:
"Multiplayer never made it through to the final version. Although it was planned during the Crawfish development, even Crawfish expected it to be cut. Crawfish's Dave Murphy explained, "Yes multiplayer was planned but we probably wouldn't have got it in there, with the time the project running over.". As for Murphy's design, he revealed the following: "We decided on four different modes:

+ Liberty City Survivor: Standard death match similar to GTA 1&2 on PC.
+ City Circuit: Racing on pre-set routes round the three islands
+ Car Jack Crazy: Players race to collect a list of vehicles and return them to their garage.
+ Special delivery: All players fight over a package which must be taken to their base."
In December 2016 PtoPOnline published a video showing an early tech demo / prototype of this cancelled Crawfish version of GTA 3 for GBA, with just a few features and most of the game missing.
Thanks to Ilua Firstov for the contribution!
Images:
Videos: