A Nintendo 64 port of the original Grand Theft Auto was planned by DMA Design (along with a Sega Saturn version), but unfortunately the game was never released. A few previews of GTA 64 were published in websites such as IGN, revealing some more details about this port:
"Rockstar isn't releasing much on the Nintendo 64 version of Grand Theft Auto, except to say that it's not the sequel or an add-on pack. IGN64 has learned that the game, though essentially a port of the PlayStation original, will feature significant additions in the vein of souped-up graphics and added levels and characteristics. "
While websites never shown any official screenshot for the N64 version, a few alleged images were published by some magazines in Spain and Italy, showing "blurred" textures / 3D graphics for the environments that really looks like something a Nintendo 64 could do. Here is one of these articles, found by Luchi in Spanish N64 Magazine (issue 19, july 1999):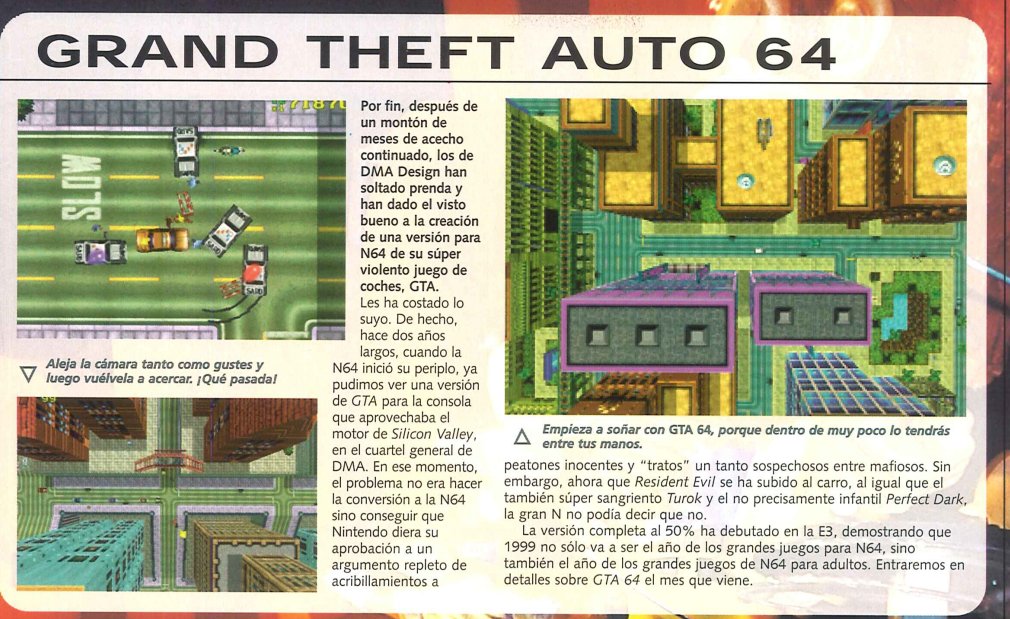 Unfortunately without any official statement it's hard to say if these screenshots are really from the cancelled GTA 64, but it's interesting to notice that in the official  design document for Grand Theft Auto (at the time titled "Race 'n' Chase") the game was indeed planned to be released on the "Ultra 64".

What do you think about this unseen game? Give your vote!
Would you like to add more info, screens or videos to this page? Add a comment below!
(your first comment will be moderated before to be published)