Update: thanks to megalom00d we found this game was an early version of Fighting Bujutsu! It was released in the arcades, we are not sure if Konami really planned a N64 port (later cancelled) or if it was just an error from the magazine.
Original post: Our beloved Nintendo 64 did not have many traditional fighting games compared to the Playstation, but there were a few interesting ones such as Fighter's Destiny and Flying Dragon. Konami developed two exclusive fighters for the N64, Rakuga Kids and "G.A.S.P.!!  Fighters' NEXTream" (AKA as "GASP" in Europe and "Deadly Arts" in the United States), both published in 1998. This screenshot found by Youloute in Player One magazine issue 71 (January 1997) about an untitled, new Nintendo 64 fighting game by Konami, does not look like anything they ever released. It kinda looks a bit like "Dual Heroes" but that was developed by Hudson and published in December 1997. Yeah, it seems like we got another cancelled N64 game! And it looked quite nice for a 64 bit title.
If you ever find any other image of this lost Konami game, please let us know!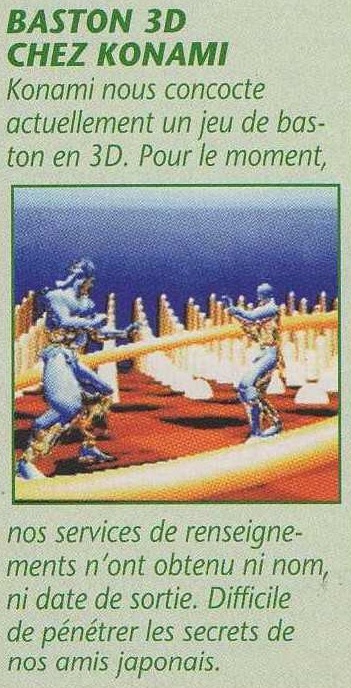 What do you think about this unseen game? Give your vote!
Would you like to add more info, screens or videos to this page? Add a comment below!
(your first comment will be moderated before to be published)