After being one of the most forgotten hidden gems for Game Boy Color in 2002, in the last few years Shantae became a cult-series, with 4 main games developed by WayForward Technologies for PC, Wii U, DS, Playstation 4, 3DS, Xbox One and Nintendo Switch. While Shantae games are quite popular today, most fans still don't know that the first, original Shantae project for Playstation 1 and PC was never released.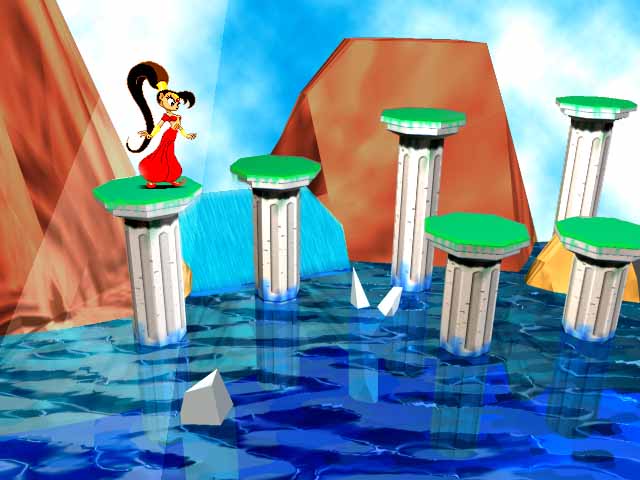 Thanks to mpx and Youloute we know that this cancelled 32 bit version of Shantae was in development around 1997 and it was even shown on the official WayForward Technologies website in the late '90s:
"It is a time of magic and majesty, where strange beasts roam the land and beautiful creatures wield powerful magic. In this world lives a young girl named Shantae… a troubled genie, born without magic, yet the only individual capable of saving the realm from disaster. Following a century of imprisonment underground, three powerful Jins have broken the seal that restrained them, and now seek to drain the world of the magic it needs to survive. As the magic is stolen, the peaceful creatures that once harbored it are left weak and helpless. Shantae, unaffected by the magic drain, is the only hope for peace. But can she possibly battle the Jins and their legion of monsters relying only on the magic she reclaims along the way? It's up to you to guide Shantae through perilous traps and dangers beyond your wildest imaginings!"



"Shantae is designed for the PC or comparable game system (such as the Sony Playstation). The gameplay is full 3-D, with traditionally (2D) animated characters that move in and out of the rendered backgrounds. With this advantage, players can travel down streets, enter tunnels or battle monsters several times the size of the normal viewing area! Perhaps the best feature of this 3-D system is the totally hands-free camera movement. The view automatically zooms in or out, up or down depending on the proximity of Shantae to other important elements. In addition, the paths Shantae can take often split into different layers of depth, allowing the player to walk on near or far surfaces in order to get around obstructions, crevices, or buildings. Also, enemies can attack from any direction in three-dimensional space in order to hunt Shantae down. It's the long awaited blend of 2-D's fluid animation and 3-D's next generation gameplay rolled into one!"
During an interview with Siliconera, Shantae series director Matt Bozon said:
"We had a polygonal Shantae that could be run around in three distinct gameplay 'gyms'. […] One was a spline-scroller (like Namco's Klonoa), one was a free-range 3D like Mario 64, and the last was an isometric 3D platformer. We've done a lot of exploration in this area… Shantae was a sprite/3D hybrid for PlayStation and PC, and was free-roaming on the PlayStation 2."
Shantae's character design was a bit different in this lost game, compared to her current design: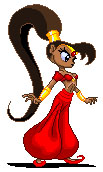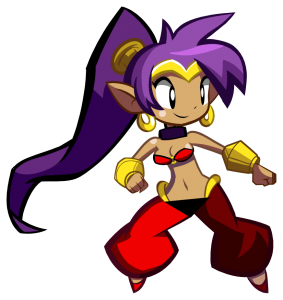 In 2013 during a live streaming the WayForward team played the cancelled Shantae 2: Risky Revolution for GBA, so we can only hope that one day they could also find a playable version of this cancelled Playstation / PC version to show it to the world. Only a few, small screenshots are currently saved in the gallery below.