Before merging with Lost Boys Games and Orange Games to became the now popular Guerrilla Games and creating the Killzone series, Digital Infinity was a rather obscure indie team based in Netherlands. In late '90s DI were working on an interesting online multiplayer brawler / party game titled Knights, planned to be released for Dreamcast and PC, following a gameplay similar to such games as Ooga Booga, Power Stone 2 and Heavy Metal: Geomatrix.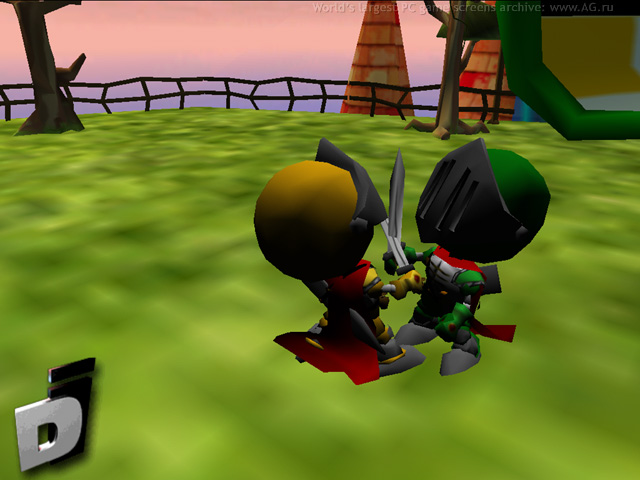 As reported by IGN in late 1999 Dutch publisher Project 2 Interactive gained the license to publish new Dreamcast games, announcing the never released Knights and another project under the name "Big Bang", later released as Bang! Gunship Elite in December 2000. In another interesting article by Control Online (in Dutch) we can read that in March 2000 issue of PC Zone magazine (No. 30, Dutch version) they published a good preview of Knights, revealing more details about the game's humorous backstory:
"In the magical kingdom of Whyrule the king is too old to keep ruling the country. To find a new king they decide to organize a big tournament among knights and the winner will then rule the kingdom. You're ready for a career change, so put on your best mail-coat out of the closet and departure towards the castle."
Initially Knights was started as a classic 3D platform adventure similar to Mario 64 and Spyro the Dragon, but soon the team had to switch plans when it became clear they would not have enough time, experience and resources to develop such kind of game. Digital Infinity were still a young team, with inexperienced developers and designers, who had to create their own 3D engine and assets without having a proper design doc to follow. After the platform game concept was tossed away they were able to create an early multiplayer demo, taking inspiration from the online capabilities of the Dreamcast and the increasing popularity of online gaming on PC.
This version of Knights was meant to be some kind of team-based multiplayer brawler with many interesting mechanics: levels were composed of different flying islands interconnected by slides, where players could move around and fight against the opposite team using different knights with different abilities, while also playing with the environment to their advantages, for example by riding a water-scooter in a small lake in one of the islands. By looking at the few screenshots we were able to gather, it seems that Knights could have been a fun multiplayer experience on the Dreamcast, with many interesting ideas.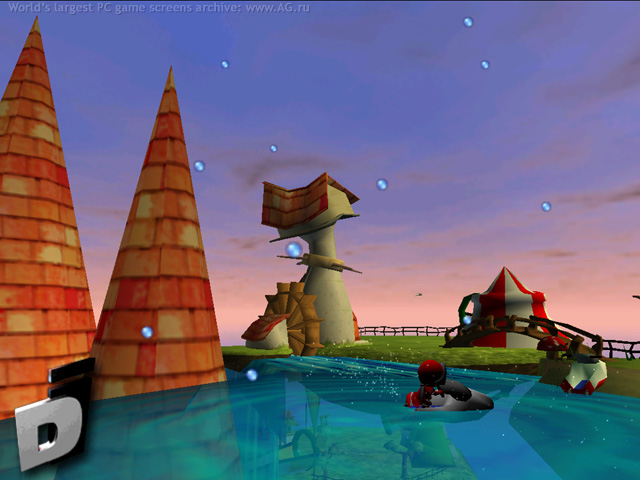 IGN were able to see more of the game at ECTS 1999:
"Their first title, Knights (so close..) is an online deathmatch title of sorts, with an interesting twist. It is more of an interactive game of "kill the man with the ball," and will also allow players to build their own DM levels. Project 2 plans on launching the title some time next year, and including online components a plenty."
Unfortunately development was proceeding slowly and in the meantime Project 2 Interactive closed down for bankruptcy: even if the first couple of milestones were delivered, without Project 2 Digital Infinity regain the Knights rights and tried to find a new publisher.
With some luck they were able to gather Swing! Entertainment's interest, a new publisher that doubled the studio budget and wanted to release Knights on more platforms, such as the Playstation 2. Meanwhile Digital Infinity also became part of Lost Boys Games, the studio grown with more developers, designers and artists. After the Dreamcast failed to sell enough units and with Sega discontinuing the console on March 2001, the team decided to finally cancel the Dreamcast version of Knights, focusing on the PS2 version and reworking the game again to make it the 3D platform-adventure they initially wanted to do. In the end the Playstation 2 version of Knights was also canned when Lost Boys Games were sold to Media Republic and renamed Guerrilla Games, starting to work on their Killzone series for Sony and Shellshock: Nam '67 for PS2, Xbox, and PC. A Game Boy Color version of Knights was also under development by Formula Games / Lost Boys, but as it happened for the 3D version the game was never released.
We tried to get in contact with former former Digital Infinity / Lost Boys developers, in an attempt to unearth more on Knights, but unfortunately, they were not available for comment. If you know someone that worked on Knights, please let us know!
Images: