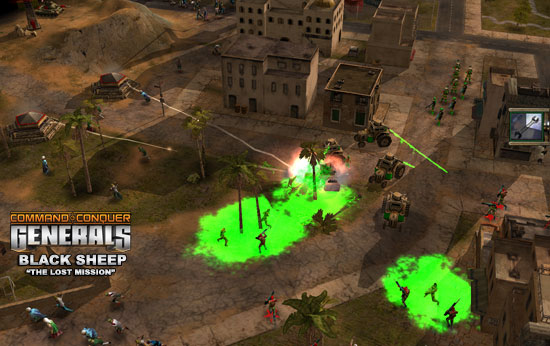 Robert Seddon linked us to this article on Kotaku, in which they talk about a removed level from Command & Conquer Generals, a RTS game that was released in 2003.
Called "Black Sheep", the mission tasks you with driving one of the Global Liberation Army (ie the terrorist faction) chemical weapons vehicles around a "town that had been corrupted beyond salvation by the USA's propaganda".

Coming at the height of the WAR ON TERROR, EA decided back in 2003 that such a mission may have been a little much, and cut it from the game when it shipped.
In march 2009 the developers decided that it was time to let it go, and the removed Black Sheep level was finally released as a download from the official C&C website! As we can read from there:
In celebration of the sixth anniversary of the award-winning real-time strategy classic Command & Conquer Generals, we are releasing an exclusive gift to Command & Conquer fans — the lost mission of Command & Conquer Generals. The never-before-seen and controversial Global Liberation Army mission was not included in the game's original 2003 release and has been hidden and securely stored away in a secret location at our EA Los Angeles development studio until today. Command & Conquer, download the mission Black Sheep for free and unleash their inner General.

Black Sheep was originally slated to be the third mission in the Global Liberation Army campaign where players were given command of the Toxin Tractor, a slow-going farm vehicle modified to spray a deadly corrosive agent, and ordered to eliminate the town that had been corrupted beyond salvation by the USA's propaganda. While the mission was ultimately removed from Generals, the Toxin Tractor was available in other campaign missions, as well as in multiplayer and skirmish modes.
Huge props to EA!