Arcturus is the name of a galaxy revolving around one of the brightest stars, and at the same time the game from BlueInca Studios, laid on its stocks in the summer of 2001.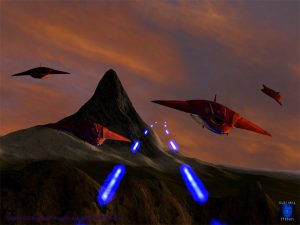 The plot told how two alien races, when colonizing the aforementioned galaxy, unexpectedly discovered the existence of each other. Humanity was not in the game, but both races behaved in a very human way: instead of solving the matter peacefully, they started a fight.
In the distant future, a war between the Lumerans and the Xizons rages on.
You play Torah and can choose as either faction and lead them to victory in campaign missions.
Victory will mean more resources to build your ships and better your people.

The Lumerans are the weaker outnumbered faction but they have powerful abilities.
The Xizons are the militaristic faction with ambitions of conquest.
Military operations in Arcturus were supposed to proceed as follows: the attacking side sends a flotilla of fighters to the enemy's planet, smashes enemy aircraft, and then moves on to the next territory – and so on until they capture the enemy's capital. Battles in space were absent as a class – apparently, the aliens took care of the fleet as a memory.
Thus, the player played two roles. In the role of the so-called Leader, he was directly involved in battles. The accompanying equipment also fought with him. The authors promised a wide range of weapons, from miniature fighters to huge dreadnoughts.
The game was unique in that you move ships around in third-person like an RTS.
Different ships to order around include gas collectors, patrol ships, and unit carriers.
During combat you play from a first-person perspective.

There was to be sixteen single-player non-linear campaign missions (8 for each faction?).
There was also going to be deathmatch multiplayer, likely online play.
Between battles, the player was engaged in the development of his race, organizing the extraction of resources on controlled planets, conducted research and formed detachments, which then accompanied him in battle. In short, the idea was original, but it seems that the developers themselves did not fully understand how to bring it all to life. Arcturus stayed afloat for just over a year, and then added himself to the plaque of canceled projects.
In 2004 development was halted due to funding difficulties.
In 2005 the website removed the message about financial trouble but remained dormant.
Arcturus and BlueInca faded away.
Some information is taken from «Игромания» magazine, 03 (114) 2007, and https://unreleasedgames.miraheze.org/ website.