It is not the first, but one of the more memorable failures in Keiji Inafune's growing history of cancellations and shortcomings: "Kaio: King of Pirates" was announced for the 3DS in 2011, and was planned to not only be a launch title for Nintendo's wildly popular handheld, but also to spawn an own multimedia franchise with anime, manga and toys. The project was the first game that Comcept, Keiji Inafune's new studio, should develop after he left Capcom. Looking for an alternative way to achieve his visions and free himself from restrictions, he decided to found Comcept and Intercept, two new game development companies to work on his own ideas and titles.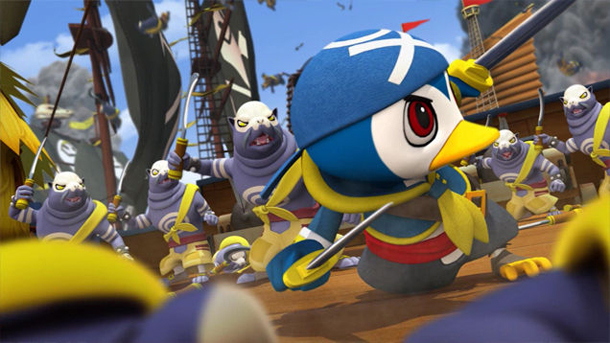 Kaio: King of Pirates was the first game to be developed by Comcept and Intercept. Marvelous had acquired the rights to fund and thus publish the game. It was planned as the first part in a trilogy of games that would recount the infamous Romance of the Three Kingdoms tale, similar to other Japanese games like Dynasty Warriors. In this case, the scenario was that of pirates, ships and sea monsters, albeit with the twist of anthropomorphic characters. The main character Sangokushi is a penguin, and in the trailer one can spot numerous other animals such as lions, snakes, parrots, cats and even dragons. There is not much else to be found on the internet: the first and only trailer with English subtitles from 2011 is everything that is left of Kaio: King of Pirates.
Gameplay was planned to be quite like the Dynasty Warriors series, with the ability to pick up and play for longer sessions without problems. This is also one of the reasons why Keiji Inafune chose the 3DS as main platform, as opposed to mobile phones. The game was announced almost around the same time that the 3DS was unveiled, and was planned for release in 2012. Later, it was delayed to 2014, before being cancelled by Marvelous in the beginning of 2015. The company stated it had lost around 3.8 million dollars (or 461 million yen) in the 4-year-period of Kaio's development.
Keiji Inafune has since turned to crowdfunding for his newer projects, but it seems the former Mega Man-talent cannot reach the glory of his past projects: Mighty No. 9, despite being a successful Kickstarter campaign, has received rather mixed and average reviews after release in 2016. Other Comcept games are Yaiba: Ninja Gaiden Z from 2014 for PS3, X360 and PC, as well as the Microsoft Studios-published ReCore, which also released in 2016 for PC and Xbox One. Let's hope Inafune's bad luck will end soon, because his next project Red Ash: The Indelible Legend is described as the spiritual successor to the Mega Man Legends titles. Despite causing some controversies in its Kickstarter campaign, which ran when Mighty No. 9 was still in development, the game is planned for a 2017 release on PS4, Xbox One and PC.
Article by kazuhira64
Images:
Videos: