Star Trek: Voyager is a cancelled PC point and click adventure game that was in development by Looking Glass Studios, directed by Ken Levine and was to be published by Viacom New Media. It was in development between 1995 and 1997. It was to be based on the then currently airing Star Trek: Voyager television series, the fourth iteration in the overall Star Trek television franchise. The game was to follow the bridge crew of the USS Voyager as they attempted to rescue members captured by the Kazon, a villain race featured within the series.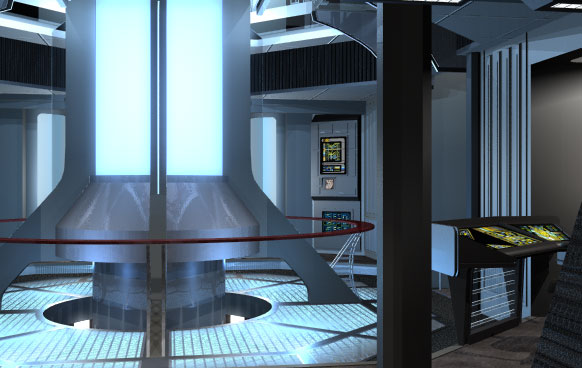 Not much more is known about the plot or the overall game itself, as the game was not revealed to the wider public in any significant fashion, outside a brief showing at E3 1996, and was quietly cancelled before any significant information was revealed on the plot or gameplay. It is known the game would be split between "episodes" mimicking the format of the actual TV series. One of the producers of the game, Alan Dickens said,
"We want to make it a lot like you're watching the TV and yelling at the characters. You're giving them, as a team, guidance and direction on where they should go and how they should address the various problems that come before them".
Star Trek: Voyager would have featured interactions with the environment involving typical Star Trek staples such as tricorders, allowing you to scan and take items in a typical point and click adventure fashion. The game was also to feature 3D laser scans of the actors heads, to make the game mimic and feel like the television series as much as possible. Other than that, information on the game is practically non existent, so the game remains a mystery. Screenshots from the game were leaked online a few years ago.
The game was to the first game released in a multi-title agreement between Viacom and Looking Glass, even resulting in Viacom buying a minority stake in Looking Glass. The deal fell through after Viacom decided to exit the video game industry in 1997, leading to the cancellation of the game. This abrupt cancellation led Ken Levine and others to form Irrational Games, out of frustration with Looking Glasse's handling of the cancellation. According to Ken Levine, the technical limitations in allowing characters to express emotion especially frustrated him, and this impacted his future writing of games such as Bioshock: Infinite, making this cancelled Star Trek game a pretty influential cancelled game.
Article by Let's Have A Discussion
Images: