Junction Point is a cancelled (initially) fantasy MMORPG / (then) sci-fi RPG that was in development by Looking Glass Studios (Austin team) in the mid '90s, an ambitious project conceived by Warren Spector (Wing Commander, Ultima Underworld, System Shock, Deus Ex), Steve Powers (Ultima VII, Deus Ex, Dishonored, Prey) and Allen Varney (Star Wars: Galaxies). This was their original, unfinished idea that would later led to such popular games as System Shock 2, Deus Ex and Bioshock.

Looking Glass are mostly known for their work on Ultima Underworld, System Shock and Thief: The Dark Project. Which such a high-profile portfolio of cult-classic RPGs we can only imagine what Junction Point could have been if only completed.
The game was never officially announced by Looking Glass, but we know about its existence thanks to old resumes and interviews by people who worked on it. The game was initially conceived as a fantasy MMORPG in the vein of Ultima Online, Lineage and EverQuest, but after a while the team decided to resize their ambitions and changed the project into a single-player sci-fi RPG.
The plot of this "sci-fi" version of the game would involve some kind of cult located inside an abandoned asteroid mining colony. On the old Steve Powers' website we can read some details about one of the missions in the early Junction Point prototype:
"Briefing: "We have been making incredible progress in understanding the genetic structure of the Hauranid under the direction of Dr. Lycombs, a microbiology genius. Lycombs has fallen under the influence of the Guardians of the True Path, a cult that worships the Hauranid as divine beings. The cult is located inside an abandoned asteroid mining colony, where the members have set up a hive of sorts, attempting to emulate their sacred leaders. The militant cult is led by Merril Rumby, and has a captive hauranid kept in suspended animation. He has the doctor working on a method for combining the genetic material from the hauranid with humans, to create a hybrid species that is 'closer to God'.  We'll pay for the following services…"

Primary goal: Return Dr. Lycombs to Corporation X for deprogramming.
Secondary goal 1: Return or destroy any research materials Lycombs has compiled.
Secondary goal 2: Eliminate Rumby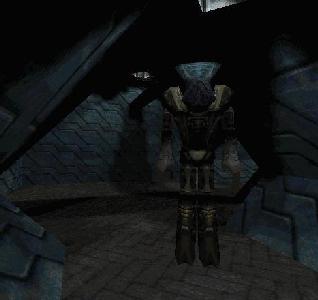 Problem 1: The passages throughout the colony are zero-g.

Possible solutions: Cult members use micro jets to "fly" through the complex.  The player can take the micro jets from a member and use them. He can use flight skills here.

Problem 2: Mine was plutonium-like substance. Radiation may damage health or certain technology.

Possible solutions: Care must be taken to avoid radiation areas. A radiation resistance nano helps.

Problem 3: Player wants to get rid of the colony in a spectacular way.

Possible solutions: Seismic charges, found in an old mining equipment storeroom,  can be used to blow open airlocks, clear rubble from passages, bust open the dome, or even break up the unstable asteroid if placed strategically in the tunnels throughout the mine. (an old portable computer with emails sent to the former mine superintendent gives clues that this is possible, computer skills make the chance of recovering this data much higher)

Problem 4: Collapsed tunnels bar the players way.

Possible solutions: Use old mining equipment to break through barriers.

Problem 5: Eliminate Rumby

Possible solutions: You find a genetic accelerator gun in the lab that will shoot out a cool ray and cause humans to become genetic human/hauranid hybrids (read: deformed) in a painful, traumatic transformation.  It is currently programmed with Rumby's DNA, and will only work on him.

Problem 6: Cult members are making it difficult to complete objectives.

Possible solutions: Hive members have networked control chips implanted in their brains used to simulate the hive-mind. A  controller for the chips can be found in Rumby's sanctuary, and it can be used to prompt the members of the hive to certain actions. (alert, sleep, congregate, repair…)

Problem 7: Find frozen hauranid

Possible solutions: Kill Hauranid captive by screwing with hibernation controls.

Revive Hauranid captive by screwing with hibernation controls. Conscious Hauranid calls for a rescue.

Problem 8: Secure escape vehicle.

Possible solutions: If you find the keys to the planetary skiff in the sanctuary, you can escape using the vehicle in the ore loading/unloading bay instead of signaling for pickup.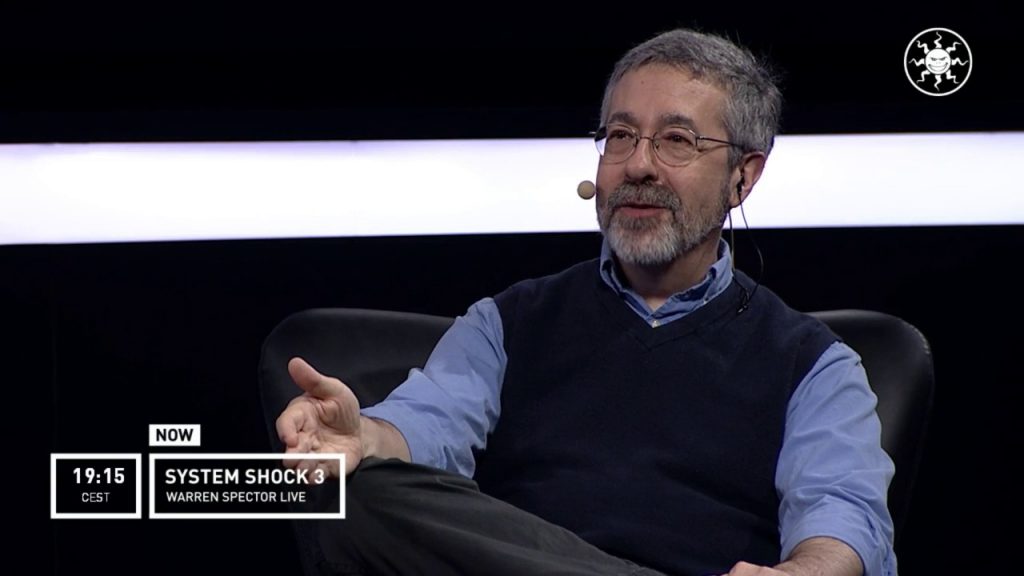 As written by Warren Spector during an AMA on Reddit:
"That was just a small, small part of what we were trying to do. I totally recall the Junction Point game (and spent many nights worrying that someone would come along and tell me I couldn't call my next company that!). Though it evolved over time, the ultimate plan was to make an MMO unlike all the others that were out at the time. Frankly, there are a ton of ideas in the design doc we generated that STILL haven't been tried. If I were an MMO guy, I might give those ideas a whirl, but I'm pretty much not an MMO guy."
In late '90s Warren Spector left Looking Glass Studios and soon received a call from John Romero: it was the start of the new Ion Storm Austin team and the conception of Deus Ex. As told by Spector in the book "Postmortems from Game Developer":
"Deus Ex is a game I've thinking about since right around the time Underworld 2 shipped. I've tried get a game like this started several times (As Troubleshooter at Origin, in some respect, as Junction Point for Looking Glass). Those games didn't happen for a variety of reasons, but I never stopped thinking about them and, despite the failure of those games to reach production, they laid much of the conceptual groundwork for Deus Ex."
As Ion Storm Austin director, Spector later oversaw development of Deus Ex: Invisible War, released in December 2003, and Thief: Deadly Shadows, released in June 2004. Soon after Spector left Ion Storm and officially announced his new company: Junction Point Studios, named in honor of the cancelled RPG he was working on during his last months at Looking Glass.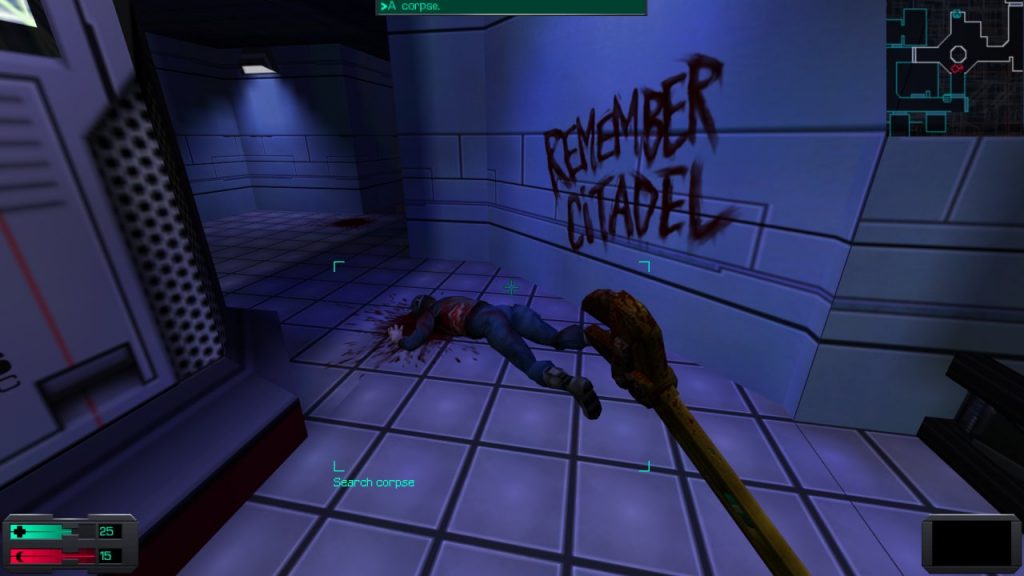 Junction Point was also used as the early project name in the pitch document for System Shock 2. In 1997 former Looking Glass developers Jonathan Chey, Robert Fermier and Ken Levine founded "Irrational Games" and soon started work on System Shock 2. As we can read in an interview with Chey by GamesTM:
"When [System Shock 2] was originally being discussed it had a name attached to it," says Chey, "which was 'Junction Point'. Some work had been done on it by Looking Glass's Austin Texas studio, which was being run by Warren Spector. Then I think they decided that maybe they wanted to leave and start their own studio, and went on to produce the first Deus Ex game." Looking Glass co-opted the efforts of Irrational Games, believing the team would work on Junction Point. "I remember seeing some design documents or something like that," says Chey, adding that though little work had been done, there were some elements to it already. "I think it involved some sort of hub – the junction point – where you went on various missions," says Chey, "but we liked the idea of doing a System Shock sequel so we put together a pitch for that and got Looking Glass interested in it."
After working on such games as Freedom Force and SWAT 4, in 2007 Irrational Games published their most popular project: BioShock.
Only a few screenshots and a short video from the Junction Point prototype are currently preserved. If you know someone who may have more footage or documents from this lost project, please let us know.
Images:
Video:

What do you think about this unseen game? Give your vote!
Would you like to add more info, screens or videos to this page? Add a comment below!
(your first comment will be moderated before to be published)