Prior to their acquisition by Sony and going on to create the Killzone series, Guerrilla Games was a small development team based in Amsterdam, then known as Lost Boys Games; a subsidiary of Dutch multimedia conglomerate, Lost Boys. One of Lost Boys Games' internal teams was dubbed 'Formula'. This group was dedicated to handheld games, responsible for producing titles such as Rhino Rumble, and Tiny Toon Adventures: Dizzy's Candy Quest for GameBoy Color. One of their most interesting GBC projects, in development in around 1999-2000, was called Knights.
Knights was an action brawler with a style of gameplay comparable to a blend of Bomberman and Gauntlet, in which players would have had to fight against 3 other knights in 50 different arenas riddled with traps, enemies, and various NPC's. This excerpt from an old IGN preview offers us further insight:
Each knight is colored differently, and the great challenge of the game is to strike down the knights in a predetermined order while protecting your own flank. Strike a defender before he becomes an official target, and the imperial judges will punish you with a penalty point.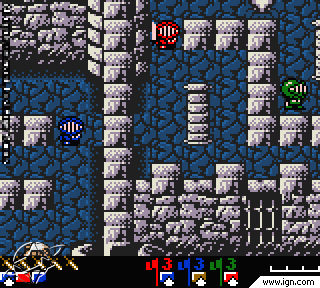 It's interesting to note that Knights GBC was based around the gameplay of another cancelled Knights project that was planned by Digital Infinity for PC and Dreamcast, before they merged with Lost Boys in 1999. Later, the original Knights for PC and Dreamcast was changed from a multiplayer brawler to a single player action platformer and ported to Playstation 2, but that version was also canned. In 2003, Lost Boys Games was sold to Media Republic and renamed to Guerrilla Games. Their Knight projects were thus never finished, as they began to work on the first Killzone for PS2, and Shellshock: Nam '67 for PS2, Xbox, and PC.
Only a few screenshots remain from Knights for GameBoy Color, as the title was soon cancelled for unknown reasons. We tried to get in contact with former Formula Games / Lost Boys developers, in an attempt to unearth more on  this unreleased game, but unfortunately, they were not available for comment. If you know someone that worked at Formula Games, let us know!
Images: