Black Isle Studios, a divison of Interplay, was an RPG power-house in the late 90's, being responsible for developing Fallout 1 & 2, Planescape: Torment and Icewind Dale 1 & 2, as well as publishing BioWare's Baldur's Gate games. Sadly, it also became known for its cancelled games, such as Torn, Stonekeep II, Fallout 3 "Van Buren" and, the subject of this article, The Black Hound.
First announced in 2001 and commonly known as Baldur's Gate III: The Black Hound, the game actually bears no relation to the plot, location or characters of the previous Baldur's Gate game. It wouldn't even be developed by BioWare, or use the famous Infinity Engine. In fact, the name "Baldur's Gate III" was a legal trick, as during its development Interplay lost the Dungeons & Dragons license to Atari but could still develop D&D games under the Baldur's Gate and Icewind Dale brands.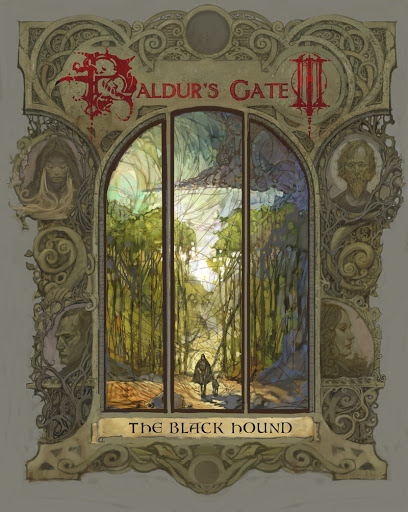 Under code names like "FR6" and "Project Jefferson", The Black Hound began as its own game in late 2000, being developed by a small team as a side project. Full development would only begin in 2002, after Icewind Dale 2 was released. The team was led by Josh Sawyer, a History Major, and while it would still use the AD&D ruleset and be set in Forgotten Realms (like Baldur's Gate), it would be a more grounded, low-level adventure, with a heavier focus on role-playing.
What is known of the original plot is that you would be set in the Dalelands region of Forgotten Realms. There you would create a new character – not a child of gods or special in any way – that would run into the eponymous black hound being fiercely hunted by a cleric named May Farrow. More than just a mere animal, the hound was a physical manifestation of her guilt for allowing her husband to die and then failing to properly resurrect him. She would kill the dog, but it's spirit would bound to you, allowing you to see and interact with the guilt of others. The cleric would then begin to hunt you as well, and the game would be centered on your journey to understand what happened to you, interacting with factions like the Archenriders, the Church of Lathander and the Red Wizards of Thay, until eventually confronting May Farrow's husband – now a powerful abomination which feeds from guilt.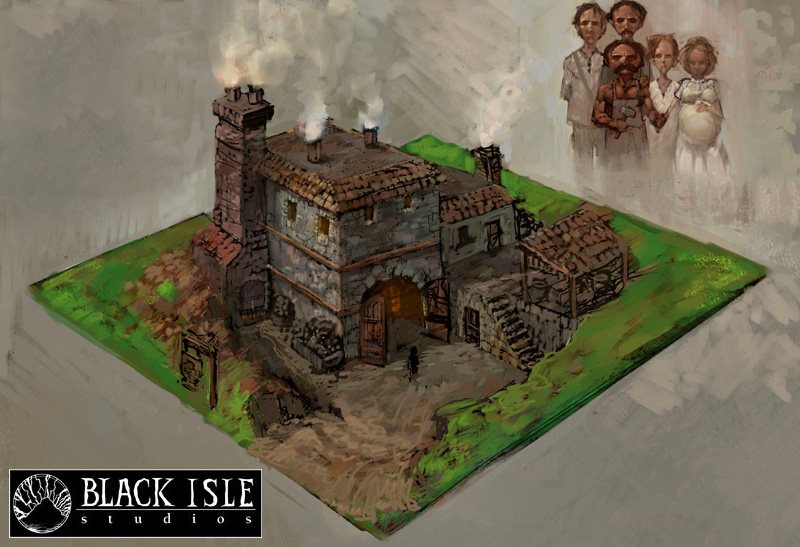 Not much is know about the gameplay, other than it would be based on the previous Infinity Engine games – with multiple party members and real-time-with-pause combat – but updated to the recently released D&D 3rd Edition ruleset. Karma would be a central part of the game, as players would be able to explore the game's world in a non-linear way, but would face the consequences of their actions, including failed and incomplete quests. To ensure this, a robust reputation system was devised, which would track your relationship with individual factions and locations, as well as your overall fame/infamy.
Thinking the Infinity Engine to be overused and inspired by the Aurora Engine that BioWare had developed for Neverwinter Nights, Black Isle decided to create a new engine as well, code named the Ferguson Engine. This new engine would be built from the ground with the D&D ruleset in mind and would allow for 3D character models, instead of Infinity Engine's sprites. Unfortunately, the only two games designed with said engine were The Black Hound and the original Fallout 3 (codenamed Van Buren), and both never saw the light of day. Still, a tech demo of Van Buren was leaked in 2007, allowing curious souls to play a bit and imagine how these games would feel.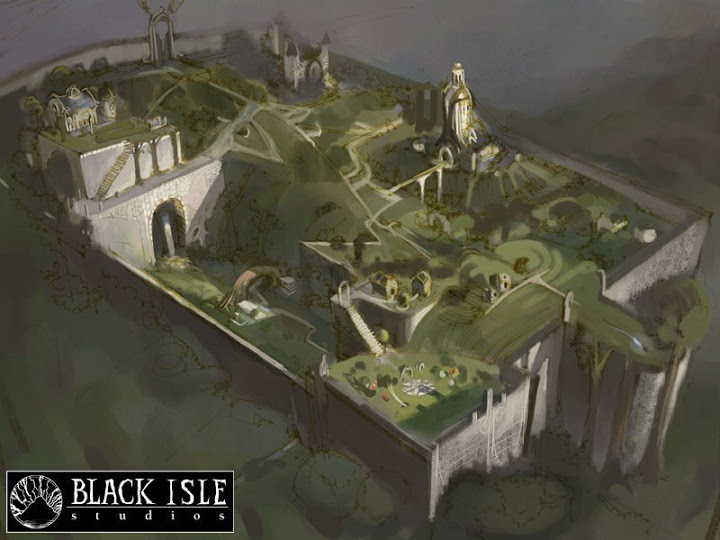 While there were plans for a full trilogy of games, The Black Hound was cancelled in 2003, reportedly about 80% complete, when Interplay lost the rights to the Baldur's Gate brand as well and could not release a D&D RPG anymore. Suffering from financial issues, Interplay would close the Black Isle Studios shortly after.
However, that was not the end of The Black Hound. Black Isle Studios` former manager, Feargus Urquhart, gathered a few key developers, such as Josh Sawyer, Chris Avellone, Chris Parker, Darren Monahan and Chris Jones and founded a new studio: Obsidian Entertainment.
Focused on RPGs, Obsidian would then develop titles such as Star Wars: Knights of the Old Republic 2, Neverwinter Nights 2, Alpha Protocol, Fallout: New Vegas and Dungeon Siege 3. Neverwinter Nights 2 came with a toolset for creating modules and in 2007 Sawyer began using them to work on a personal project: a The Black Hound module. He posted about the project for a few years, sharing screenshots and discussing his views on mechanics such a damage resistance, feats and classes, but the module was never finished.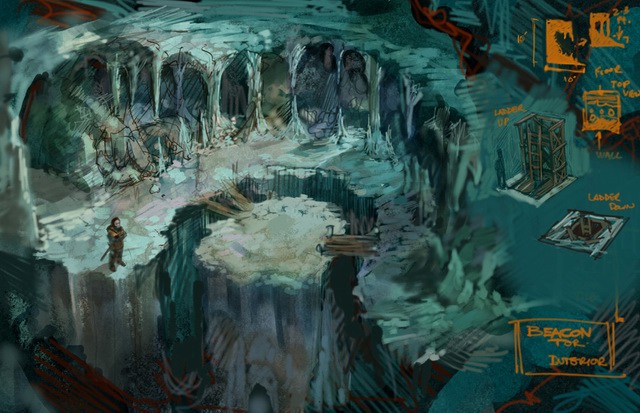 Another attempt at resurrecting the game would occur in 2008, when Obsidian pitched Baldur's Gate III to Atari, holder of the Dungeons & Dragons license at the time. Negotiations went far and designers worked for months on the project, but Atari was suffering financially, didn't have the money required and the game was abandoned as well. In September 2012 Obsidian would crowdfund a spiritual successor the Infinity Engine games, a 2D isometric RPG titled Pillars of Eternity. The Kickstarter campaign was a success, raising $4,163,208 dollars, and the game was eventually released in March 2015 to critical acclaim.
While Pillars of Eternity isn't The Black Hound nor uses the D&D ruleset, it has Josh Sawyer as its director and features many similarities, being a party-based RPG with real-time-with-pause combat system and sporting a distinct visual style that combines 2D backgrounds with 3D character models. It also featured a nice Easter Egg to the days of Black Isle Studios, with one of the cities featuring an inn named The Black Hound.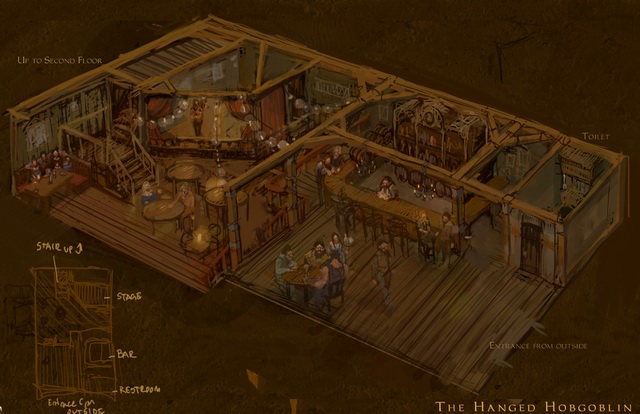 Meanwhile, Trent Oster, a former BioWare employee, founded a company named Beamdog and developed enhanced editions of the Baldur's Gate and Icewind Dale games, adding features such as widescreen support and tablet ports. After the success of the re-releases, the company began working on Siege of Dragonspear, an expansion to Baldur's Gate, and mentioned many times their ambition of one day developing Baldur's Gate 3.
In 2019 a new version of Baldur's Gate III was formally revealed both for Microsoft Windows and Google's Stadia, developed by Larian Studios (Divinity series). We can assume this version of BG3 will not be related in any way to the cancelled ones.
Article by Felipe Pepe, originally published in our book Video Games You Will Never Play.
Images: