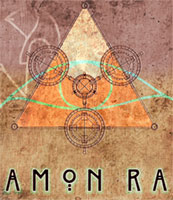 Amon Ra is a cancelled adventure game developed by Widescreen Games around 2003, exclusively for the Playstation 2.
As we can read on the personal website of Franck Sauer, Widescreen Games had decided to mandate him and Yann Robert to work on this demo, just after the closure of their own company, Appeal Studios, following the cancellation of Outcast 2: The Lost Paradise and Tintin, using assets and technology previously created for those projects:
"After Appeal (our previous studio) went bankrupt (see Outcast II and Tintin stories) Yann and I kept working together on some work for hire while thinking about exactly what to do next.

During that time, Olivier Masclef who had been producer on Outcast came to us with an adventure game concept called Amon Ra. His studio (Widescreen Games) was busy on another production and he asked us to build an early prototype on Playstation 2 based on this concept.

As we had acquired the technology from Outcast II we had something to start with to quickly build the prototype. Yann started cleaning and enhancing the various unfinished technologies that would later serve as the basis for our FreshEngine.

To help me quickly edit the map, I used some refurbished assets from the defunct Outcast II and built some new stuff on top of it. My friend Francois-Xavier Melard worked on the character.

This was a short work of a couple weeks and after this prototype, the project never went further into development."

Technology

"Some very advanced technologies for the time can be seen in action here (some of which were already implemented in the Outcast II prototype), such as realtime tesselation and vector displacement (water), radiosity and light probes (lighting of the character dependant on the environment, with light bouncing), soft shadows, dynamically rendered billboard (small vegetation), and pixel-occluded lens flares.

One of the amazing thing was the incredible amount of triangles the Playstation 2 was capable of pumping. Around 300k in a single frame, with the prototype running at 60 frames per seconds (…)"
Strangely enough, according to the now-defunct website of Widescreen Games, the game was planned for the PC, Xbox 360 and Playstation 3. Here was what we could read about the storyline and its features:
The 10 commandments meets Stargate

Amon Ra is a 3rd person action adventure game mixing action phases, social interactions and puzzles solving in the totally new and lifelike world, mainly inspired by the ancient Egypt period.

As the hero, you will interact with hundreds of locals, engage in plenty of combat against aliens and go on numerous adventure game quests.

Storyline:

The player is named Shail, a young slave who will meet his fate; he is the one chosen by the Ankh entity to perform the Prophecy : free the human race from the Seth's domination. This extra-terrestrial race has dominated his folks over centuries due to its superior knowledge and advanced technology.

Throughout the game, the player will interact with human guilds as the merchants, priests, rebels and an ancient civilization. Obviously, each of them carries out different goals and interests.

Conspiracies, romance, twists and turns will drive the story.

Will Shail be able to achieve his own objective to overthrow the Seths?

Unique Selling Points

A cutting-edge in-house engine to serve the game.
The original universe of the ancient Egypt mixed with some sci-fi components.
Numerous "organic" and huge locations : from mysterious temples, overcrowded bazaars, resting oasis, frightening caves to gigantic spacecrafts!
Hundreds of hi-detailed character models suiting the period as well as fantasy ones.
A brand new system of quests layers which will confer to the player the feeling to manage his own and original quest in a live universe.
Breath-taking actions due to the use of ancient magic and high-tech weapons.
Enhanced AI system for the NPCs who manage their life according their own interests. Any action you take has ripple effects on the whole community.
During their 10 years of existence, Widescreen Games had a lot of numerous other canceled titles.
Images:
Videos:
What do you think about this unseen game? Give your vote!
Would you like to add more info, screens or videos to this page? Add a comment below!
(your first comment will be moderated before to be published)
Latest posts by Daniel Nicaise
(see all)