Tank Assault is a cancelled third person shooter that was in development by Wicked Witch Software, planned to be released on Nintendo DS. The game was based on their eponymous mobile app, trying to find a publisher interested in releasing it on the portable console market. The team created a playable demo using their own 3D engine, which looked quite impressive for running on the DS hardware.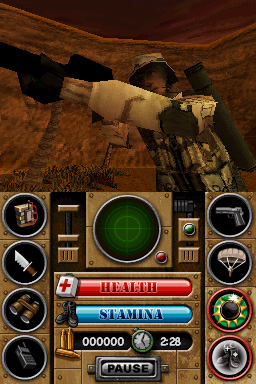 Some details were published on their old website:
"The game draws on themes from the real world game titles such as Battlefield 2, Call of Duty 4, Counter-Strike or Operation Flashpoint. This demo is a range of possible games from Arcade First Person Shooter, to Combat simulation, to Squad based Real Time Strategy with local or online multiplayer features!

Many styles of gameplay will have players finding themselves fighting with or against their friends on a local connection or online in an open map or as team-mates fighting cooperatively through hordes of AI soldiers and vehicles. The multiplayer game and maps will vary from modified versions of single player maps to unique battlefields designed for warring parties.

The modern world with its trouble-spots and current conflicts gives plenty of scope to base this game off a real scenario or even to make a very compelling scenario out of imaginary countries and regions. The time period can vary as well with modern warfare games easily converted into Vietnam War, post-modern or even WW2 games."
Deeply immersive 3d world and a cast of characters and scenarios to fight through.
Superbly rendered 3d graphics featuring detailed characters, vehicles and environments!
Modern warfare inspired combat, customizable classes and vehicle orientated gameplay.
Call in air strikes, operate UAV's, and demolish buildings.
Complete missions and watch a compelling modern conflict scenario unfold.
As far as we know Wicked Witch Software never found a publisher and Tank Assault had to be canned, along with their other games for Nintendo's portable consoles: War Monster DS and War Monster Game Boy.
Images:
Videos:
What do you think about this unseen game? Give your vote!
Would you like to add more info, screens or videos to this page? Add a comment below!
(your first comment will be moderated before to be published)