Eagle Summoner is a cancelled puzzle – RPG hybrid similar to Puzzle Quest, that was in development by Sensory Sweep Studios around 2008. Following Puzzle Quest's progression, in Eagle Summoner players would move their character around the world while encountering enemies to fight in puzzle-battles to gain experience and acquire treasures.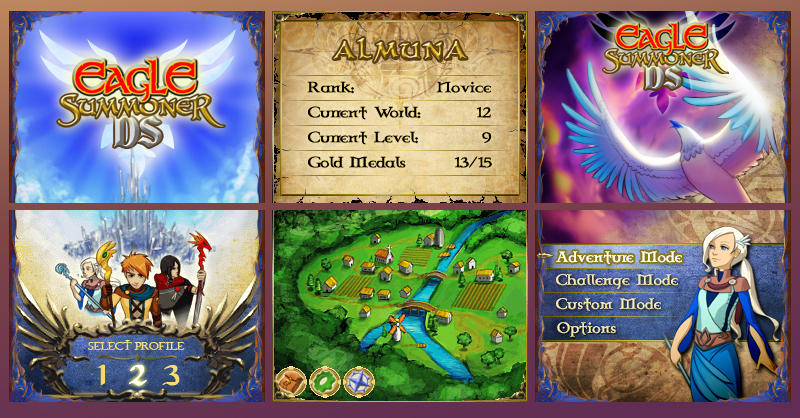 Some more details and images for this lost game were shared online thanks to former Sensory Sweep developer Christopher Enderle and artist Jenna Kemker:
"After the successful completion of My Spanish/French Coach, two coworkers, Peter Anderson and Niel Westover, began development of the prototype to this game. Upon completion of the prototype I involved myself in the creative process and began exploring puzzle designs and game play concepts. The prototype was shown to the company committee who received it favorably and green lit its development. While the game's primary focus was always on puzzles, various other features, such as minigames and RPG elements, were explored for game play purposes. These additional features fell in and out of favor of project management at various stages of development."

"Each puzzle has a set number of Eagles placed on a grid against a dragon of certain power. The goal of the game is to combine a number of eagles until their power equals the power of the dragon. The catch is that all the eagles move together at once, thus if an eagle is moved to the right, they all move to the right simultaneously. Players must be careful to not touch a fireball or a powerful dragon before their eagle is of equal strength or the Eagle dies and the puzzle must be restarted. To line up two eagles together, a player must push their eagles against a neutral object, such as a cloud. If an eagle pushes against a cloud, it will not move. A player must use this mechanic to safely maneuver his eagles to combine their strength. Hundreds of puzzles each with a different twist will challenge players as they try to save the world."

"Upon selecting adventure mode players will be taken to an over world map of the kingdom of Earth on the bottom screen.  This map will contain the locations of the major cities and areas that they will visit on their adventure.

NPC interaction will be represented by houses or other icons, pertaining to the situation. When selected dialogue boxes will pop showing a detailed image of the characters in one box and an image of the NPC in another.  Basic information can be gained this way as well as story progression and side quests. Players can choose to do optional quests for rewards such as items or to increase their gold token count to unlock story progression."
The game was cancelled when Sensory Sweep finally closed for bankruptcy, with employees working without being paid for months. As we can read on Mobygames:
"The company filed for bankruptcy in September 2005, but kept all projects going with two name changes (including Fooptube). In early 2008 the employees stopped receiving contributions, even though their paychecks were still deducted for the next few pay periods. Soon after that the paychecks bounced and Sensory Sweep lost Brash Entertainment as a big client when it folded at the end of 2008."
Some images are preserved in the gallery below to remember the existence of this lost game.
Among Sensory Sweep other cancelled games there are such titles as Crash Tag Team Racing DS, Time Traveler, Sentient, Raphael and Oregon Files.
Images:
What do you think about this unseen game? Give your vote!
Would you like to add more info, screens or videos to this page? Add a comment below!
(your first comment will be moderated before to be published)