Swingin' Ape Studios were a mostly forgotten studio behind the now cult-classic title Metal Arms: Glitch in the System, a third-person shooter published by Vivendi Universal and Sierra Entertainment in late 2003, for Playstation 2, Xbox and GameCube. While the game did not sold much, many gamers loved it for its fun gameplay and multiplayer. Around 2004 after Metal Arms was shipped, Swingin Ape Studios proposed many different projects to publishers: Metal Arms 2, a new SWAT (Police Quest), a GI-Joe tie-in, and a game called "Guerrilla: Jungle Revolt", to be developed as an exclusive launch title for Microsoft's soon-to-be released Xbox 360.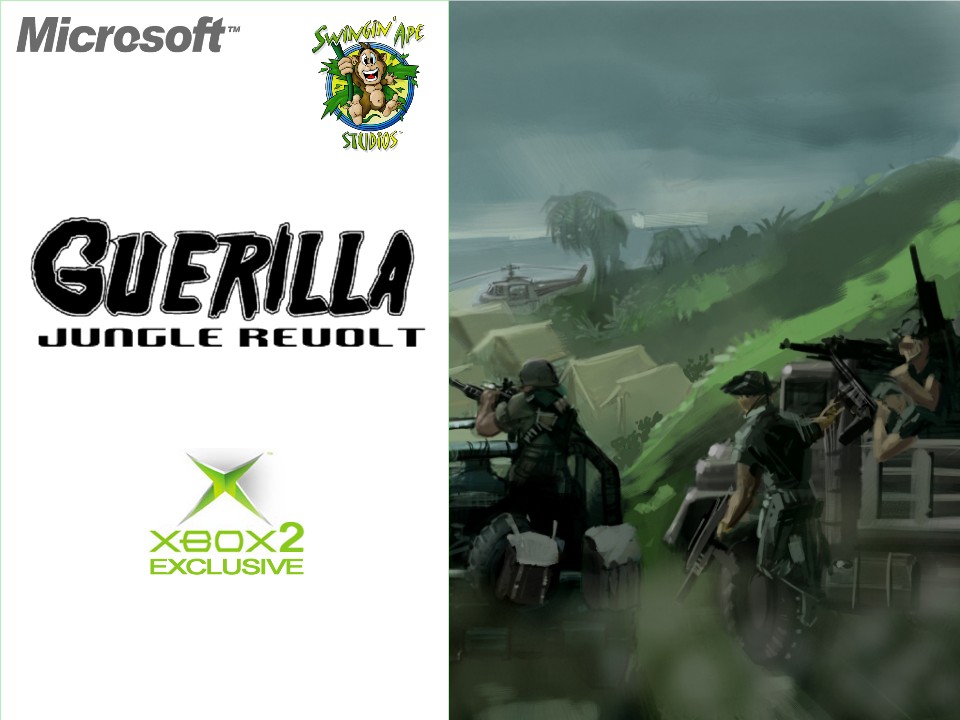 All of these projects were never released, but a few details were shared online thanks to former Swingin Ape developers. Guerrilla: Jungle Revolt was initially conceived as a Mad Max inspired post-apocalyptic coop shooter, but when the team approached Electronic Arts to pitch the project they suggested to change it into a military shooter set on an island, somehow similar to Far Cry. EA knew the talent of the studio and maybe they were interested in publishing Guerrilla as a new IP to contrast Crytek / Ubisoft FPS series.
Swingin' Ape Studios re-worked their game pitch as suggested by EA, but then proposed it to Microsoft instead. The company though to make Guerrilla an important launch title for their "Xbox 2", along with other games such as Call of Duty 2, Kameo, Perfect Dark Zero and Quake 4.
Swingin Ape had already worked on an early prototype for Guerrilla using their original Xbox dev-kits: it was playable in local multiplayer on four linked Xbox consoles. This proto was enough to demonstrate basic gameplay mechanics with cooperative on-foot and vehicle combat against AI, but Guerrilla's concept was much more than a simple FPS.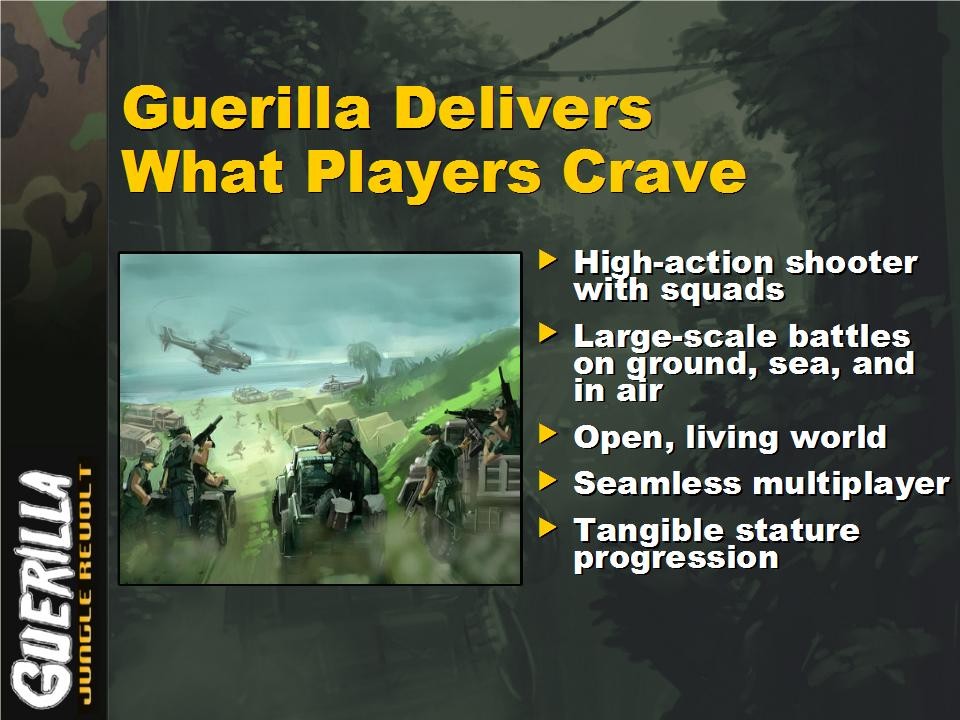 They planned a free-roaming set of islands, with base-building elements, squad commands and seamless integration of online play. We can imagine Guerrilla's gameplay as a small open-world in the vein of Just Cause, where you could create your own military base, explore the environment to find enemies and attack their own camps. From slides used to pitch the project to Microsoft we can read more details about their idea:
Free roaming access to the 3 islands of Panuba
Access grows wider as the game progresses
Panuba has diverse regions: cities, jungles, dunes, snowy peaks, ruins, volcanic plains
Interactive and alive with islanders walking / driving around, birds reacting to gunshots, destructible environments, etc.
Up to 3 Live players may seamlessly join another player's campaign on-the-fly
Coop players may bring their squads with them
Other players may became mercenaries, free to roam the island and play against the main player
Dozens of vehicles available on ground, water and in air
Acquire vehicles trough base buildings, by stealing or by earning
Microsoft offered to Swingin Ape 3 months of funds to develop a Guerrilla prototype on the Xbox 360, as an initial contract to test its potential. While the team was excited for this opportunity, something unexpected happened: Blizzard proposed them to work on their StarCraft: Ghost project, recently removed from its original team (Nihilistic Software).
In the end accepting Blizzard offer was their best option, as they were willing to fund a few years of development for StarCraft: Ghost, compared to just 3 months for Microsoft on the Guerrilla prototype (without knowing what could happen next). Guerrilla was then halted, to focus on the new collaboration with Blizzard.
The rest is history: While work on StarCraft: Ghost proceeded, in May 2005 Blizzard Entertainment decided to fully acquire Swingin' Ape for their talent. After a while StarCraft: Ghost was also put on indefinite hold and never completed, while the Swingin Ape team became officially part of Blizzard, working on such projects as World of Warcraft.
Images:
What do you think about this unseen game? Give your vote!
Would you like to add more info, screens or videos to this page? Add a comment below!
(your first comment will be moderated before to be published)