Satellite Man was a scrapped, albeit completely finished, game for the SNES by Japanese developer T&E Soft. The game was a comedic side-scrolling brawler akin to Final Fight that featured Satellite Man, a superhero who could harness the power of satellites, as he attempted to make his way to the moon to save it from an evil mastermind who claimed it for himself.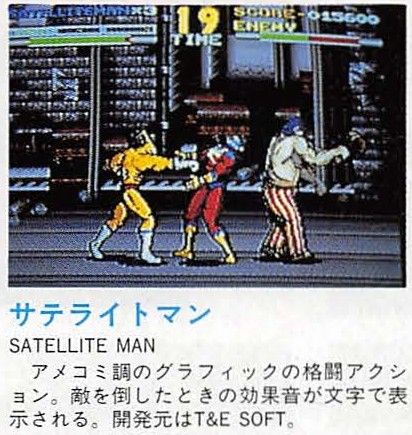 Details of the game are scarce as few people have seen it and it is unlikely that any of it remains to this day, but descriptions of the game by its developers reveal that the game had an absurd sense of humor, such as the fact that the titular hero is broke and has to hitch a ride to the moon on a NASA rocket ship.
The game's bosses reflected this comedic style as well with "Baron Engine", a man with a v8 engine for a body who chased the player around in a child's toy car, a bee who carried explosives appropriately named "Dynamite Bee" and "Captain Go", an Apollo Lunar Module with a dangling body and a face of a man from T&E's sales department.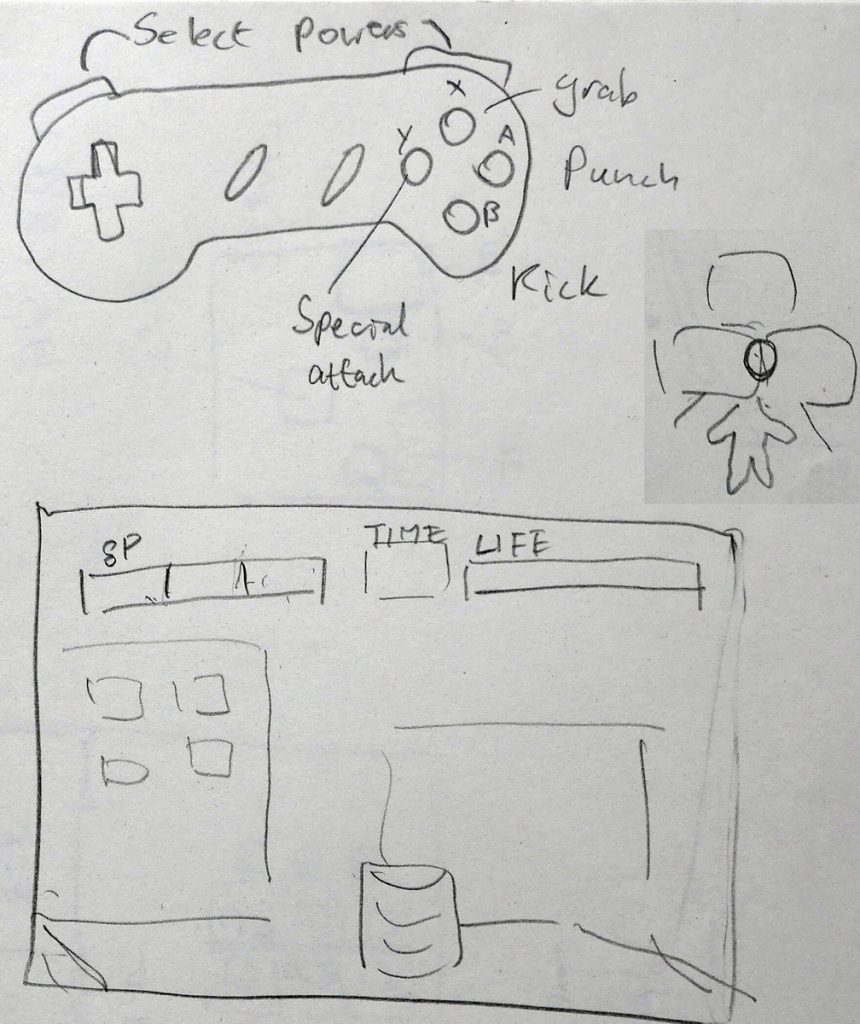 Unlike some of the other side-scrolling fighters at the time Satellite Man was single player only and had a button for punches, kicks, grabs and special attacks.  There were three special attacks, two of which were the ability to shoot down a damaging beam from a satellite and the ability to create two shadow versions of yourself to help fight.  These special moves were unlocked by filling a recharging "satellite bar" and the player could use three special attacks in a row if the bar was fully charged. In an attempt to make the game seem more like an American comic book the developers added text bubbles like "BOOM" and "POW" that would pop up when enemies were hit.
Despite being 100% finished after half a year of development the game never saw the light of day.  This was mostly due to the fact that one of the developers handed a copy of the game to company co-founder Eiji Yokoyama and promised him he would laugh every 30 seconds, to which Yokoyama responded by not laughing once throughout the entire game.
The developers also chalk it up to the fact that T&E had recently worked on the SNES version of Rise of the Robots, a critical and financial failure that is lauded as one of the worst fighting games of all time, and didn't think they could sell another fighting game so soon afterwards. As many other lost SNES games, not much remains from Satellite Man: a single screenshot was found by Arc Hound in the Mar. '93 issue of Micom BASIC Magazine, while a sketch and few memories from former T&E Soft developers were published by John Szczepaniak on the "The Untold History of Japanese Game Developers Volume 2".
Article by Tristan Avery, thanks to John for the contribution!
What do you think about this unseen game? Give your vote!
Would you like to add more info, screens or videos to this page? Add a comment below!
(your first comment will be moderated before to be published)

Latest posts by U64 Staff & Contributors
(see all)