Ride to Hell: Retribution is a low-rated action game developed by Eutechnyx and Deep Silver Vienna, released in 2013 for Playstation 3, Xbox 360 and PC: the game is a linear, buggy, and occasionally tasteless mess. When it was originally announced in late 2008 as Ride to Hell it was meant to be an true open world adventure taking place in 1960's California, with influences coming from Biker films. The game was planned to be published in 2009 and formally shown off as the cover story for the January 2009 issue of Play magazine.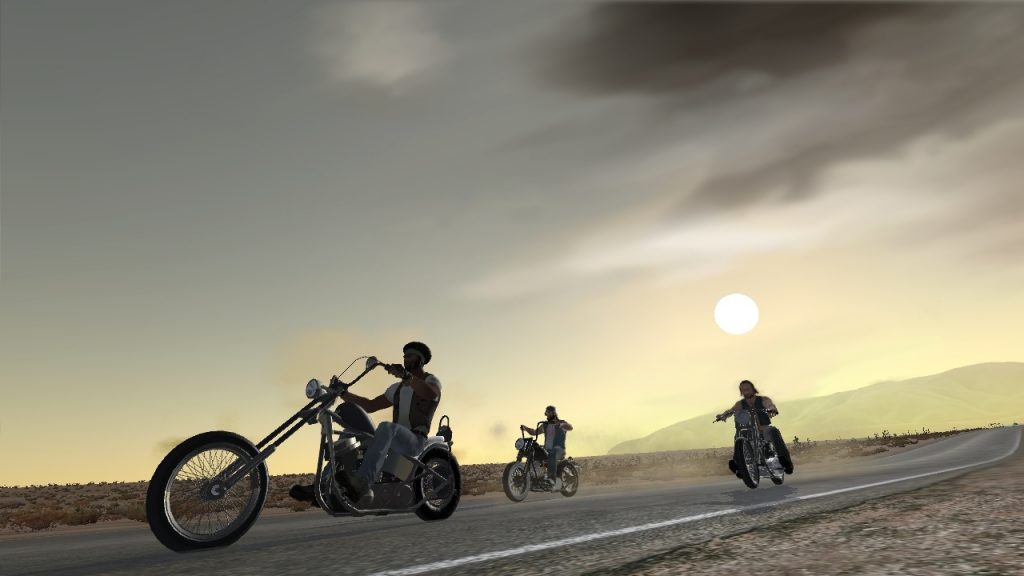 As we can read in the first press release:
"Action loaded from the very start with free roaming environments, players can immerse themselves in the liberty and freedom of riding full throttle with their gang on a multitude of different vehicles through the dusty flats of Western America. Protecting their turf, their brothers and their machines from rival gangs is just a taste of what this epic game will involve.

'Ride to Hell' is not for the faint hearted; it's aimed heavily at the player who wants to become fully involved in the original West Coast biker culture. With its hard drinking, bare knuckle environment, this is as close to the action as you can get.

In a movie style production model, the internal Deep Silver studio is teaming up with leading creative companies such as Eutechnyx, Perspective Studios, and others, to bring the authentic and massive game world of 'Ride to Hell' to life."
The keyword to describe the original "beta" game was "free": freedom to explore the world as you please with your bike. The team's goals were to create a vast experience, a sandbox world with incredibly high details. Your motorcycle was just as important: it would be used to move around the map, earn respect from other NPC bikers and to show your power. You could have been able to customize your own motorcycle to recreate nearly anyone you'd find in real life.
You would take control of a man named Ray, a Vietnam War veteran returning home to find his world changed. He would soon join a Biker Gang named Devil's Hand: this would start the game's adventure, with the mission to earn respect for the gang, to make it grow and heighten your reputation as one of the best bikers. This had effects on gameplay and on the game's NPCs, with other bikers following you as a posse, drivers being weary about you and Police trying to arrest your gang. All depending on how you would play.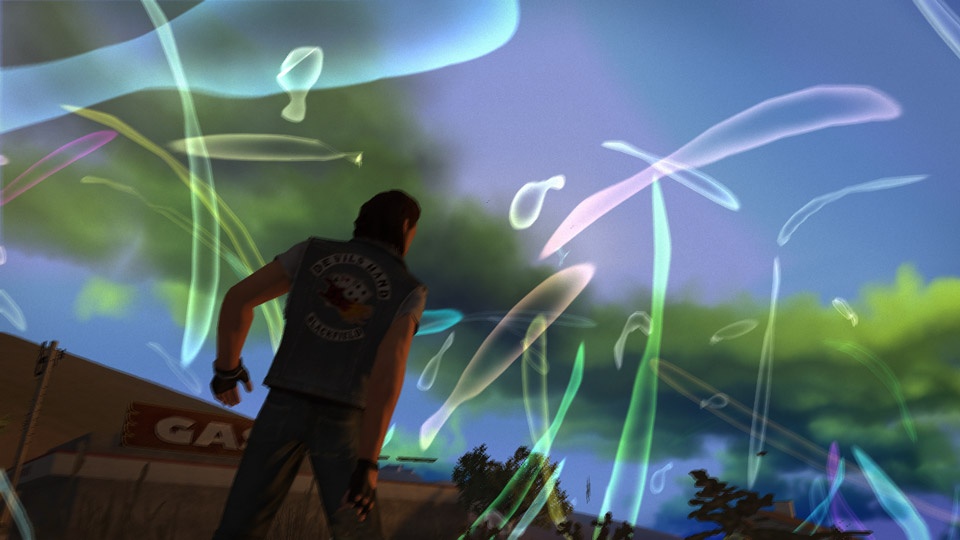 Sex, drugs, rock and roll: these all would find a place in Ride to Hell.  Allegedly, over 300 licensed songs were to be featured in the game, fitting each mood, from Blues, Country, to Hard Rock. Born to be Wild by Steppenwolf was even featured in the reveal trailer. In the original beta version of Ride to Hell you could deliver mushrooms to a chef to cook them and eating the wrong one would cause a psychedelic reaction. You could have been able to help a doctor bring special medicine to an outskirts Hippy Joint, work on a porn movie-set to earn a camera you could use to blackmail a sheriff found with a prostitute. These are a few examples of the sandbox mechanics were planned for the original version of the game.
Unfortunately development of Ride to Hell was not going well and the title would be cancelled in 2010, along with the closure of the Deep Silver Vienna team. The game would reappear in early 2013 with only Eutechnyx to develop it, losing most of its original open world and sandbox mechanics. The beta main protagonist Ray was replaced by Jake Conway, a  Vietnam War veteran on a quest for revenge after his brother was murdered by the Devil's Hand, now a rival gang.
In the end Ride to Hell: Retribution was published in 2013 by Deep Silver, a Xbox Live Arcade / PSN game titled Ride to Hell: Route 666 and a mobile game titled Ride to Hell: Beatdown were also planned, but due to the highly negative reception of the main game both titles were later cancelled.
Article by Nicolas Dunai
Images:
Videos:
What do you think about this unseen game? Give your vote!
Would you like to add more info, screens or videos to this page? Add a comment below!
(your first comment will be moderated before to be published)

Latest posts by U64 Staff & Contributors
(see all)