Perfect Dark Core was a prototype which was intended as a sequel critically acclaimed Nintendo 64 shooter Perfect Dark. While Microsoft already released a PD title at the Xbox 360 launch (Perfect Dark Zero), which was originally supposed to be published on the GameCube but was then moved to the Xbox and then to Xbox 360, it was mildy received and not nearly as successful as the original N64 title.
Perfect Dark Core would have brought some drastic changes to the franchise. Perfect Dark Zero was developed by the remains of the original Perfect Dark team, which was led by Chris Tilston. However, after PDZ was finished in late 2005, the team was split into smaller teams that started work on different prototypes. One of these was The Fast & the Furriest, its team was led by PDZ's story and script writer Dale Murchie. Another prototype team was led by Mark Edmonds and Chris Tilston, both worked on an MMO which was cancelled during the company restructure in early 2009. As the leads of the PD series were either bound to other (later to be cancelled) projects or had already left the company (with one being graphics director Kevin Bayliss), Rare's management decided to hand the PD franchise to the developers of Conker, a team led by Chris Seavor. Some of the Conker team had already helped during the final stages of Perfect Dark Zero when it was ported to Xbox 360, others had worked on Urchin, a gothic/horror prototype cancelled in 2006.
Perfect Dark Core featured a more realistic atmosphere than its precedessors, with Joanna having a different and less feminine behaviour (smoking, flirting).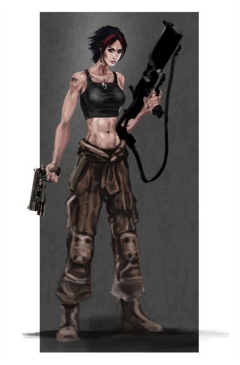 During development of Perfect Dark Core, the team made drastic changes to this original concept. The player did no longer control Joanna Dark, but a male character that was also seen in gameplay footage that was leaked in 2009. Other decisions remained rather vague due to its nature of being a prototype.
Special Thanks to Mundorare, Rareminion and the various (former) Rare employees who made it possible to preserve some info and documents about Perfect Dark Core, before it could have been lost and forgot forever.
Perfect Dark Core proto / animation demos footage:
In late 2008, the prototype, that only featured one completed level, was still not greenlit. Instead, the team was cut down to only three developers, which meant the ending of the project. Most of its staff was put onto other projects – of which many were not released either. By that time, however, the prototype that started out as Perfect Dark Core was no longer set in the PD universe, it was not even referred to as Perfect Dark Core. While the gameplay was still an action FPS, the player was supposed to shoot at mechs that were controlled by humans (in case of this prototype the mech was controlled by the protagonist that was designed for an earlier built and seen in leaked gameplay footage). This was the last stage of the prototype after which it was entirely abandoned.
Unnamed Mech-FPS prototype footage
Images for Perfect Dark Core and unnamed Mech-FPS
What do you think about this unseen game? Give your vote!
Would you like to add more info, screens or videos to this page? Add a comment below!
(your first comment will be moderated before to be published)

Since 2001 Unseen64 try to archive beta and cancelled videogames, till the 7th generation of consoles. There are too many unseen games to preserve, but many people help us with their contributions, screens, videos and descriptions.
Do you want to help too?

Latest posts by U64 Staff & Contributors (see all)