Wikipedia has some information about the beta version of MKT: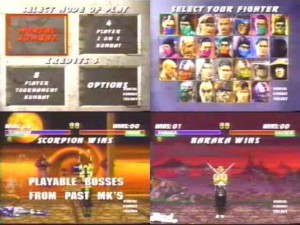 Top left: An UMK3-style menu.
Top right: An early version of the character selection screen. The screen used the UMK3 character selection screen as base, and Rain's and Noob Saibot's portraits are replaced by a pallete swapped version of Sub-Zero's MKII portrait (Rain), and Reptile's MKII portrait (Noob). Johnny Cage is not present.
Bottom left: Scorpion beats Smoke in the Portal arena. Note that Scorpion's life bar text is different to Smoke's life bar text (UMK3 Saturn, and later, MKT N64 didn't remove this.) Also, the lightning all the way in the back of the Portal is viewed, but the PSX, PC, and Saturn version scrapped that. Only the N64 used it. And, the floor of the stage is crooked.
Bottom right: Baraka beats Raiden.
Originally there was another Logo they used but then replaced it with the current one. It had pieces of all the mortal kombat games before MKT.
More on Johnny Cage: He was the only character that wasn't going to appear in MKT. The actor that did his MOCAP in MK2 was fired for advertising with another company, using his role as Johnny Cage. Midway then decided to use another actor for Johnny Cage, which would make him the only character in MKT to use new sprites.
At first there were only to be 29 characters and 26 backgrounds. In the end there were 30 characters and 29 backgrounds for the N64. More for the other systems, however.
Also, Rain was originally supposed to be a character called Tremor. In earlier versions of the game, Tremors bio would show from some sort of glitch only with Rains name.
His bio was:
Rain is an assassin working freelance. He was once a member of the Lin Kuei along with Sub-Zero, but left the clan under mysterious circumstances. Years later, Rain is found working for Shao Kahn as an assassin in the Outworld. Born a human, he finds himself questioning his loyalty towards Kahn after watching the invasion of Earth.
Thanks to Zero7 and Sir_Brando for the contributions!
Images:

What do you think about this unseen game? Give your vote!
Would you like to add more info, screens or videos to this page? Add a comment below!
(your first comment will be moderated before to be published)

Latest posts by U64 Staff & Contributors
(see all)