Heart & Heart is a cancelled dating-sim that was in development around 1991, planned to be published by M&M on Nintendo Game Boy. Players would have been able to insert real-life details of their loved one, such as age, Zodiac sign and blood group, and customize the sprite of the in-game girl. Then Heart & Heart would calculate the compatibility between the player and the girl, then maybe set a romantic date trying to choose the right questions and answers to win the girl.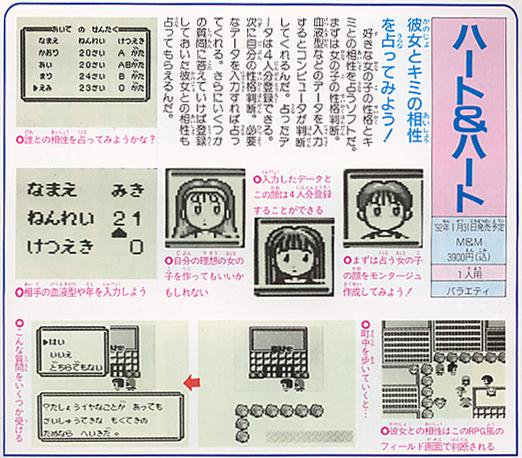 An ad for the game was also published in Famitsu magazine (issue 157), but in the end Heart & Heart was never released. Here is the ad text translated by Google:
"In 1992, the ban on male-female dating live simulation was lifted, and her actual data was input. In addition, the eyes and looks are also montages. In addition, the game starts with her own data. An epoch-making experience that does not change from the real date is waiting for you. Whether she was able to escort well is shown by her compatibility diagnosis with her last. Since the data stock for 12 people can be done, there are 10 people and 10 colors to use. You can get data from that unrequited love daughter and use it later for compatibility diagnosis. Of course, even if she isn't there, she can play a good game called Nampa Mode. For men and women, I have to make it myself, because I don't want to be a Shinario. Now, really hone your dating skills. Soft Heart & Heart for Game Boy "is in great shape!"
We are not sure what happened to M&M, but they are the same company who published the cult-RPG Otaku no Seiza: An Adventure in the Otaku Galaxy.
Thanks to Celine for the contribution!
Images: