They is a cancelled survival mystery-horror FPS that was in development for PC, Playstation 3 and Xbox 360 by polish videogame developer Metropolis Software, founded in 1992 by Adrian Chmielarz and Grzegorz Miechowski. In 1997 the studio acquired the license of "The Witcher" from Andrzej Sapkowski, however, they ceded it around 2000 to CD Project as they were already worked on 3 games at the same time (one of them being the cult-following turn-based rpg game "Gorky 17").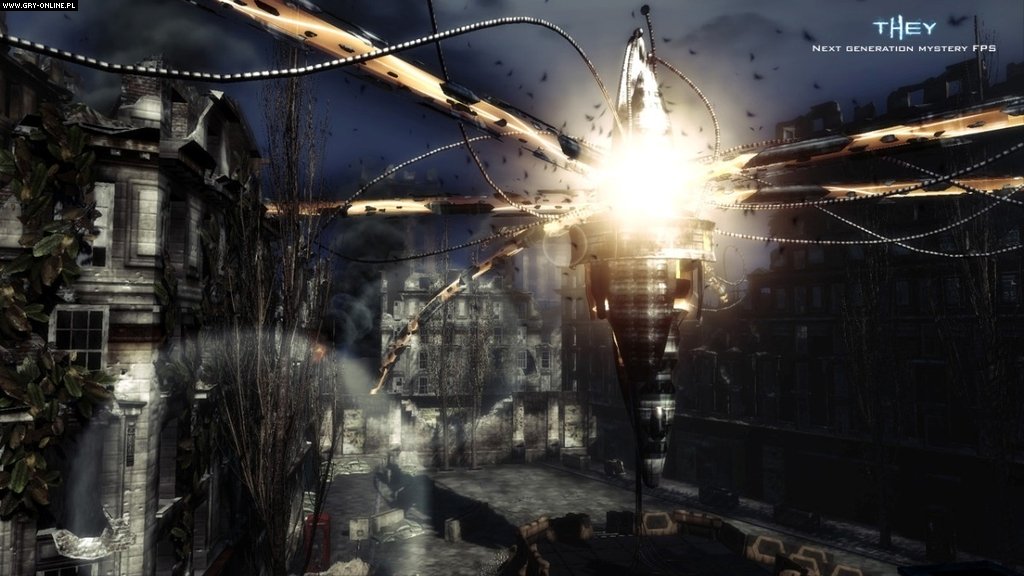 Metropolis started working on They between 2005 and 2006 and officially announced it at the Game Convention 2007, but CD Projekt acquired the studio in 2008. The majority of the team was then taken over to work on "The Witcher" series and in the end Metropolis were subsequently closed in 2009.
One of the most interesting mechanics conceived for They was its weapons customization system: you only had a single weapon, which could have been modified, upgraded and designed with hundreds of different items. The PC Action magazine mentioned "a large amount of over 250 upgrades and design parts", including stickers and logos. As we can read on Destructoid:
"Throughout the game, weapon body-parts and plug-ins will frequently crop up for the collecting. Maybe they'll be part of a boss' arsenal, dropped when you kill it, or you might just find them lying around in the aftermath of a battle. However you get hold of them, they can be put together, Lego-style, and tweaked and tuned to make a gun to do whatever the player can think up."

"Every variety of gunfire, from single-shot, to machine gun, to explosive, to laser, to pretty much anything else you can think of can be blended and combined with however many others you want, along with all kinds of special properties such as fire, ice, lighting, and God knows what else. On top of that, there are loads of little adaptations to be had in the way of reload speed, shot frequency, blast damage etc. You want a rapid-fire electro-shotgun with exploding shells? You've got it. Grenade launcher with freezing ammo and your choice of blast radius and trajectory? Why not?"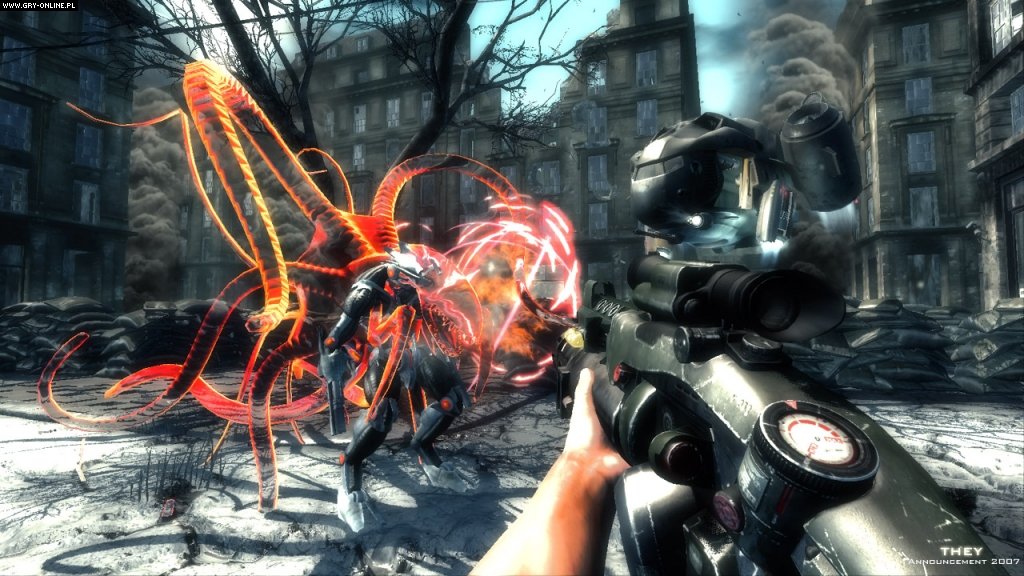 We also know from IGN's preview, levels in They would have been partially destructible, to let players create new ways of moving around:
"Of course, this being the next generation and all, it's possible to destroy some buildings with a well placed grenade or two which, interestingly, is more than a simple aesthetic gimmick – laying waste to buildings uncovers shortcuts through levels and even secret power-ups. However, it's worth remembering that being hit by falling debris is seriously bad for your health so take precautions. "
Metropolis Software's philosophy with the weapon customization system was detailed in an interview on GGMania:
"Q: You announced a unique weapon feature, where you are able to upgrade a flexible weapon to your individual needs. Can you tell us a bit more about that?

A: Without naming so many things of the weapon yet, you might think of a soldier in every war. He only wears some few weapons – mostly knife, gun and maybe pistol. Common FPS games are really unrealistic in that point of view, that a soldier is really able to wear 10 more or less heavy guns at the same time (or he must be HULK to carry them all). In THEY you will have this one weapon, where you identify yourself with, which you can customize and enhance it based on YOUR needs and preferences! You will be able to store setups, so you have the expected control system with keys 1-0 to have access to different types of weapon setups – but it still will be YOUR buddy, YOUR best friend, YOUR WEAPON. The appearance will change dramatically, but you are still able to identify yourself with the weapon. So what we will bring to the genre is some more realistic and believable approach in sort of weapon handling. The fear of players, to have only one gun can be easily refuted, as you have hundreds of combinations which you can store and customize at your own discretion – to create YOUR perfect weapon setup, store it to the expected keys 1-0 and have access to them at all time! So each player will have the weapons of HIS choice, a large variation to be used based on needed functions (gameplay relevant decision!) and need not to get along with standard weapons – this is something unique and new to the genre and will grant more freedom for each player! On the other hand, if someone WANTS' his standard "pumpgun/rifle/Ak47" feeling, he is able to create that…but when he will figure out the fun and possibilities from our new weapon system he will get used to it soon."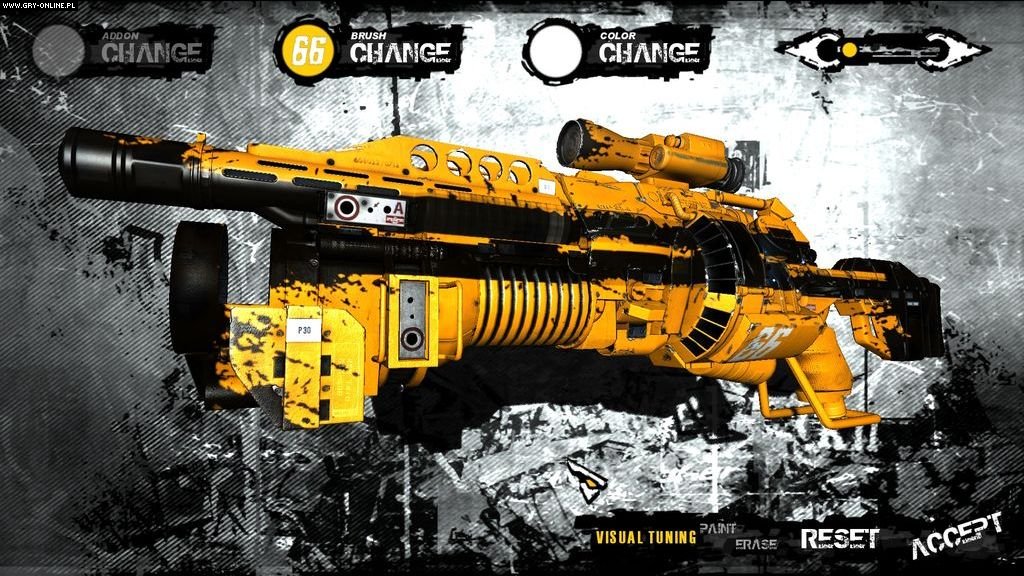 Weapon customization was essential, because you would fight against some weird and stealthy alien / robot creatures in a "not so distant future". The setting was a destroyed English city and the main plot was told by a little, mysterious boy.
"Set in near-future London in a world crippled by increasingly severe terrorist attacks, THEY follows the story of a British soldier during the emergence of a new global threat. An army of robots has appeared and begun laying waste to everything around it, and while everyone has assumed that a new terrorist faction is behind it all, it will eventually turn out that things are a lot more complicated than that. The robots are far more intelligent in their combat tactics than anyone can believe possible, and seem to be able to work together without any visible signs of communication. Needless to say, humanity is taking a serious kicking to the face, and it's during one of these kickings that the player's story starts."

"The game will take in around twelve levels, and IMC/Metropolis were keen to point out that they're taking an episodic structure to the game's story. Taking their model from shows like Heroes and The X-Files, they'll be making each level work as an individual episode, but will be building a bigger overall story arc as the game progresses."
We can only hope one day someone could find a playable version of They, so it could be preserved online.
Thanks to Sam and Daniel Nicaise and for the contributions!
Images:
Videos:
What do you think about this unseen game? Give your vote!
Would you like to add more info, screens or videos to this page? Add a comment below!
(your first comment will be moderated before to be published)