Fang of Alnam (アルナムの牙~獣族十二神徒伝説~, Alnam no Kiba: Shouzoku Juunishin-to Densetsu) is a cancelled 16-bit RPG that was in development by forgotten japanese team Right Stuff, planned to be released in 1996 for Super Famicom (SNES). This project could have been a port of "Alnam no Kiba", an obscure RPG released in 1994 for PC-Engine and later reworked as a Visual Novel for the original Playstation in 1996.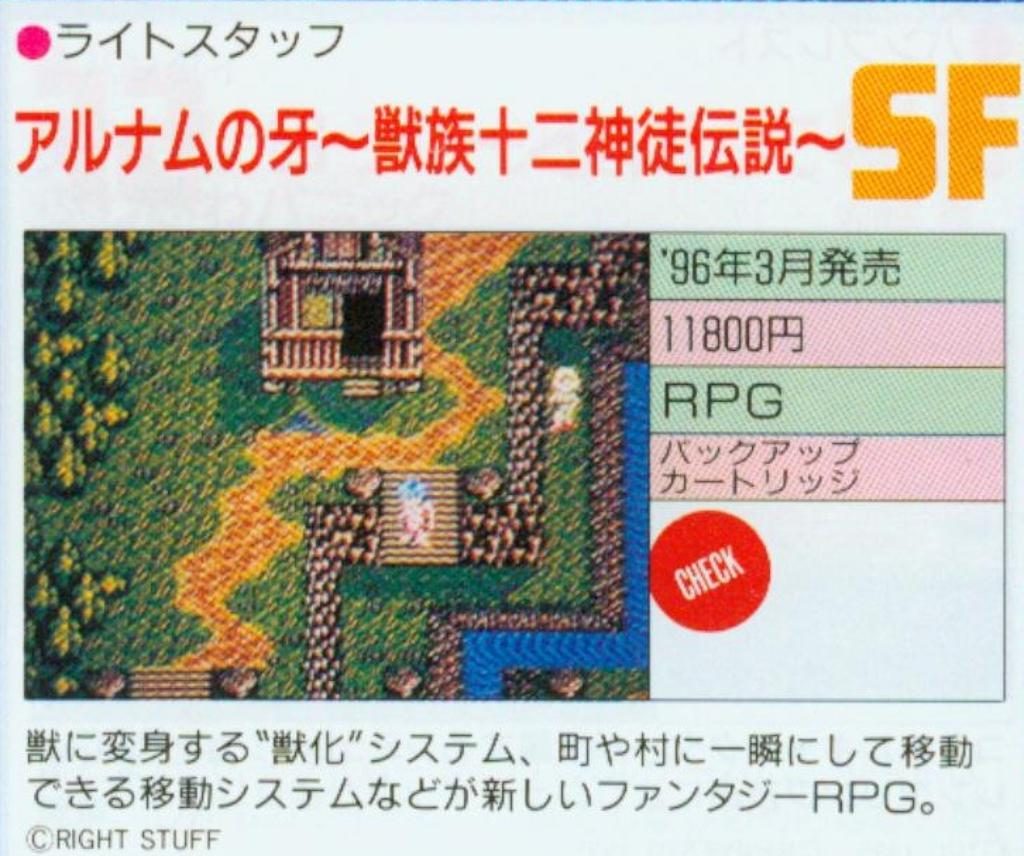 By comparing screenshots from the cancelled SNES version to images / videos from the PC-Engine version it looks like the game was changed a lot, with very different sprites. While it still looks like a traditional RPG (and not a Visual Novel like the PS1 edition), we could assume that this lost Super Famicom version would also have some differences compared to the PC Engine edition.
Celine found a screenshot of the SNES version in Famitsu magazine (issue 363) and some more details on the personal blog of a japanese collector / former developer (?) who owns an early prototype of the game (translated with Google translate):
"This time, I will introduce Arnam's fang, which was developed by Right Stuff but has been discontinued. Since this ROM is a very early version, there is no opening, no conversation with NPC, and almost no menu is created.

There is only one MAP and you cannot leave this town. Although it is judged to be an obstacle for the time being, it is suspicious and you can dig into buildings and trees. NPC has several characters in the MAP but cannot speak at all. I can't enter the building. You can just walk around the town.

Only the menu can be displayed with the Y button. The item is item equipment beast record record method break state setting. Beasting and breaks cannot be used, and will freeze when selected. Most of the items are left unimplemented and the equipment is displayed, but you can not change the equipment.

I don't remember any magazines at that time, but I may have decided to cancel the development quite early. And the cart name of this ROM is "DEATH BRADE". Often, the development ROM often uses the ROM name that was previously developed. SFC's Death Brade is an IMAX and DECO game.

Did you get involved = Light Staff"
Images:
What do you think about this unseen game? Give your vote!
Would you like to add more info, screens or videos to this page? Add a comment below!
(your first comment will be moderated before to be published)