Showdown: Scorpion is a cancelled FPS in development around 2005 by B-Cool Interactive, planned to be published by Akella for PC in 2007. It was set in a cyberpunk future, where you could use guns, technology and even paranormal skills to fight your way against sci-fi soldiers and zombie-alike monsters.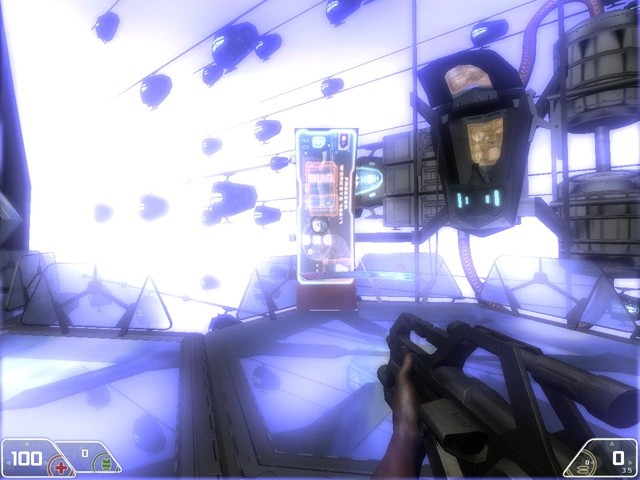 IGN played the game at E3 2007:
"Tucked away on the E3 showroom floor was Scorpion: Showdown, a first-person shooter from Akella. Set in the 2040s, this game puts you behind the sights of about 15 weapons and sets you lose on a land filled with bats, zombies, beasts and soldiers. You'll get updates on the mission from a woman named Anna, but other than her, you're on your own.

We got to take Scorpion through a flooded warehouse today, and as we ducked beneath scaffolding and blasted man-eating zombies, it was clear Akella was going for a jump-out -and-scare-you feel. Filled with dark corners and creepy monsters, there were plenty of opportunities to crap your pants, but you could always arm your night-vision goggles or flashlight."
.. and also GameSpot were able to play the same demo:
"Showdown: Scorpion seems to be a fairly straight-ahead shooter. There are supposedly two methods to the madness here: Either you can proceed stealthily and attack your enemies with silenced weapons, or you can go to town with a number of modern and futuristic weapons if you wish to just blow some stuff up.

The weapons here are, at least in the section that we saw, a fairly normal group of pistols and machine guns, including a slightly advanced model of the venerable AK assault rifle family. There are going to be some wackier weapons on hand, though, such as the quote-unquote "gravity gun," which shoots out a ball of gravity that violently repels anyone near the center of the explosion away from it. In addition, the genetic experimentation that was performed on you will let you enter a bullet-time state to slow down your enemies, a la Max Payne, or even in some cases psychically dominate your enemies and force them to fight for you."
This was meant to be B-Cool's first project, but it seems it was too much for a small team. In the end Showdown: Scorpion was cancelled. Some models were later reused for Scorpion: Disfigured, which was a different game despite a similar title and look. B-Cool was closed in 2009, with many more canned projects such as a "Scorpion" sequel, Metro-3 (third game in The Stalin Subway series for Buka Entertainment) and Los Angeles Guerilla 2040.
Thanks to Dan for the contribution!
Video:
Images:
What do you think about this unseen game? Give your vote!
Would you like to add more info, screens or videos to this page? Add a comment below!
(your first comment will be moderated before to be published)