In 2004 Australian developer KaWow! started working on a first-person shooter called The Unseelie, that mixed horror with adventure elements. The game told a storyline about an old haunted forest and a village trapped in time. It was planned to be published by Octagon in 2005, but sadly the project was cancelled for unknown reasons.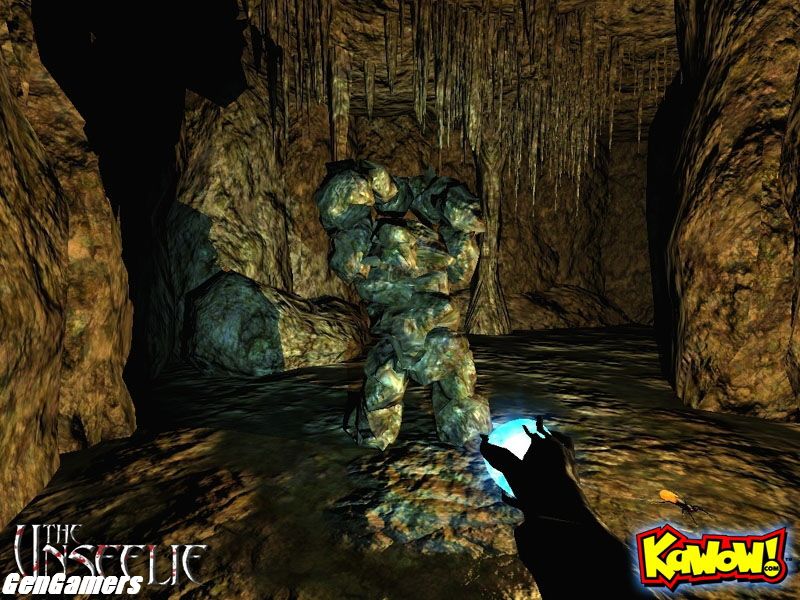 KaWow! were founded in 1997, helping other studios with the development of some games for PC and consoles, such as GORE: The Ultimate Soldier and other projects for television multimedia integration, LAN and Internet multiplayer first person games.
The Unseelie's story still stand out today and is a quite haunting and mysterious one:
"In a chilly November evening, Damian Logan is driving his car on the countryside, crossing a dark Irish forest, when suddenly a child-like figure appears on the road. Trying to avoid an accident, Damian`s car gets out of control and crashing into a nearby tree.

Upon awakening he stumbles into an ancient forest, called "Tir-Na-Bràch-Marbh" – Land of the Eternal Death. Wandering lost deeper and deeper into the woodlands, he discovers stones, buried in the shape of a septagram, with a source of light shining from its center.

Walking towards it, the light is bright and dazzling, but suddenly dimming – plunging the forest in absolute blackness. Strange voices begin whispering from left and right, near and far….

As the story unfolds, we learn that Damian is trapped in a world between the living and the dead. The dark haunted forest has tangled and enclosed a 17th century Irish village, severing its contact with the rest of the world and stopping time from passing.

In order to escape and return home, the protagonist has to battle "The Unseelie" (pronounced "Un SHEE Lee"), an unblessed cursed fairy race, based on Celtic mythology.

By defeating all seven demon lords, Damien would obtain certain ritualistic objects which allowed him to escape the clutches of Lord Finvarra, the King of the Dead, by opening a portal to his reality and returning home."
To help during your quest you would be able to use an arsenal of roughly 30 different weapons, plus the possibility of crafting your own weapons from materials found in the game. By battling foes like Banshees, Goblins, Demons, Elementals and Ghosts, new experience points were collected to unlock skills and upgrade weapons.
"The Unseelie is a great game to work with because of the way it uniquely combines Celtic mythos with popular first-person gameplay," said Lloyd Melnick, Co-Founder of publisher Octagon.
Over the course of your journey, protagonist Damien would have gained access to a wide range of powers and attacks related to Fire, Water, Earth, Air, Wood, Metal and Spirit. Some monsters were resistant against physical attacks and could only be beaten with certain magic.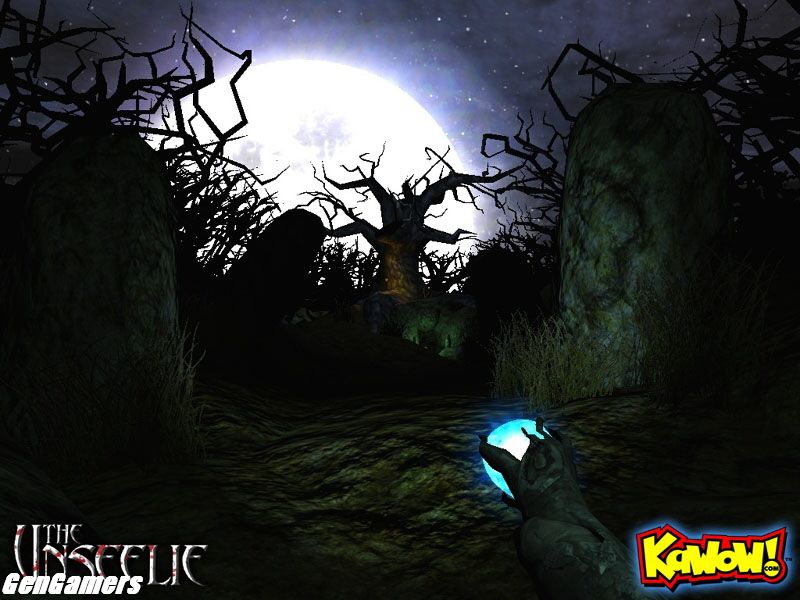 The adventure-aspect of the game focused on players using elemental powers to solve many puzzles on the way through the 7 levels of the three-dimensional environment, generated by their homemade AMP II engine, which offered real-time lighting, matrix shading, high-resolution textures and bump mapping.
"We used all of the visually stunning rendering techniques of our engine and combined them with the sinister forest setting of Celtic legend and some engaging game play design to make something that makes you want to play, but keeps you looking over your shoulder," explained Steve Woodgate, who was KaWoW! CEO until 2016 and is currently managing director of Coronum Pty Ltd.
It is unclear what happened to the studio. Since Mr. Woodgate left KaWoW! in 2016 we can assume they were active at least until that date, even though no other game seems to have been released since the cancellation of The Unseelie.
The company's old website (www.kawow.com) is unreachable, and what remains today are only screenshots, a few articles splattered across the web and a couple of videos showing in-game footage. This was probably from the beginning of the game, when Damien escapes his crashed vehicle and discovers a stone-circle with a beam of light in the middle, showing: "Some fairy tales were never meant to be told…".
Article by Niko, thanks to Daniel Nicaise for the contribution!
Videos:
Images:
What do you think about this unseen game? Give your vote!
Would you like to add more info, screens or videos to this page? Add a comment below!
(your first comment will be moderated before to be published)

Latest posts by U64 Staff & Contributors
(see all)