Battle Mania 3 NY: Gankutsujou is a cancelled Dreamcast shoot 'em up that was in development by Takayan and a few more developers who already working on the original series. The first Battle Mania or Trouble Shooter as known in USA was developed and published by Vic Tokai for the Mega Drive / Genesis in 1991, with a sequel titled Battle Mania Daiginjou published in 1993 only in Japan.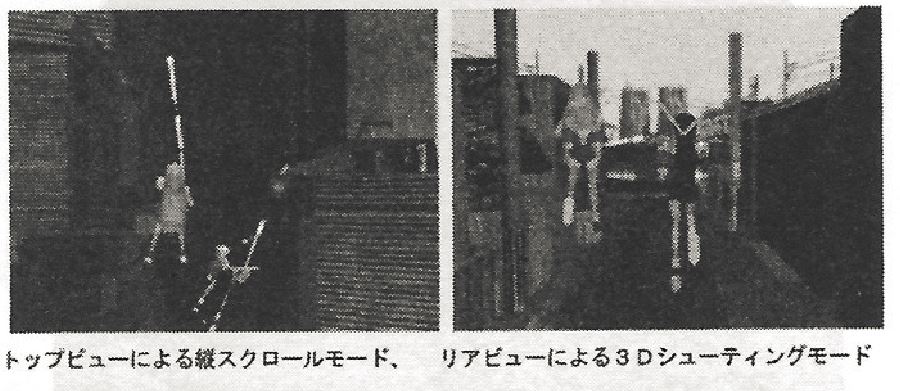 The game settings are a parody of classic anime tropes, with flying sci-fi girls shooting down aliens and monsters. Levels are often inspired by japanese culture and they change from side-scrolling to a vertical scrolling. This third chapter in the Battle Mania series was originally conceived as an arcade game, as we can read in a translated interview with Takayan:
Please tell us a bit about what happened after Daiginjo. You brought a design document for the legendary unreleased Dreamcast game Battle Mania N.Y. Gankutsujou but on the cover, there are Saturn and Playstation logos, does that mean you proposed this project during the 32-bit generation?

Takayan: Nope, they wouldn't let me make it. I'm a big SEGA fan and just as I was thinking I'll quit if they don't let me make games for the Megadrive or Saturn, they put me in charge of the SFC division. That's why I had to step away from Daiginjo right at the end of development. When I made this I'd already left VIC and the next company I'd worked at, and the company I was at was starting to look a little unstable. It's a pitch for an arcade game but I had hardly any time to spend on it. (Laughs)

It's amazing for the fans to be able to see Mania in 3d, could you tell us a bit about that?

Takayan: The pictures were drawn by fellow VIC survivors. One of them made the Softimage assets to go with the gameplay explanations. I made the 3d models of Mania and the picture of the heroines on the cover and the main artist on Odessaelya made the screens that go with the stage explanations. Add to that the artist who drew the giant robot and the queen and I think it was 4 people in all, I'm not sure whether that's a lot or very few.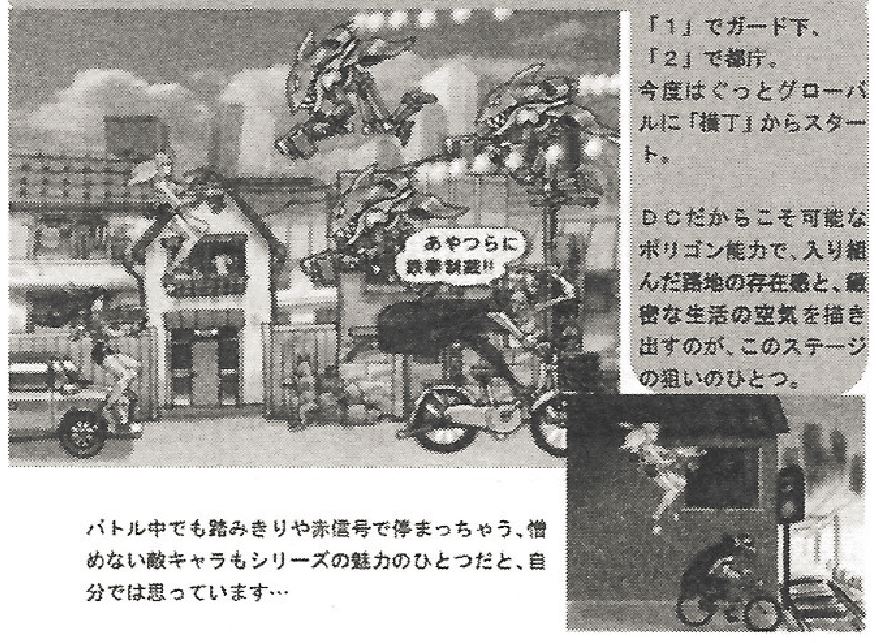 Battle Mania NY: Gankutsujou's pitch document was originally published in a book titled " Nazo no Game Makyou 4" and later uploaded online thanks to HG101. By looking at its pages we can notice how the game was later pitched as a Dreamcast title, probably thanks to Takayan's love for Sega hardware. Kid Fenris analyzed this document sharing some more details about what it could have been:
"The story itself, as far as I can grasp, sends our jetpack-sporting heroines from Japan to New York, spurred on by a distress call, a woman named Airin, and something called "N.Y. Haunted Square." That's possibly a Ghostbusters reference."

"Battle Mania N.Y. Gankutsujou was to be a shooter like its two predecessors, though it would've presented three perspectives: a side view, an overhead view, and a 3D perspective reminiscent of Space Harrier and Panzer Dragoon. "

"The stage descriptions for Battle Mania N.Y. Gankutsujou are the best parts of the pitch, as each of them gets an illustration. A side-scrolling opening stage sees Madison and Crystal facing flying fish-men and a bicycle-riding robot on a city street. It's perfectly in step with the humor in previous Trouble Shooter games, an unapologetic mélange of modern Japan and a world of weird mutants and technology, explaining nothing and never suffering for it."
Unfortunately the available mockups are quite tiny, but you can still notice how it could have been quite awesome. In the end it seems Takayan and his team never found a publisher interested in this third Battle Mania and the project was quietly cancelled.
Images:
What do you think about this unseen game? Give your vote!
Would you like to add more info, screens or videos to this page? Add a comment below!
(your first comment will be moderated before to be published)