Hellion: Mystery of the Inquisition is a cancelled first person action RPG set in a medieval world, in development in 2009 by Flying Fish Studios, a small team composed of developers who previously worked on The Witcher and Two Worlds. The game was planned for Xbox 360, PC and PS3, set to be released sometime in 2011.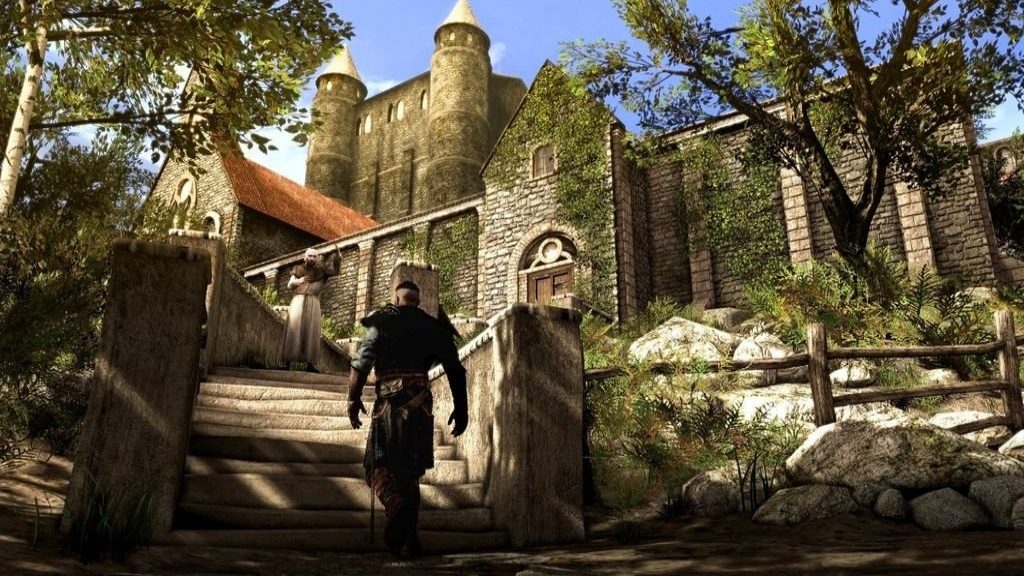 As we can read in a Gamespot hands-on preview:
"The demo we saw revolved heavily around swordplay, and we watched as the developer rang a bell to summon a procession of new opponents to hack through. The combat seems to emphasize defense, so if you can block an attack, it leaves your opponent vulnerable to a follow-up blow.

Once he had weakened his opponents, he performed gory finishing moves, hacking their heads off or stabbing them in the heart, and in the full version, you'll be able to sever limbs as well.

There's still a lot of work to be done on Hellion, but the developers have plans to include 10 different locations, including Italy, the UK, Spain, and Prussia, as well as lots of medieval weaponry, including daggers, crossbows, and grenades. You'll also be able to manifest God's power in the form of exorcisms, ripping demons from the bodies of the possessed enemies, but we'll have to wait to find out more about this."
By looking at the remaining footage Hellion looked quite impressive for its time, something like a more linear Elder Scrolls IV: Oblivion set in the real historical age of the 13th century. As announced by Simon Grabowski (CEO at Flying Fish Works) to IGN:
"Hellion is an epic journey through different medieval cultures full of real-life characters, wild animals, rough warriors, powerful Templar knights, deadly assassins and, ultimately, horrifying demons. Our vision is to create a historical fiction game that will put the player in the center of the medieval world, full of its cruelty, intransigence and diversified beliefs. In this ruthless reality, the player will become an eyewitness of great political machinations, unseen brutality and betrayal. He will pave his way to the truth just to find that it is more horrible and dreadful than anyone could imagine."
There is no official reason why the game was never released, it just vanished forever and forgotten as another unseen game from the 7th generation of consoles. We speculate it could have been canned because of the financial crisis that struck many gaming studios at the end of the '00s.
Images:
Videos:
What do you think about this unseen game? Give your vote!
Would you like to add more info, screens or videos to this page? Add a comment below!
(your first comment will be moderated before to be published)