Elveon is a cancelled action adventure, originally planned to be released for Xbox 360 and PC. The game was conceived in 2003 by 10Tacle studios in Bratislava (Slovakia) until their parent company (10Tacle group) had to close down for financial problems in 2008. The project was then acquired by Climax Group and development focused on console (Xbox 360 and PS3), but unfortunately even Climax fell into financial problems and Elveon was canned again.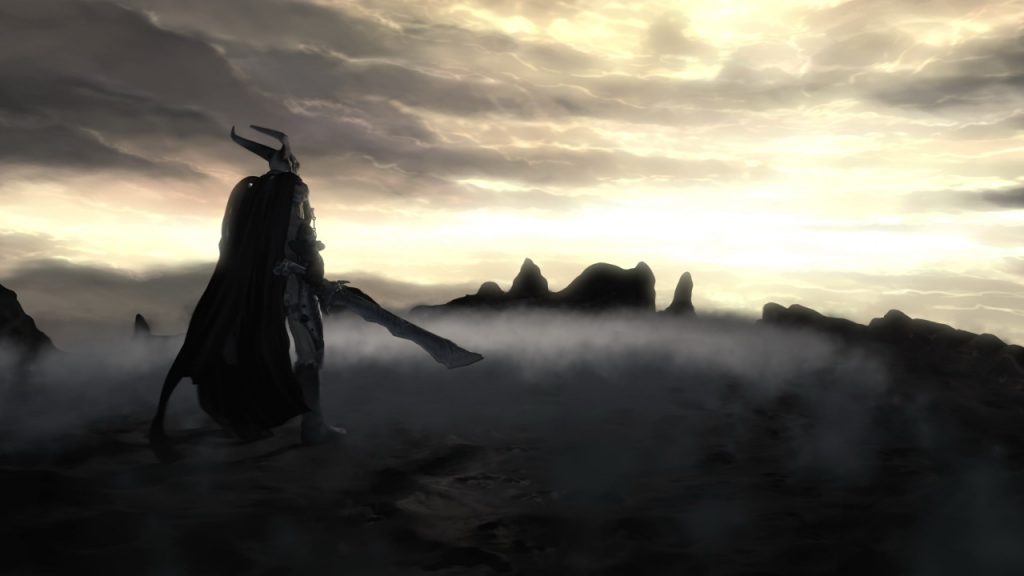 As we can read on Elveon's official website (now closed)
"The history of the Elveon project dates back into 2003 when a small team started working on an idea of a fantasy world and game that would bring to life a new perspective – a story set in the  "early days" of a fantasy world – a time when the Elves were not yet the old, declining population, guarding the ancient ways, but still a young, emerging race, struggling to take their place in a world dominated by Gods and divine powers. During 2004 to 2007, the project grew and the team expanded up to a peak size of over 70 developers and – utilizing architects, painters and sculptors, managed to give the idea a stunning visual facade that – at its time – represented a benchmark in fantasy design and real-time graphical quality. In 2008, after a series of complications and before a serious attempt for a release could be made, the project had to be abandoned and the team has gradually dissolved. A long period of slumber resulted, with the Rights and Assets being held by different entities. The idea however, did not die with the original project…"
The original concept of Elveon by 10Tacle Studios Bratislava was for a somewhat linear action game with RPG elements, focused on story and complex combat mechanics. The team also planned an online multiplayer mode to let players fight against each other, something that reminds me of Ubisoft's For Honor or the Versus multiplayer of Dark Souls. For sure Elveon was quite ambitious for its time. As we can read in an old preview by IGN:
"The action takes place in the third person and is centered on deliberate combat. We say deliberate because button mashing won't get you anywhere. Controlled, precise actions will win the battles against your foes. […] Different moves and combos are conducted through a grouping of directional motions and button presses. Blocking must be done at the right moment to successfully deflect oncoming attacks."

"All of the attack actions were motion captured using real weapons and it shows in the way spears are swung. They look like they actually have a weight to them. The weapons will also interact realistically with the environment. Blades will glance off of walls and other obstacles directly and it really looks like they're colliding into something instead of bouncing off in the general vicinity of where it should hit. "

"Nothing is set in stone yet, but there may be some differences between the Xbox 360 and PC versions when they hit retail. After looking at some sales data, the developers are toying with the idea of including more RPG elements in the PC version and keeping the 360 build as a more streamlined action title. […] That's because both the PC and 360 versions will have an online tournament mode where players can take their character from the game online to fight others one-on-one. "
When Climax acquired the game they changed its structure into something more similar to Zelda, with a main hub to freely explore to reach different dungeons. Probably Elveon's multiplayer was cut at that time. Not much was ever shown from Climax's version of the game, but from the few screenshots available (that you can see in the gallery below) it looked a lot like a mix between Dark Souls and Zelda.
After Elveon was cancelled again by Climax, in 2015 former members of 10Tacle studios Bratislava were able to re-acquire trademark, licenses and assets for their old game, to develop it again into something more similar to their original concept.
"Our main goal is to produce quality action RPG game, using newest technologies (UE4) and finish the Elveon dream, which was started 12 years ago with a small group of adventurous developers. Our focus is to use Elveon (book of elves) trademark and Elveon world with its specifics, to bring player whole new fantasy experience. We are taking the best from original game (duel fights, story, specific art style), we are polishing and tweaking it to the highest possible level, adding new features, graphics, using best actual technology available. We hope, to keep the Elveon trademark and world alive and bring the best game experience to players possible."
Unfortunately this third version of the game seems dead too, with no updates since many years ago and with their official website that doesn't work anymore.
Images (10Tacle Studios version):
Images (Climax version):
Videos:

What do you think about this unseen game? Give your vote!
Would you like to add more info, screens or videos to this page? Add a comment below!
(your first comment will be moderated before to be published)